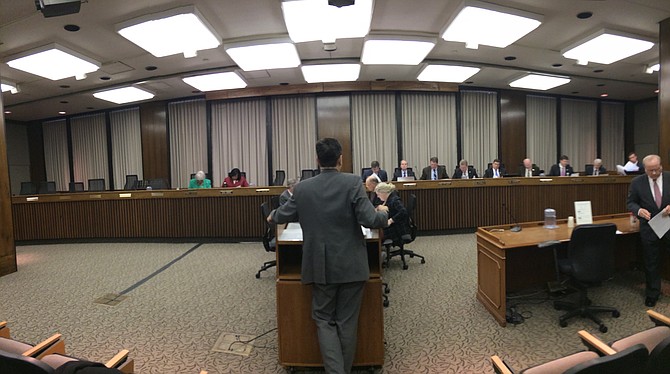 The Wild West of online lending is about to become a little tamer. That's because a state Senate panel narrowly approved a bill that would subject internet loans to the same restrictions that currently exist for consumer finance loans, a move that would cramp the anything-goes culture of online loans in Virginia.
"These international companies and Indian tribes shouldn't be able to run around and do things that companies here in Virginia are not allowed to do," said Sen. Scott Surovell (D-36), who introduced Senate Bill 1126. "This bill would basically make it clear that Virginia's Consumer Finance Act does apply to companies who make loans over the internet, and it would make it clear that State Corporation Commission has the authority to license them."
The shadowy world of internet lending allows companies from all over the world to offer loans at interest rates from 600 percent to 5,000 percent. Recent years have seen a proliferation of Indian tribes also getting into the act, taking advantage of uncertainty of a law that crafted regulations in 1918 — long before the World Wide Web revolutionized modern American finance. Surovell's bill would make the companies apply for the same kind of license that other consumer-finance companies.
"This will provide for a level playing field," said Dave Irvin, manager of the Predatory Lending Unit at the Office of Attorney General. "They will be subject to the same limits on their rates under existing law."
Consumer-finance loans are currently subject to an annual limit on the amount of interest that can be charged, 36 percent for loans that are worth less than $2,500. A separate bill introduced by Senate Democratic Leader Dick Saslaw increases that threshold to $4,000, although that has not yet been considered in committee. If successful, that bill would mean all consumer-finance loans offered over the internet would be subject to a 36 percent limit on the annual interest rate if the loan was for less than $4,000.
"In the absence of action, the internet becomes a lawless place that plays by different rules than traditional commerce," said Kevin Mauer, associate director of the Virginia Catholic Conference. "Without protective regulation, the commonwealth's vulnerable consumers may fall prey to more and more opportunistic lenders."
Nobody spoke in opposition to Surovell's bill, which passed the Senate Commerce and Labor Committee with an eight-to-five vote.
"I just think it's helpful to make sure we regulate the internet like we do Virginia companies," said Sen. Steve Newman (R-23), who made the motion to report the bill out of the committee to the Senate floor.
LAST YEAR, lawmakers considered and ultimately rejected a bill that would have legalized online lending in Virginia. It was an effort pushed by an Indiana-based company known as OneMain Financial. Company officials approached Del. Terry Kilgore (R-1) about legalizing internet lending in Virginia, and Kilgore agreed and introduced legislation to do just that.
"I don't want to get between somebody and their money and somebody and what they want to do," said Kilgore at the time. "That's something that, as far as payday or title loans, I've not done that. If you want to borrow the money and that's the last person you can borrow it from then, you know, you may be in a position where you can borrow the money."
When Kilgore's bill was considered in House committee, Ken Kinion of OneMain disagreed with the idea that his company should have a physical location in Virginia.
"When you're making loans over the internet for synergy purposes, it's better to be done at a central location because it just comes through a wire in your home," said Kinion. "So it would be prohibitively expensive for us to set up an internet location in each state."
Del. Greg Habeeb (R-8) took issue with that.
"I find it frankly a little bit suspicious that somebody says well we don't want to set up an office in Virginia because man that's cheap to do," said Habeeb.
In the end, the committee killed the bill. Democratic Delegate Mark Keam was happy the bill died but displeased at what the episode represented.
"This is a classic example of how in Virginia at the state General Assembly unfortunately lobbyists and special interests come up with a business plan for themselves. They come to the government to get the government to endorse and approve their business plan and then they go out and do what they want to do."
More like this story