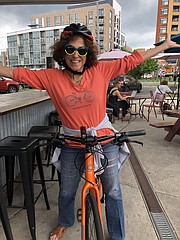 Natalie Roy is a 32-year resident of Lyon Park, CEO of her own small business, active in the
 Lyon Park civic association. Before starting her own business, she ran national and state organizations, served on various boards, advocated for a clean environment and gun control. She served on PTAs as her children went through Arlington schools. 
Roy arrived on her bike (of course), in her signature sunglasses and high-energy smile. She had forty minutes before the next meeting. "Let's get started!" 
Arlington Connection (AC): What single thing prompted you to run for County Board? 
Roy(R): Missing Middle. I want middle-income housing: this won't do it. When the new Board meets in January 2024, it must evaluate the program, identify any negative and unintended consequences and assess whether it needs to be adjusted or rolled back. 
AC: What is your position on lot coverage? (Many Arlingtonians have voiced concern about the ratio of building to land in new housing development in Arlington.) 
R: Reform the regulations. Combine it with a tree protection program. Offer incentives, both for home owners to keep trees and developers to plan better. Developers and owners of big mixed-used development projects would be required to put serious money into a tree escrow fund. They get the money back after the County does an inspection 2-3 years later to ensure the trees are still there; for individual homes, an incentive program to protect trees. We need stronger tree protection ordinances across the board.
AC: What is one County Board decision you would not have voted for in the past few years? 
R: Aside from Missing Middle, the 3-2 vote on the General Land Use Permit zoning change allowing for the redevelopment of the Lee Shopping Center at the corner of N. Pershing Dr. and Rt. 50 across from Ft. Myer.
AC: How would you define the Arlington Way and do you think it remains a strong element in the county? 
R: It is defined as robust public engagement. And then listening to that. It is reaching out to the people who can't get to an 8 a.m. meeting to review a plan. I had the luxury to go meet Ginger Brown, Executive Director, Langston Boulevard Alliance, to get her brief on what they are planning for Langston Boulevard. But not everyone has the ability to do that. We need to go to residents where they live and work.
AC: Rising crime in Arlington: what is one thing you would do to assure residents Arlington remains a safe place to live and work? 
R: An ACPD officer came to my meet and greet the other day and pointed out the rise in gang graffiti in Arlington. We have many police vacancies in the County, a nationwide problem. We need to pay them more and make it more attractive for police officers to live and work here.
AC: Should the county be more willing to invest in the rescue of historic homes than they have recently with the Fellows, Broyhill, and Rouse mansions? 
R: Yes. On Rouse, where was the planning we are known for? This could have been the lower income housing we want. As Eric Gutshall said, "Do it the Arlington way, not the Minneapolis way." Preservation is important to maintain the character of Arlington, which is disappearing fast.
AC: How familiar are you with the stormwater management issues in the County? 
R: I'm aware we aren't providing incentives for developers to provide community or environmental benefits. When we give a permit, we should get those included. There are loopholes on R-6 and R-10 lot overage. We aren't checking to make sure rules are being followed. 
AC: Are there areas where Arlington County could cut costs? 
R: Rather than taking away things, public- private partnerships would save costs. The county wants to cut an auditor position to save money; we need that auditor. We should use empty office space for things like the Black Heritage Museum of Arlington (BHMA), currently temporarily housed on Columbia Pike. 
AC: What is the single best thing about Arlington that attracts people to live here? 
R: The way you can move from one area to the next and experience a completely different place with different people, restaurants, houses, and culture. 
AC: No matter the outcome, what will you take away from running for the board? 
R: The people I've met. I went to Felecia Brice McFail's art gallery in her basement in Green Valley. At her calligraphy gallery ("FOHTA") in her home on S. Monroe Street I met a woman from the Eritrean community who invited me to her community meeting. I met people who want to help make Arlington a better place to live. 
AC: What is one question I didn't ask that you wished I had? 
R: "Wouldn't you have made more money pushing for Missing Middle?" (Yes, but it's not smart growth.) 
More at https://natalieforarlington.com/