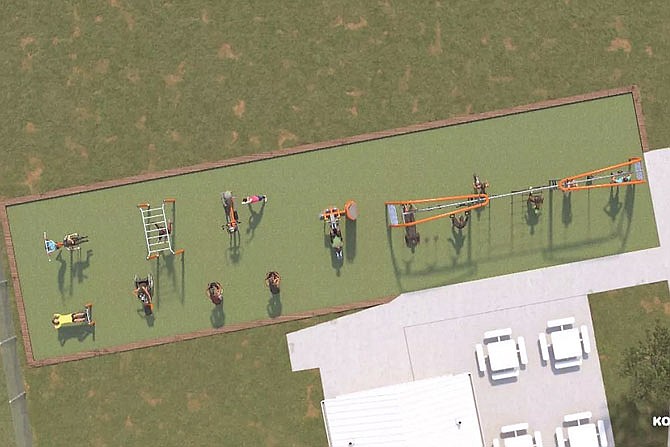 During the just concluded session of the Maryland General Assembly, Del. Linda Foley (D-15) and Sen. Brian Feldman (D-15) secured $200,000 for the Potomac Community Center Fitness Facility, an innovative outdoor facility designed for a wide range of needs with specific equipment for seniors and people with mobility challenges.
The Friends of the Potomac Community Center, who will engage in fundraising for $25,000 or more still needed.
According to the proposal, input from Seniors and members of the High School Student Advisory Board suggested and emphasized the need for an outdoor fitness and health facility. 
In addition to providing a safe space to exercise, especially during the pandemic or even flu season, the outdoor facilities would also provide access to fitness opportunities when the community center is closed in off hours. 
"We're so excited," said Allan Cohen of the Friends of the Potomac Community Center, expressing thanks to Foley and Feldman for their support. "We really feel this outdoor fitness park will be a model for the county." There has been a lot of interest from groups around the county, Cohen said.
Youth, teens, parents, and grandparents will be able to exercise together to enhance mental and physical well-being. 
The Friends of the Potomac Community Center in partnership with the Montgomery County Recreation Department selected a 4400 square foot unused open space to build the 1950 square foot Outdoor Fitness Park plus a 2400 square foot open exercise/aerobic area. This is above the community center playing fields, and next to two storage buildings and picnic table/patio which the friends group provided years ago. The site is handicap accessible and shovel ready.
There are hundreds of children playing on the fields weekly while parents are waiting and watching — another group that could use the fitness park. 
More than 100,000 patrons visited the PCC last year for activities/programs. The proposal estimates more than 17,000 current and new patrons will use the Outdoor Fitness Park.
To make a tax-deductible contribution, send checks payable to Friends of the Potomac Community Center to Friends of the Potomac Community Center to  Potomac Community Recreation Center, 11315 Falls Road,  Potomac, MD 20854 Or donate through GoFundMe https://gofund.me/ed94e781