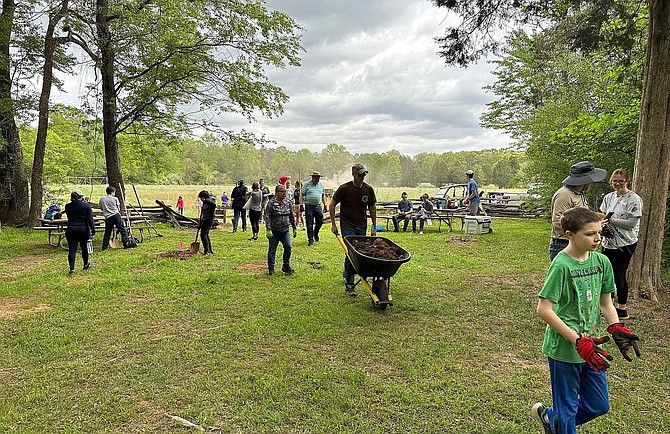 On Saturday, April 22, NOVA Parks partnered with the NAACP's Fairfax County branch to improve trail access to a historic African American cemetery and Baptist church in Centreville's Bull Run Regional Park. This ongoing partnership includes multiple planned trail workdays and events at the site, including an upcoming Juneteenth commemoration.
Recent discoveries on this land revealed more than 90 mostly unmarked graves at the cemetery of Old Bull Run Church, a Baptist church that had been open to both Black and white people. Those buried are believed to be descendants of the enslaved people who were set free in the 1790s by Robert Carter III who, at that time, was one of the wealthiest people in America. 
After both a religious and conscience awakening, Carter emancipated more than 500 of his family's enslaved workers, which resulted in a thriving Freedmen's community at the site of Bull Run Regional Park, 70 years before the Civil War and Emancipation Proclamation. For more information, go to https://www.novaparks.com/parks/bull-run-regional-park/things-to-do/park-history-interpretive-series-african-american.
During the recent cleanup event, various volunteers plus groups from nearby churches did trail-maintenance work to improve access to this newly discovered historical site. For three hours, they cleared sticks, pruned bushes, raked and marking the trail. 
The next volunteer workday is scheduled for Saturday, June 10, at 10 a.m. Participants will meet in the park's Atlantis Waterpark at 7700 Bull Run Drive. Sign up for it at https://www.signupgenius.com/go/10c0948a4ae28a0fdcf8-volunteer#/.
Jun 17
Bull Run Church and Harris Cemetery Juneteenth Celebration in Centreville
Centreville's Bull Run Regional Park will host the Second Annual Juneteenth celebration to recognize this, the largest private emancipation of enslaved people, on Saturday, June 17. This event is free and open to the public, and co-sponsored by NOVA Parks. Hear the story of Robert Carter Ill's emancipation of 500 enslaved people in the 1790s and the freed community at this site. Bull Run had one of the earliest Baptist Churches in the region and its cemetery. There will also be a Black Expo, a children's activity, and recognition of descendants of Henry and Jemima Harris and Robert Carter III in attendance.
https://www.eventbrite.com/e/bull-run-church-and-harris-cemetery-juneteenth-celebration-tickets-596941045737