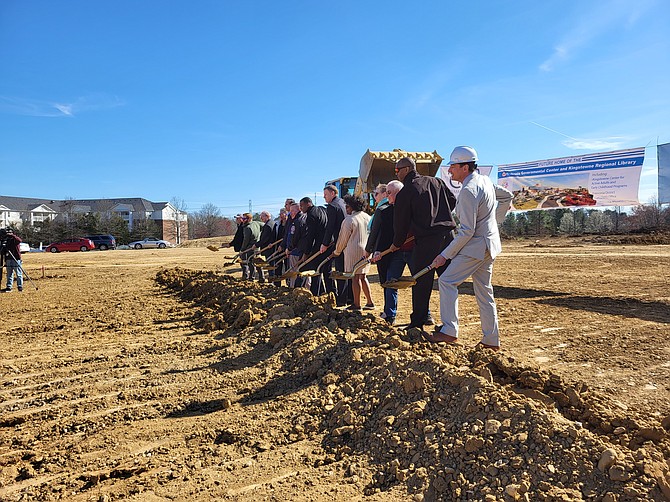 When officials got together to officially break ground on the Franconia Governmental Center and Kingstowne Regional Library, the centerpiece was one facility housing multiple civic entities.
"I like the idea that it will be a police station, supervisor's office, museum, library and child center," said Supervisor Rodney Lusk (D-Franconia), looking towards other county buildings in the future. "It's going to be the mold," he said, before grabbing a golden shovel and making it all official.
Lusk has an old, outdated office, the police station has severe limitations, and even the museum is packed wall to wall with memorabilia, so each entity will have it better at the new center on Beulah Street.
The center was just a vision when Chairman Jeff McKay was still in the Lee District supervisor's office where he put in 24 years as a county employee.
"We don't ever want to see gray cinder blocks again," he said.
This new combined facility will be approximately 90,000 square feet with better parking and access. The 28,000-square-foot Police Station and the 4,200-square-foot Franconia District Supervisor's Office will share a space with the Franconia Museum and a 7,200 square-foot Active Adult Center.  It will also have a new Childcare Center for infants to pre-kindergarten children and the Kingstowne Community Library will be expanded to a Regional Library. The current Kingstowne Library is in a bottom level space in the shopping center where Beulah Street meets Telegraph Road but it is not a "regional" library.
The total project estimate for the consolidated facility including the two associated parking garages is $79.5 million. Funding was approved in the 2015 Public Safety Bond Referendum. Funding for the library, to include the Active Adult Center, was approved in the 2020 Library Bond referendum. It is scheduled to be open in 2024.
Also at the groundbreaking event were Public Library Director Jessica Hudson, Neighborhood and Community Services Deputy Director Pallas Washington, Police Chief Kevin Davis and Public Works and Environmental Services Director Chris Herrington.