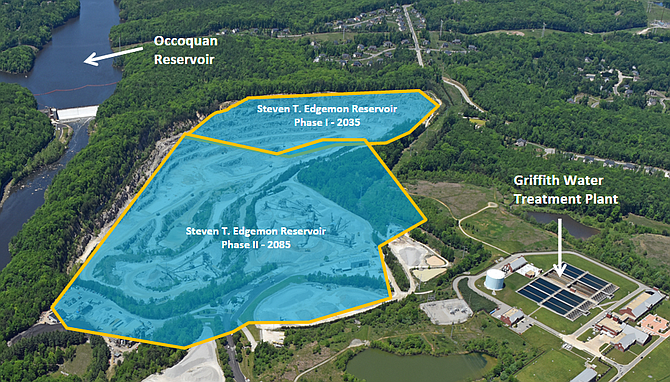 In an effort to prepare for a possible future water shortage, Fairfax Water is planning to add a reservoir in southern Fairfax County in a Vulcan Materials Company space currently in use.
The reservoir will be named the "Steven T. Edgemon Reservoir" after a former Fairfax Water General Manager who unexpectedly died recently. "The reservoir represents a significant milestone of his life's work, and future generations will greatly benefit from the resiliency that comes with having an additional source of drinking water," Fairfax Water said.
Vulcan Materials is currently under operation at the site so the new reservoir is still a few years away from being filled and used. Water will start flowing into the space in 2040 for Phase I, and Phase II won't be filled until the end of 2085. Phase 1 will amount to about 75 acres of reservoir area equaling 1.8 billion gallons of storage and Phase 2 will add another 125 acres to create a combined reservoir of about 200 acres which is up to 15 billion gallons of storage, Fairfax Water said.
Plans for this reservoir were finalized in 2017.
"Between 2010 and 2040 the population served by Fairfax Water, including both retail and wholesale areas, will increase by over 650,000 residents and nearly 550,000 employees working in the area," said Fairfax Water's Chairman Philip W. Allin at the agreement signing with Vulcan. "The Vulcan Quarry can meet future water supply demands brought on by this growth," he added.