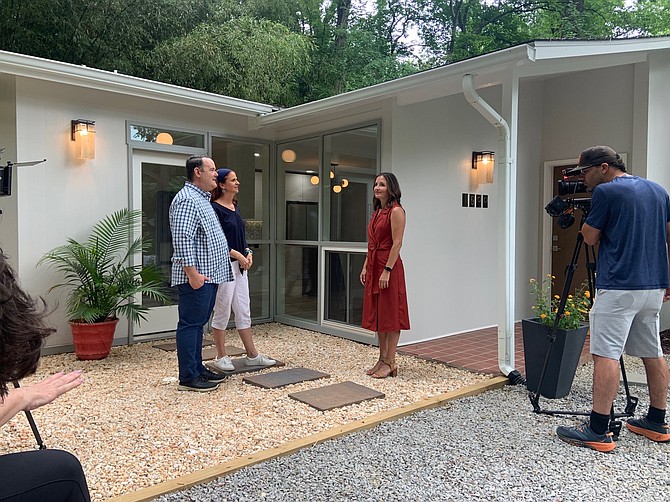 The WETA cameras were rolling in Mount Vernon recently as the local PBS channel featured three houses in their "If You Lived Here," series, pointing out several highpoints that make this area a great place to live.
The crew enlisted local real estate agent Lauren Kolazas in their search as they stopped in Bucknell Manor, Hollin Hills and central Mount Vernon to show houses at three different expense levels depending on what potential buyers were looking for.
"One of my jobs is to find the homes," said Kolazas.
This house-hunting series spotlights a wide array of neighborhoods and properties throughout the national capital area while celebrating each area's history, culture, notable places and flavor, according to the show description. The hosts, longtime Washingtonians Christine Louise and John Begeny, tour homes and communities with local realtors, exploring the D.C. Metro region one neighborhood at a time. Part of the show is guessing the prices on each of the homes they visit, so in Mount Vernon, John and Christine guess the listing prices on a starter home built in 1950, then a mid-century modern home designed by architect Charles Goodman, and finally a colonial with influences from the 1770s.
House #1 in Bucknell Manor was a four bedroom, three bath home built in 1950, with an extensive garden. Begeny guessed $650,000 while Louise priced it at $700,000, and the actual price was $695,000. At the second house, a four-bedroom, 2.5 bath mid-century modern house in Hollin Hills, they were both pretty close to the $1,050,000 selling price. The third house, a large colonial with an indoor pool, went for $1.475 million, about $100,000 beyond their guesses.
"If You Lived Here" started in the summer of 2020 and since then they've covered thirty-six neighborhoods during the first three seasons of the show, including nearby neighborhoods like Old Town Alexandria and Del Ray. The show has explores all around the DMV. In each area, they work with a real estate agent that knows the area well, like Lauren Kolazas who is a resident of Fort Hunt.
"Realtors like Lauren Kolazas are key to the success of the show," said Begeny. "The realtor is our guide to the homes, and then show producers look for community members and representatives who can really speak to the experience of living in Mount Vernon." In between house visits, the show highlighted the history of the area and the bike trail.
Shooting part of the episode in Hollin Hills worked out well because Begeny has a passion for mid-century modern homes. In fact, they featured another Charles Goodman house in a North Arlington episode.
Kolazas is an agent, so being in front of the camera was a different experience for her, but she credited the WETA team who coached her and worked with her to overcome any jitters. Nonetheless, "it was pretty scary if you have no experience doing it," she said. "It was one of the highlights of my professional career," she added.
Next stop for "If You Lived Here," will be Olney/Sandy Spring, Maryland.