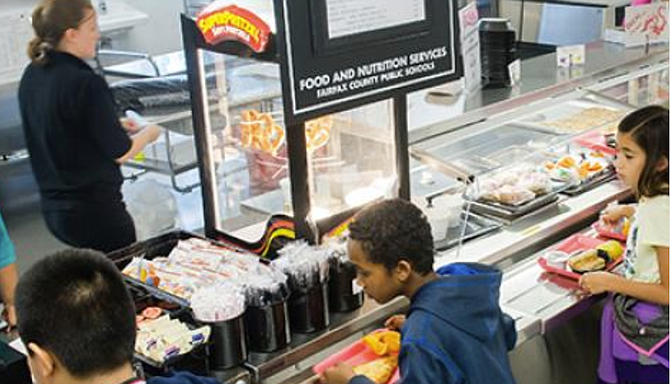 Student meal debt is becoming a financial burden for some Fairfax County families who do not qualify for free meals. Just ask Gabe Segal, a Herndon Middle School special education teacher. As the school division approaches the halfway point of the school year, he is collaborating with the nonprofit Educate Fairfax to raise money to pay off the school's ballooning student meal debt.
"I want to pay this big debt off," said Segal. "I want local community organizations and businesses to help ... get it accomplished by the end of the year. It's only $7,000," he said, noting that the total varies. Segal wants to "raise awareness and let people know that there is a problem."
Segal must be experiencing déjà vu. In 2020, when many families lost their jobs at the start of the pandemic, he helped pay off student accounts at his previous school, Sleepy Hollow in Falls Church. Sleepy Hollow, however, was a much smaller school with significantly less debt, $600, according to Segal.
Students Eligible for Free Meals
According to Kathleen Miller, a spokesperson for FCPS, as of Oct. 31, 2021, approximately 31 percent of FCPS students qualified for free and reduced-price meals, a measure of poverty. The school board determines the prices for paid breakfast and lunch, and the federal government establishes the price of reduced-price meals.
FCPS households earning less than 130 percent of the poverty level are eligible for free meals. Those with incomes ranging from 130 to 185 percent of the poverty line are eligible for reduced-price meals. Those students eligible for reduced-price meals receive breakfast and lunch at no cost. 
Students at FCPS 34 schools who participate in the Community Eligibility Provision  (CEP) program, implemented under the Healthy, Hunger-Free Kids Act of 2010, signed by President Barack Obama, receive breakfast and lunch every day at no cost. Herndon Middle School does not fall into this category.
Additionally, children who are members of households receiving the Supplemental Nutrition Assistance Program or Temporary Assistance for Needy Families, as well as those who are homeless, migrant, or runaway, may be eligible for free meals.
Fairfax County Public Schools charge student accounts from families earning more than the qualifying level the full rate for breakfast and lunch.
For an FCPS  family, the SY2022-2023 breakfast and lunch meal prices with milk sold separately can quickly add up, impacting family budgets.
A middle school student's lunch with milk costs $4.10, which includes $3.50 for the meal and 60 cents for the milk. That works out to $41 per week for a family with two middle-or high-school-aged children. Each breakfast would be an additional $1.75.
Educate Fairfax's executive director is Elizabeth Murphy. "Murphy works toe-to-toe with Fairfax County Food and Nutrition Services," Segal said. Educate Fairfax is a non-profit and one of its programs accepts donations to help offset or eliminate student lunch debt in the public school system.
Student meal debt soars in Fairfax County Public Schools and elsewhere. Why?
Far from being over, the pandemic's aftereffects continued to disrupt supply chains and drive inflation to its highest level in decades. While the pandemic was subsiding by August 2022, when FCPS opened its doors for the 2022–2023 school year, the household inflation rate had skyrocketed.
According to the US Congress Joint Economic Committee, it was 13.8 percent in Virginia, with a monthly cost of $734 and an annualized cost of $8,807 per household.
Inflation affected not only those households that could get FRM, but also those whose students couldn't get FRM because their income was too high.
"I knew Herndon Middle was a unique school that had a lot of challenges," Segal said.
He pondered how many of his students are aware of their families' financial difficulties and the impact the cost of a school breakfast or lunch has on their budgets.
"Some of them are, and some aren't. I mean, they're middle schoolers … It's honestly pretty split. People don't realize [educators] are the last resort for a lot of families who struggle to trust people, organizations, companies, and government."
To donate to Educate Fairfax, visit Erase Lunch Debt at https://educatefairfax.org/our-impact/kids-in-need/understanding-school-lunch-debt-in-fairfax-county/.
Stopping School Meal Debt
What can be done about student meal debt and to implement universal free school meals? 
In 2021, California and Maine passed legislation requiring all students to receive free meals. Colorado has decided to join them. The DC Council is considering a new proposal for free school lunches.
Introduced by Virginia Del. Michael P. Mullin, House Bill 1967, School meals; availability at no cost to the student, if passed, could stop the rising student meal debt in Fairfax County and across the Commonwealth. 
"Our former First Lady, Dorothy McAuliffe, I think, has said very aptly that students can't be hungry to learn if they're just plain hungry," Mullin said.
House Bill 1967 would, among other things, "make lunch and breakfast available to any student who requests it at no cost to the student." (Source: LIS > Bill Tracking > HB1967 > Session 2023.)
Mullin said that the experiences of three of his four young sons served as his inspiration.They were in the Newport News Public Schools when the division implemented free lunches and breakfast during the pandemic. He witnessed firsthand the progress and success many Newport News Public Schools students achieved because they had full tummies.
Mullin said that across the Commonwealth, this is something that the federal government puts in the vast majority of funds. State funds would be able to contribute the remaining funds, allowing the Commonwealth to pass a full funding bill. "It would be able to do just that, along with Budget Amendment Number 137, sponsored by Del. Danica A. Rome (D-13)," Mullin said. 
"Let's reinstate universal free school meals, #Virginia," tweeted Roem. "When the federal government doesn't do its job, we have to do it in the states."
Mullin said that he believes the existence of school lunch debt is a "moral failing on the part of all of us in the General Assembly."
"We do not charge for the bus. We do not charge for the water fountain. We do not charge for chalk. We need not charge for school lunch," Mullin said.