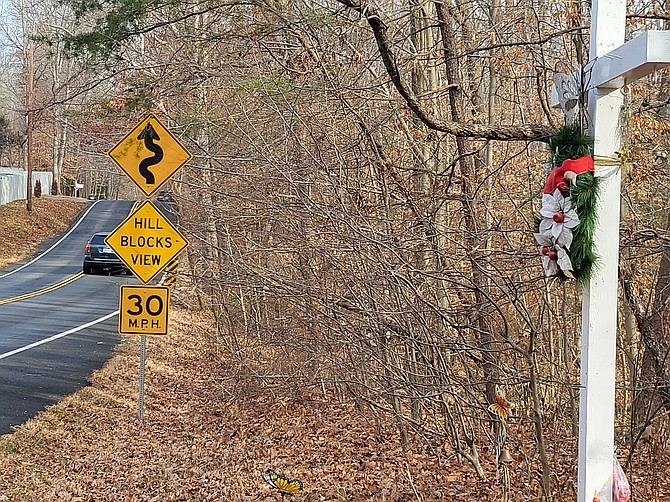 Two teens were killed in a fatal accident on Lee Chapel Road in Fairfax Station on Tuesday, Jan. 10, putting the spotlight on a hazardous spot that's been on area officials' radar for years. The recent crash occurred when a car full of teens from South County High School crested one of the steep hills, lost control and crashed into the woods, killing two girls and putting one in the hospital with serious injuries.
This area has been the site of several fatal accidents in the past. There are two sharp hills where a car can actually become airborne, a feature that is well known to drivers in the area. Currently, there are a few makeshift memorials for past accidents, including one big cross with flowers, intended to note an accident years ago that killed a girl named "Allie." A note remains on the cross:
"Dear Allie, today is the 17th and it's been a hard 17 years without you my sweetness, I love you, I miss you," it read.
According to the Fairfax County Police, dispatchers received an emergency notification at 9:26 p.m. on January 10, for a crash in the 7400 block of Lee Chapel Road. Officers searched the area and found a 2019 Lexus IS350 off of the road. Fire and rescue personnel extricated one victim, who was taken to a nearby hospital with injuries considered life-threatening. Two other occupants of the Lexus were declared deceased at the scene. 
Preliminarily, detectives determined the driver was traveling north on Lee Chapel Road. As the sedan crested a hill, the driver lost control, left the roadway and the vehicle came to rest on its roof. Preliminarily, detectives believe speed was a factor in the crash. Alcohol was not a factor in the crash, police said.
This section of Lee Chapel Road is in the Springfield District and Supervisor Pat Herrity has looked at improvements in 2015 and 2017 but it became a budget issue. After this last fatality, he's planned a meeting with the Virginia Department of Transportation and the Fairfax County Department of Transportation. "I'm looking for an interim solution right now," Herrity said.
Speed is a big factor on this road, and recently Herrity worked with the police at the West Springfield station to get a speed enforcement team to address speeding. Lately the FCPD has experienced staff shortages so they eliminated these teams.
In the Springfield District, there have been other accidents on the rural roads, so Herrity is looking at other places in need of solutions as well. There are places on Popes Head Road, Hampton Road and Clifton Road that need some attention, he said.
On social media, there was a petition to get Lee Chapel Road fixed, as well as several other suggestions including "make that stretch a four lane, taking out the curves and humps," said one responder on Nextdoor. Lowering the speed limit was another option that was discussed. "If they do not follow the speed limit now, what good is lowering it?" asked a responder from Keene Mill Oaks.