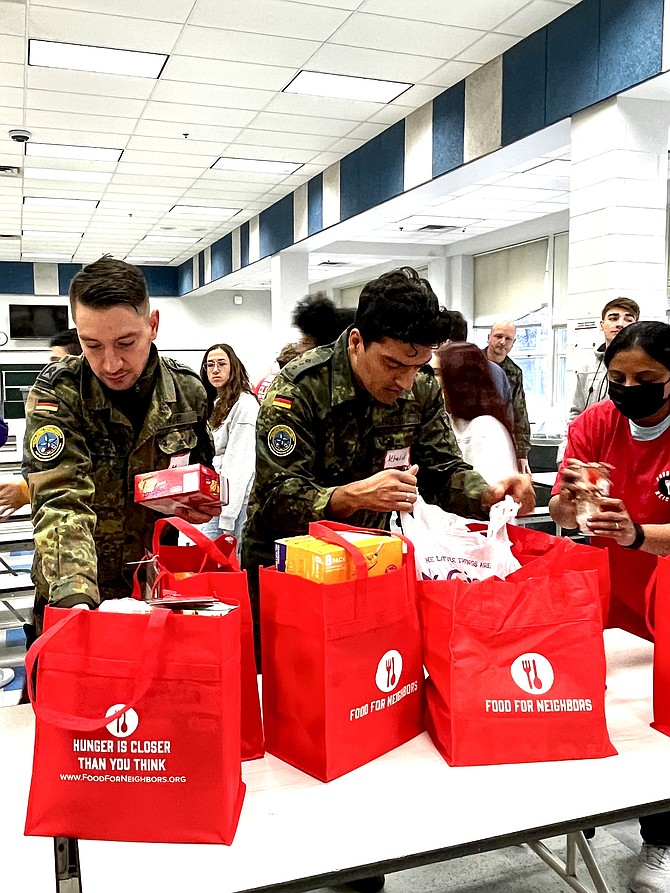 In 2016, Karen Joseph saw a need at a Fairfax County Public School, with food insecurity and hunger impacting the high school students. At the time, Joseph envisioned she and her friends would stock a single office drawer of one social worker with prepackaged food items for her hungry students. That effort grew to become the nonprofit Food for Neighbors, one of the fastest-growing public charity food aid organizations for middle and high school students in Northern Virginia. It is operated and supported by local donors, volunteers and businesses.
Joseph founded and continues to serve as president of the Herndon-based 
nonprofit
 Food for Neighbors
. With 500 volunteers, the organization helps students in Fairfax, Arlington, and Loudoun counties. "We are feeding between 4,500 and 4,800 students at 37 middle and high schools weekly and biweekly," Joseph said on Jan. 14 at Herndon Middle School.
On that particular day, the school's cafeteria was one of the eight kickoff collection drop-off and sorting locations the organization had planned for its first distribution in 2023. The signature Red Bag Program is the heart of what they do at Food for Neighbors. People wanting to donate can request a bag, fill it with some of the items listed on the attached tag, and leave it outside their front door on the recorded Saturdays. Volunteer drivers pick up the bags, and other volunteers sort the items to distribute the same day to local schools. "They (the students) check in regularly to pick up food, toiletries, or grocery store gift cards from the social workers and family liaisons at their schools," said Joseph.
The impact of Food for Neighbor's distribution helps middle and high school students with basic human needs. "We have an amazing organization here that is helping us meet that need," said Dranesville District Supervisor John Foust (D), who attended. "We're fortunate to live in a society where the schools have programs that will feed children and students during the school day, but a big gap needs to be addressed ... We rely on the nonprofit community to help make life bearable and better for so many residents of our community."
Sheila Olem, the mayor of the Town of Herndon, said, "I was amazed at the local churches and nonprofits that teamed up together and looked after our community because the government can't do it all."
Colonel Jöerg Dronia is the German Armed Forces Command commander at 11150 Sunrise Valley Drive in Reston. Dronia said that when he assumed the position approximately one and a half years ago, he inquired about their relationship with Reston and Herndon. "No clue," Dronia discovered. "That can't be. We have been here for fifty to sixty years," he said.
Dronia knocked on the local supervisors' and mayor's doors. He talked to  community members and realized that the United States social system and safety net differ from that of Germany. Dronia said he learned about volunteers in the U.S. and their contributions. 
Wanting to be a part of this change team, the colonel said he raised funds for community activities. "That was our strategy. That was our game. That was my game, and it was strongly supported by staff," Dronia said.
As members of the German Armed Forces Command stood with other volunteers awaiting the first drivers to drop off their collected Red Bags, Dronia presented what he called a "small donation" to Joseph. He explained that the funds came from a portion of the German Armed Forces Command's 2022 Christkindlmarket and Oktoberfest. Dronia provided Food for Neighbors with a $4,093.60 check. 
Food for Neighbors' mission is to end child hunger in the Northern Virginia area by raising awareness and community involvement. Through awareness comes a desire to help because no one believes a child should struggle with hunger. Interested in engaging your community to help local teens? Find out
 more
 at www.FoodforNeighbors.org