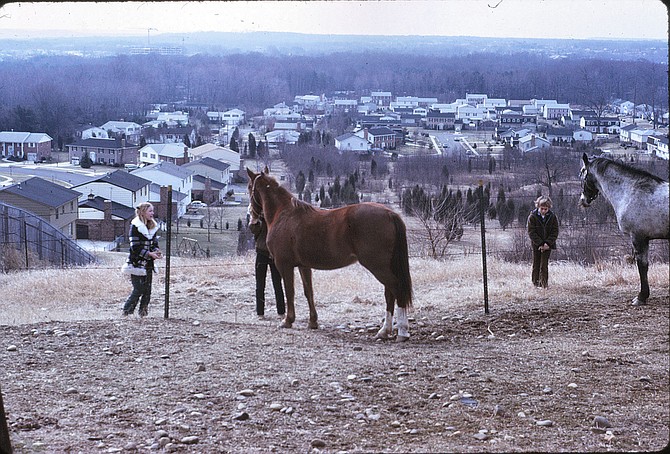 When a thief stole Tim Chester's bike back in 1980, he hopped on his Chestnut horse named Whiskey, and continued his paper route, delivering the Alexandria Gazette to the 35 homes in Hybla Valley on horseback. It was 42 years ago and riding a horse around that part of Mount Vernon wasn't the norm, but simpler times and fewer cars on the road made it possible.
"Sold my minibike and bought Whiskey," he said. "Horses are more of a luxury these days," he added.
Years ago, the Alexandria Gazette was a daily newspaper, and it was delivered up and down Richmond Highway. There were a few farms, stables and cows grazing in fields that are now communities. Popkins Farm was located where the Mount Vernon Hospital is these days and it had dairy cows in the 1950s and 1960s. Along Pole Road and Jeff Todd Way, cows grazed along Dogue Creek in an area that is now apartments.
Another farm off Riverside Road boarded local horses, and Chester had a friend that kept her horse there and rode in Fort Hunt Park. "She rode her horse English," Chester said, referring to a style of saddle and the way it was used. There was also Tamarack Farm in Mount Vernon that had lessons and boarding, one person said.
Chester said there were some rules, but those with horses were grandfathered in, so they could still take them on the local roads and trails in Mount Vernon.
Chester was a graduate of Fort Hunt High School in 1979 and ended up buying a 1967 Camaro after the horse. He took riding lessons at the Woodlawn Stable while in school, and is now getting ready to retire from UPS where he has been a delivery driver for years.
"It was something back then," he said.
Horse History
Others remembered other aspects of the horse days around Mount Vernon. In some neighborhoods, people didn't like the horse manure that was left around, said Missy Smith, who remembered that they even put up "no horseback riding" signs in a nearby park. "They only lasted there a couple of weeks," she said.
Jim Neitzey's father was a carpenter at the Mount Vernon estate for years, and Neitzey recalled the amount of horseback riding that went on at the plantation. The director was a man known as "Mr. Wall," Neitzey said, and sometimes President John F. Kennedy would come down and ride, he said.
Charles Cecil Wall was resident director of Mount Vernon for 39 years, from 1937 until 1976. 
Current resident George Collier mucked the stalls at Briary Farm in the mid 1970s when Walt Whitman Middle School was Stephen Foster Middle School. Briary Farm was near the current hospital.
Woodlawn Stables were a big part of everyone's horse memories. Riding lessons and boarding were the norm at Woodlawn until around 2014, when the highway widening project pushed through and the stables were relocated. Owners Cindy Mitchell and her mother Joan moved the horses about 60 miles out to Claddagh Farm in Jeffersonton, Virginia, and that was the last of the commercial stables in Mount Vernon. 
There is still a stable at Fort Hunt Park for the park police.