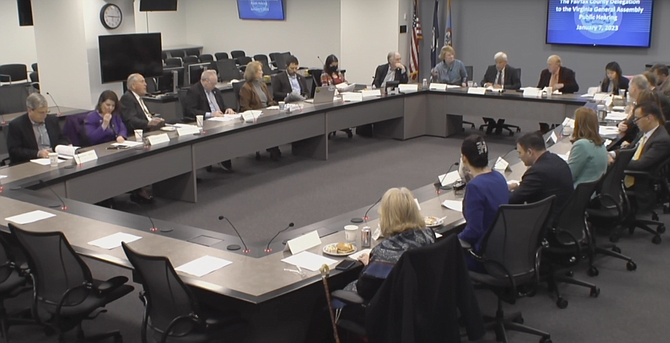 Funding for serious mental health issues, affordable and low-income housing, gun measures, $1 million in funding dedicated to English language learning that is disappearing, and the tragic pedestrian deaths of students making their way to and from Fairfax County Public Schools are just some the concerns brought forward by county individuals and groups to the Fairfax County Delegation to the Virginia General Assembly recently. They highlight and represent the need for action at the Commonwealth level to support making communities safer, healthier, and more economically secure with equitable education for all families and individuals who call Fairfax County home. 
The 2023 regular Legislative Session of the Virginia General Assembly begins on Wednesday, Jan. 11, 2023 in Richmond. On Saturday, Jan. 7, nearly 45 Fairfax County residents testified at a public hearing before the county's delegation to the General Assembly, held at the County Government Center. 
Senate Majority Leader Richard L. Saslaw (D-35) chaired the public hearing. "This is the first time in three years that we've held an in-person meeting of this type, ...and quite frankly, it's good to be back here again," Saslaw said. He introduced guest speakers Jeffrey C. McKay, chairman of the Fairfax County Board of Supervisors, and Rachna Sizemore Heizer, chair of the Fairfax County School Board.
Highlights of Testimony to the Fairfax County 
Delegation to the Virginia General Assembly
Chairman McKay focused on three issues. The first was Gov. Youngkin's proposed 1 percent retention bonus for teachers. The proposal would provide state funding of approximately $4.3 million in FY 2024 while requiring $15.5 million in local Fairfax County funding. 
"This can be extremely confusing to our public when raises require approximately 82 percent local funding and only provide 18 percent state funding," McKay said.
Behavioral health funding is critically important, McKay said. "The state's behavioral health system has been unable to provide sufficient support to meet its own mandated requirements," he said. 
Third, McKay wants to restore the total amount of the county's lost $102 million to help fund Metro. "Right now, we're at $63.5 million," he said.
Chair of the Fairfax County School Board, Sizemore Heizer, urged the delegation to strengthen information sharing so FCPS students are safe, particularly related to school employees arrested for child endangerment or sex-related crimes. She highlighted the need for additional resources focused on youth and adolescent mental health and substance abuse, community and inpatient programs, and improvements in the workforce pipeline for mental health professionals. 
"This is a critical need for our students; please help us," Sizemore Heizer said.
In light of the recent tragic deaths of FCPS students walking to and from school, Sizemore Heizer urged the delegation to grant localities and school boards greater flexibility in setting schools' safety limits for pedestrian safety.
Sizemore Heizer voiced concern about amendments to the Virginia Education Account Program. The current proposal, House Bill 1508, by patrons Davis, Durant, Fowler, Greenhalgh, and La Rock, allows parents to set up a savings account funded with state funds "intended for the child's education for any qualified expense that best meet the child's needs," according to Virginia's Legislative System.
FCPS has a policy against using public money for non-public education, Sizemore Heizer said. "We must do all we can and partner together to protect public education. It is the bedrock of our society, and it is how people improve their lives," she said.
Dr. George Cody of Alexandria supported House Bill 1383, prohibiting the non-therapeutic declawing of cats. "Declawing involves amputating the last part of a cat's front toes. For example, a comparison is if you involuntarily had the last joint of your fingers cut off against your will," Cody said.
Paul Berry of Reston, who formerly served in the office of Governor Northam, is an educator and a Mexican American who grew up in a dual-language household. Berry worked with English language learners and special needs students, he said. "They're still struggling to catch up and recover at the same rate as their classmates. "Unfortunately, $1 million in ARPA funding that was dedicated to English language learners is disappearing this year," Berry said. "Governor Younkin … is currently supporting further reductions in public school funding," Berry added. He requested assistance from the Fairfax delegation. "I ask that you continue to advocate for these measures and call out any attempts to harm our environment or our education system," Berry said. 
Michelle Jefferson of Springfield and chair of the Fairfax County Community Action Advisory Board, or CAAB, said that Virginia's TANF (Temporary Assistance for Needy Families) remains at or below 32 percent of the Federal Poverty Level for all family households. "CAAB supports the Board of Supervisors' position on the continued increase in the TANF reimbursement rate," Jefferson said.
Maria Isabel Leiva Alfonso, a Falls Church resident and member of CAAB, testified about the difficulties that many community members, particularly those earning less than $25,000 per year, face when looking for quality, affordable childcare in the county. "The average cost of full-time childcare for a preschooler ranges from $16,000 to $22,000 per year," Alfonso said. CAAB supports the Board of Supervisors' position that the Commonwealth should support state childcare funding for economically disadvantaged families participating in Temporary Assistance for Needy Families (TANF) in the family initiative for education and work.
According to Alfonso, supporting a waiver from the Virginia Department of Education (VDOE) that would allow Fairfax County to permanently increase program income eligibility above the current 250 percent of the federal poverty level for the state subsidy would help address challenges experienced due to the high costs of childcare and a high cost of living in Northern Virginia.
Susan Laume of Springfield
 represented the 
VA Dog Army
. She asked the delegation to support a water bill sponsored by Delegate Kaye Kory (D-38) for dogs and cats that would ban the use of small mammal drip bottles as their water source. According to research, dogs push their tongues into bodies of water, causing a spoon effect with the tongue curling backward and scooping up water. Cats use the tip of their tongue to touch the water's surface, drawing up a column and then biting down on it to drink. The current code requires that water be provided to suit the species.