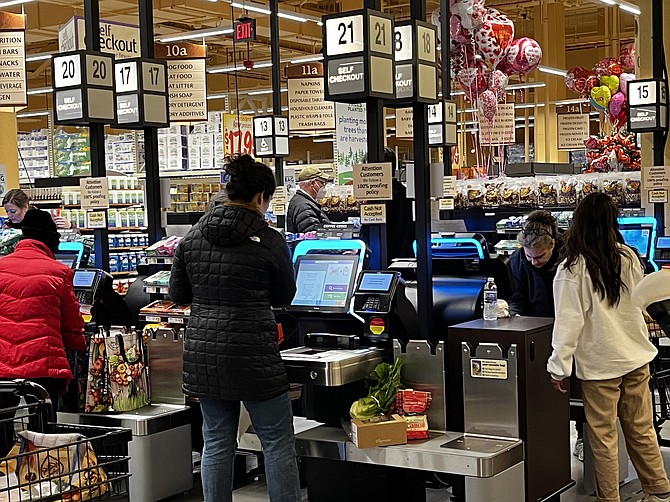 On Feb. 1, the new Wegmans, Reston, at 11950 Hopper Street, held its grand opening. With its "passion for food," the 85,000-square-foot store with parking underneath is the anchor tenant for the Halley Rise project.  
Katie Sullivan is the Wegmans, Reston store manager, and Amber Speziale is the service manager. 
The hiring office opened ten months ago and recruited 425 full-time and part-time employees. According to Marcie Rivera, public relations at Wegmans Food Markets, customer service roles started at $15 to $16 per hour, and entry-level management roles began at $20 to $21. 
Newsweek's America's Best Retailers 2022 ranked Wegmans Food Markets as the best supermarket. At Wegmans, Reston, shoppers browse hundreds of organic fruits and vegetables. The seafood department receives fish daily from the east coast, national, and international ports. Wegmans sources artisan cheeses, which are then ripened and enhanced in cheese caves. Executive chef Vinny Tacci and his 95-person culinary staff prepare restaurant food, including fresh sushi, pizza, wings, hot soup, made-to-order salads, and subs.
Wegmans' tagline is "We are a caring company with a passion for food."
Its interests are aligned between a highly-ranked supermarket experience that generates an economic benefit and context-based social benefits for its employees and the community. According to Riveria, the corporation provides scholarships of $8,000 to part-time employees and $16,000 to full-time employees (and management interns). Wegmans, Reston donated nearly $20,000 last year through contributions and event sponsorships to groups in the Reston area even before opening.
Speziale oversees local giving. This spring, five graduating seniors from South Lakes and Herndon high schools will each receive a $1,000 scholarship grant as a symbolic nod to Wegmans' Employee Scholarship Program. The store is donating $1,000 to the food pantry at South Lakes High School.
The store has sponsored and participated in several community events already. "We were part of the annual Reston community yard sale. ... We had a booth at the Reston Walk to End Alzheimer's, and our employees handed out bananas and water. Our recruiters quickly developed a relationship with the Reston YMCA, and they've been a great partner ever since," Sullivan said. Wegmans Reston donates healthy fresh food to Food for Others daily and has donated $10,000 to Food for Others to expand its "My Market" facility, where clients in need can shop for food.
Wegmans Shoppers Club and app sign-ups are available at https://www.wegmans.com/reston. 
Halley Rise
 is billed as "Reston's new curated city,"  consisting of eight blocks that are pedestrian-focused with sustainable practices and steps from the Reston Town Center Station on the Silver Line. It offers workforce-dwelling units and is expected to hold self-driving cars in partnership with Optimus Ride.