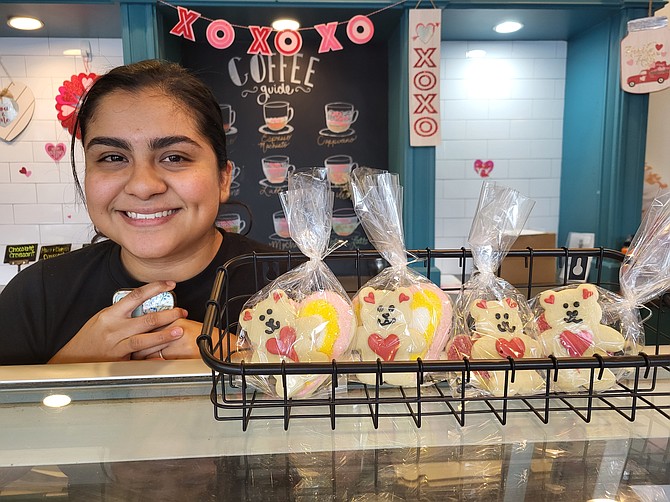 Every Valentine's Day in Mount Vernon, there are those that wait until the last minute before getting that dozen red roses, chocolates or the special pink keepsake covered in red hearts. When the calendar flips to Feb. 14 though, business owners and flower designers are ready.
"Those last hours, everybody's in here, they're all men," said Christine Duffy, the sales rep at the Top It Off outlet in the Hollin Hall Shopping Center. "Lot's of last minute shopping," she said.
Top It Off has a Valentine's Day display consisting of items $15 and less for those last minute shoppers. There are jewelry items, socks with hearts, hoodies and more that are perfect for the occasion. The shopping has begun in early February, but she's expecting a mad rush on the last two days.
A couple of doors down at the Hollin Hall Pastry Shop, they are taking orders for their Heart Shaped Cake, ($28) or the Valentine Pastry Box, ($25), and then there's the special cookie pack for less than $5 that the pastry chef, Amparo Sorto makes by hand. "People like bears and hearts," she said. When they sell out, Sorto is ready to make more on the last day. "I always try to accommodate," she said.
It's all about roses in The Virginia Florist up in the Belle View Shopping Center. Owner Kevin Green knows the routine and has two boxes full of orders to be picked up on the final days. The Feb. 13 box has a few orders but the February 14 box is full, and he expects it to pour over as the big day approaches. "Men are creatures of the last minute," he said.
He's expecting the first 2,000 red-rose delivery on Thursday, Feb. 9, followed by a second delivery of a few thousand on Feb. 10 and 11. The roses have to sit a day or so outside the cooler to start blooming.
On Valentine's Day, he will have six drivers in six different trucks going out as far as Bethesda and Chevy Chase to make deliveries. "It will be fun," he said. There is a big demand in the law offices up in that area he said, and since Valentine's is falling on a weekday, that is a big part of his orders. If it fell on a weekend day or a snow day, the demand wouldn't be as big.
In the last few years, COVID had a big impact but this year will be different, he predicted. "It's probably the first good year coming out of COVID," he added. 
Alan Severson is one of the delivery drivers and he's done it before, so he knows what to expect. It will be all flowers and smiles, he predicts. "Generally a congenial group," he said.