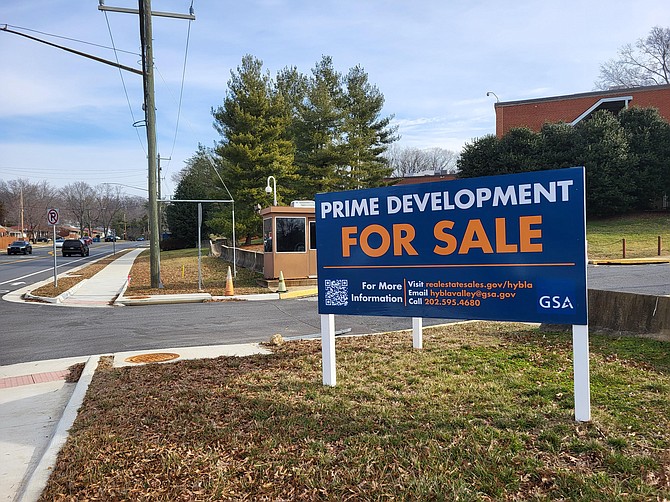 A former federal government building and 10.5-acre piece of land recently went up for sale, and the former residents of the 110,000 square-foot building were part of the Defense Nuclear Agency, so it has occupied this spot on Telegraph Road without much fanfare.
The signs indicate it is owned by the General Services Administration and the first step to selling it is through a formalized auction on Feb 8. The price starts at $2,000,000, the website said.
On the official report, the property is called the "Hybla Valley Federal Office Building," although it is not really in Hybla Valley, which is closer to Richmond Highway. According to the report, there was "the discovery of a release of petroleum products during subsurface investigations." This was connected with operations at the site. "Based on historical information available for the Property, a 12,000-gallon underground storage tank used for heating oil was previously abandoned in place, a 4,000-gallon underground storage tank  for heating oil was removed from the property, and a 2,000-gallon underground storage tank, likely for diesel fuel, was also removed from the property in 1994," the report stated.
The property is surrounded by parkland owned by the Fairfax County Park Authority, including Greendale Golf Course to the northwest, Lee District Park to the east, and Huntley Meadows Park and Resource Management Area to the south, it said. The staff at the golf course across the street saw the signs which first went up earlier this winter, but they don't know much about it.
With all these tanks and fuel storage in the past, is there any danger to the surrounding homeowners that live about two blocks away on the other side of Telegraph Road or the golfers at Greendale, or the natural environment at Huntley Meadows? It is addressed in the report. "Based on this qualitative risk analysis and the results of the receptor survey, there do not appear to be any current or future impacts to human or environmental receptors as a result of the release of petroleum at the Property. The residual contamination in soil at 20 feet BGS at the Property will be expected to degrade and naturally attenuate over time," it read.
To ensure land doesn't go right from sale to development without some oversight, Fairfax County has a section called the Site Development and Inspections Division of Land Development Services that ensures all county, state and federal regulations are met for development. For more information on this program, go to https://www.fairfaxcounty.gov/landdevelopment/site-development.