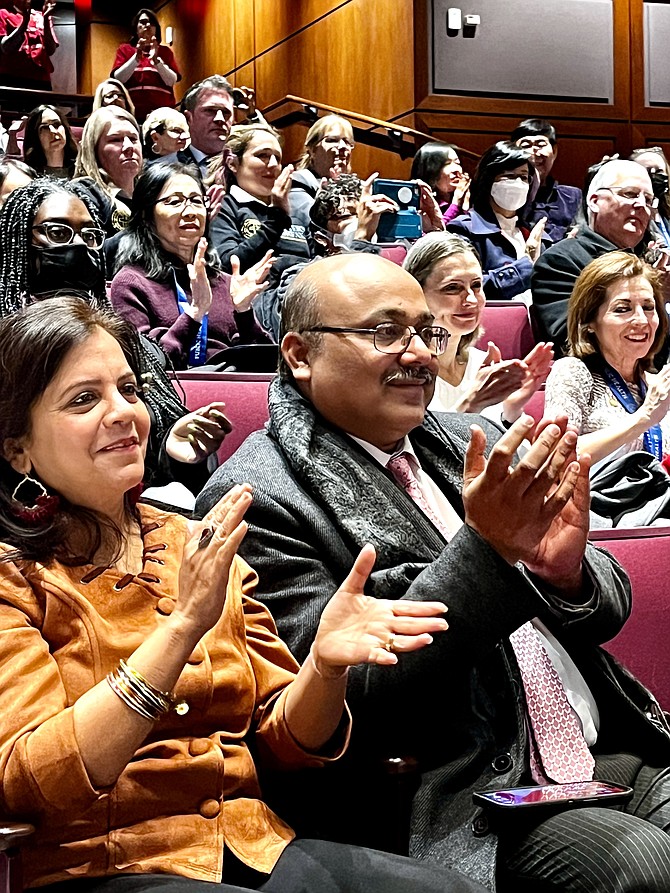 As the world enters the fourth year of the COVID-19 pandemic, the Public Health Emergency of International Concern remains, according to a statement by WHO Director-General Tedros Adhanom Ghebreyesus, on Monday, Jan. 30. 
Still, in Fairfax County, it is time to recognize and commend hundreds of people, civic and community groups, businesses, and others who helped respond to the COVID-19 public health emergency from January 2020 to December 2021 through partnerships with the Fairfax County Health Department.
These efforts helped steer the pandemic response in communities toward higher levels of immunity, lowering virus-related deaths.
The county's health department held its Public Health System Partner Recognition on Saturday, Feb. 4. To accommodate the many honorees, the department had three program seatings at the Fairfax County Government Center from 9:45 a.m. to 3 p.m.
"Public health is what we, as a community, do together to create the conditions where everyone can be healthy and safe," said Chairman Jeffrey C. McKay. "The emergency response was defined by more than COVID tests and vaccines. It was defined by our humanity."
After three years of pandemic challenges, there is much for which to be thankful, says Dr. Gloria Addo-Ayensu, the director of health for Fairfax County Health Department. "The gift of life, the gift of family and friends we can lean on, and the gift of our local public health system partners. … [They] rose above their own needs and concerns to assist the health department in responding to the worst public health crisis of our lifetime," Addo-Ayensu said.
The department honored faith-based organizations like the All Dulles Area Muslim Society (ADAMS), Chùa Hoa Nghiêm, Durga Temple, and McLean Baptist Church. By opening their doors and sharing clinics for testing, health, safety, and vaccine equity, the organizations frequently served as pillars for public health initiatives.
Community organizations such as Alpha Kappa Alpha Sorority, Chi Beta Omega Chapter, Cornerstones, and Fundación los Niños de Maria provided essential resources for those in isolation or quarantine, including those of the county's most underserved populations. Their staff and volunteers helped connect neighbors to resources and slowed the spread of COVID in Fairfax.
"They rose to the challenge during COVID-19," said Allyson Pearce, community relations specialist with the Fairfax County Health Department. Pearce shared two stories about people who provided health information, advocated for vaccines, and supported the needs of their employees. They are, she says, "true influencers," ordinary people to whom others pay attention.
Chef Latino is a restaurant with a food truck that frequently visits construction sites. "They loaded up their truck with information about the COVID-19 vaccine and health and safety, and as you were getting your order, you received information," Pearce said.
"Maid Bright in Herndon is amazing. You can imagine how much off a cliff that business fell [in the first part of the pandemic]. He did not fire anybody …  but shifted everybody around so they could earn something," Pearce said.
Pearce discussed vaccine apprehension and how the owner of Maid Bright contacted the health department, which dispatched a health educator. She and other Latinos on the department team sat with the employees and answered questions in their native language.
"It's the most basic level of community health efforts, in my opinion. That resulted in us bringing vaccines into that business. … They got so comfortable they brought their families, so it became a community," said Pearce.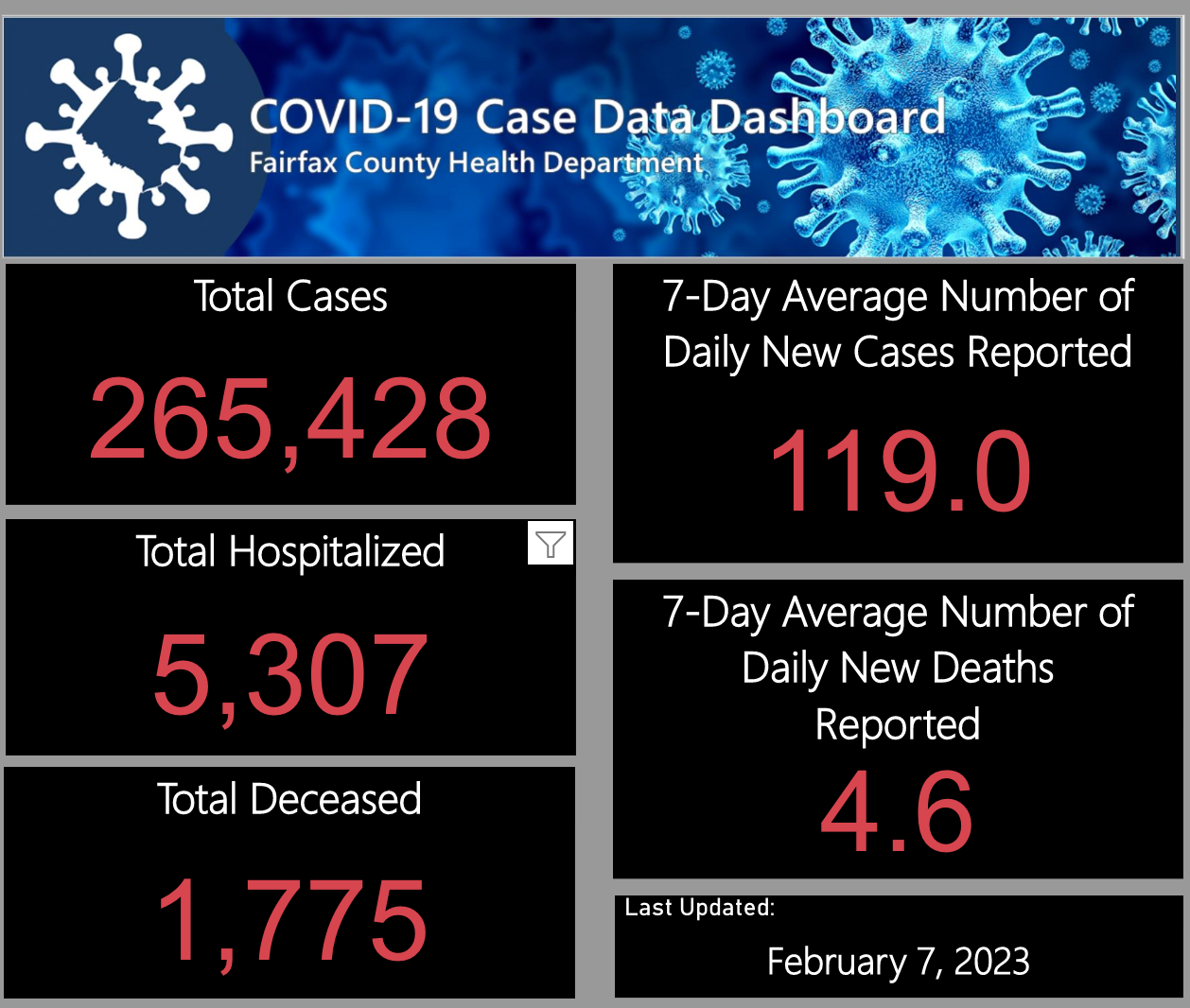 Sully Supervisor Kathy L. Smith presented a resolution from the Fairfax County Board of Supervisors to Addo-Ayensu on behalf of all county residents. It expressed gratitude for the "unified, collaborative, and unprecedented efforts of these partners that undoubtedly spared illnesses and deaths in our communities." The resolution recognized the partners "who, despite their own struggles and fears, showed leadership and truly embody our goal of healing health as a human."
"By working together, we created safer, healthier, more resilient people, families, businesses, organizations, and institutions that will serve to benefit our community for years to come," Smith read.
On Sunday, Feb. 5, the Case Data Dashboard that provides information about COVID-19 in the Fairfax Health District, which includes Fairfax County, Fairfax City, and Falls Church City, reported the 7-day average number of daily new deaths was 3.7, the 7-day average number of daily new cases was 127, the total number of cases during the pandemic was 265,225, the total number of hospitalized individuals was 5,306, and the total number of deaths was 1,769. 
For the week of Jan. 27, 2023, the Fairfax County Health Department reported five new COVID-19 outbreaks in school and childcare settings, one in congregate care, and one in "other," defined as places such as county facilities, business workplaces, restaurants, retail and the like.