Wednesday, August 30, 2023
When the sun peeks out on trash pick-up day during the week, a noisy diesel engine, squeaky brakes and compactor in action are an unwelcome alarm clock in some neighborhoods. This may be coming to an end with the all-electric trash truck that was recently launched by Fairfax County. It's the first truck of a new fleet the county is buying and will be in action soon.
"We're trying to pilot this to demonstrate that it works," said Fairfax County Chairman Jeff McKay. "This is an investment in our environment," he added.
Supervisor Dan Storck (D-Mount Vernon) has been behind protecting the environment throughout his time as supervisor and was one of the officials at the ribbon cutting that launched the new truck. He noted the way it aligns with the Fairfax Green Initiative that was launched in 2019. "We put together some aggressive goals," he said.
One of those goals was for the county buildings to be at zero waste by 2040 and the county to be carbon neutral by 2050. "We're on track," Storck said.
McKay and Storck were at the launching event with Bryan Hill, Fairfax County Executive; Chris Herrington, Director, Department of Public Works and Environmental Services; and John Morrill, Acting Director, Office of Environmental and Energy Coordination. They cut the "green" ribbon and then did the ceremonial "plugging in" of the truck too. The county facility along Cinder Bed Road in Newington has the only two trash truck charging stations, located just outside the garage.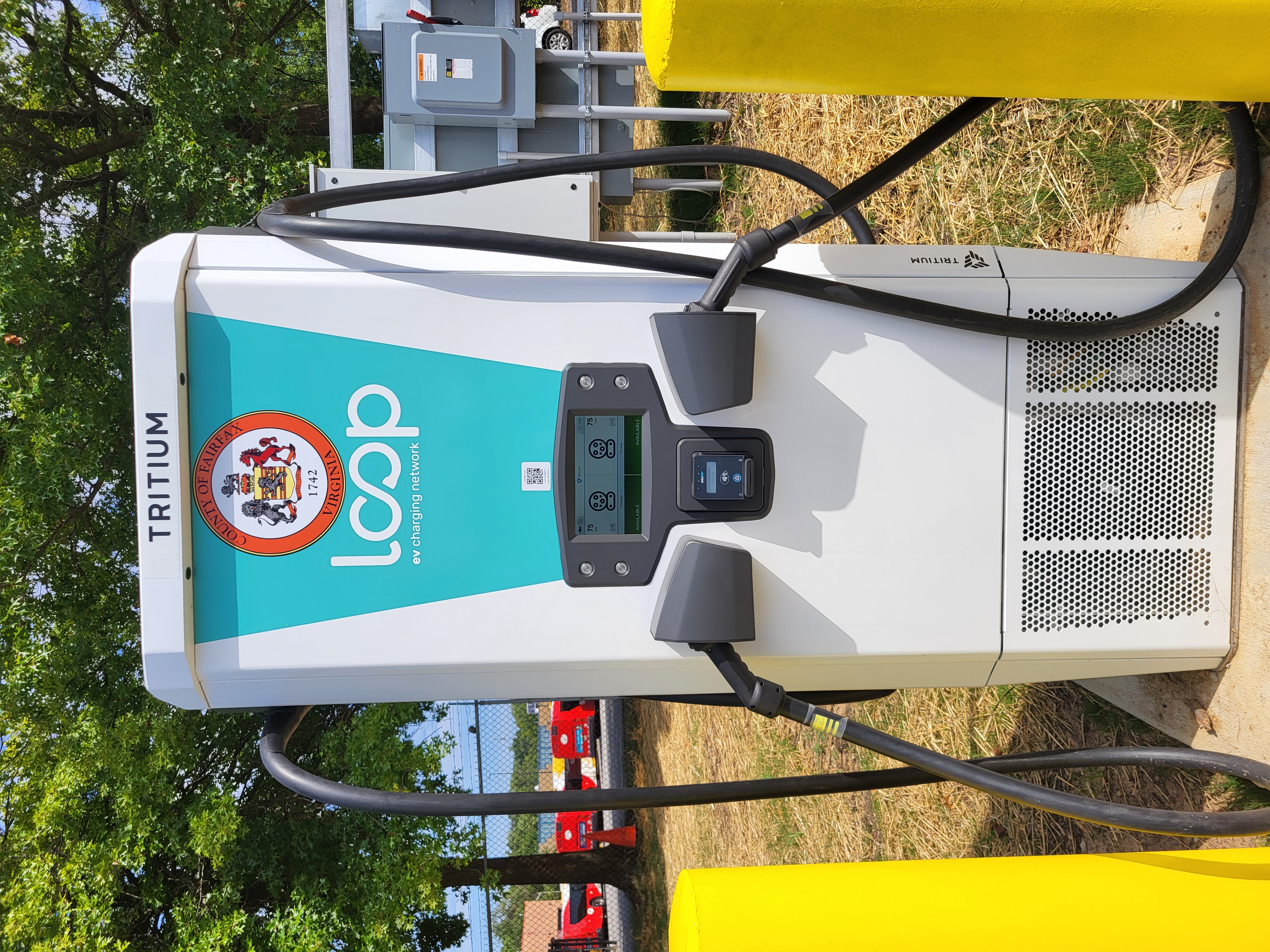 One of two special plug-in stations. 
According to Fairfax County, the truck costs nearly $350,000, funded by the department's Solid Waste Management Program and a grant from the Virginia Department of Environmental Quality.
Talking Trash
Americans throw out 4.9 pounds of trash per person every day which equals 1,800 pounds per year. According to the EPA, the largest percentage of trash is paper followed by food, plastics and yard waste.
Currently, trash trucks use about 6,000 gallons of diesel fuel each year, spewing smoke out the exhaust pipe. But the trash must be picked up somehow. The new trucks will save all that fuel and exhaust, which will be easier on the county employees that work with those trucks too.
Not everyone in Fairfax County will see or barely hear the new truck though. Most communities have a private trash service and only about 10 percent of the households in the county have official Fairfax County trash service.