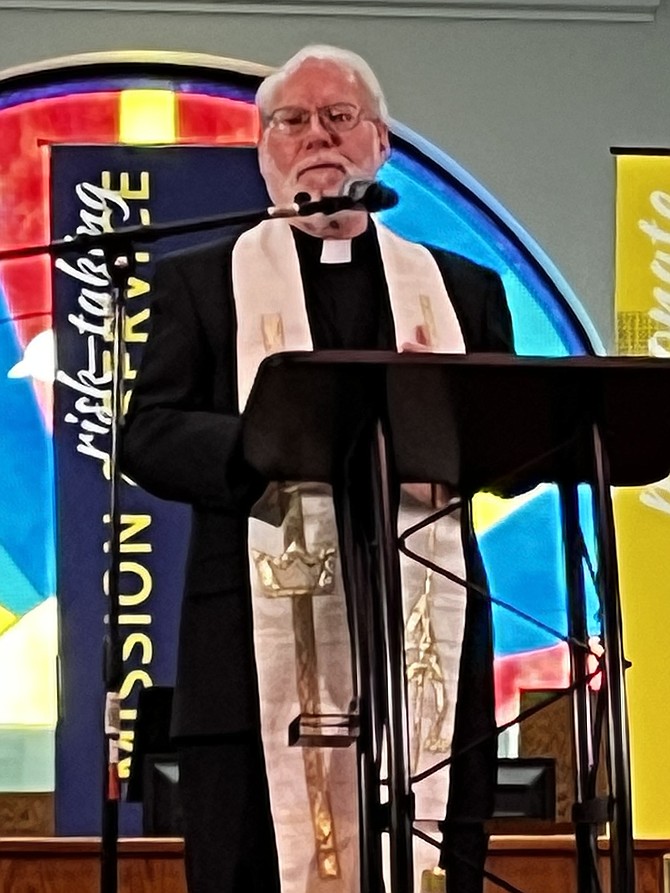 Influenced by the Feb. 22 shooting and killing of shoplifting suspect Timothy Johnson, 37, at Tysons Corner Center by Fairfax County Police officers and the increase in police use of force cases in the county, Faith Leaders United of Northern Virginia held " Call to Action: An Ecumenical and Interfaith Service" on April 16. It coincided with the 60th anniversary of Martin Luther King Jr.'s "Letter from a Birmingham Jail."
Multi-racial, multi-faith clergy teams invited legislators and candidates from all levels, community activists, and others to the First Baptist Church of Vienna program at 450 Orchard Street NW. Rev. Dr. Vernon C. Walton was the host pastor. The 17 speakers tied the anniversary commemoration of King's letter to their current ongoing fight for justice for Johnson and others shot and killed by Fairfax County Police. 
Rev. Stephen Smith Cobbs, Trinity Presbyterian Church pastor in Herndon, and other faith leaders urged action. Cobbs said everyone should follow Reverend Dr. King's example and act. "Write our own letters to public officials (to) encourage them to take action to restore trust and accountability," he said.
The program suggested mailing a letter to the Fairfax County Board of Supervisors, the Commonwealth's Attorney, and local business owners and leaders.  Reference http://www.nvhcreston.org/664393-2/.
Pastor Paul Sheppard of the First Baptist Church of Merrifield said waiting for justice through the legal system or the goodwill of white moderates would "only perpetuate the vicious cycle of oppression and inequality. … [King's] letter is still relevant," Sheppard said.
As a teen, Rev. Scott Ramsey, pastor at Lewinsville Presbyterian Church in McLean, had read King's letter.  He learned that "the Negros great stumbling block in the stride toward freedom is ... the white moderate … (who) is more devoted to order than to justice."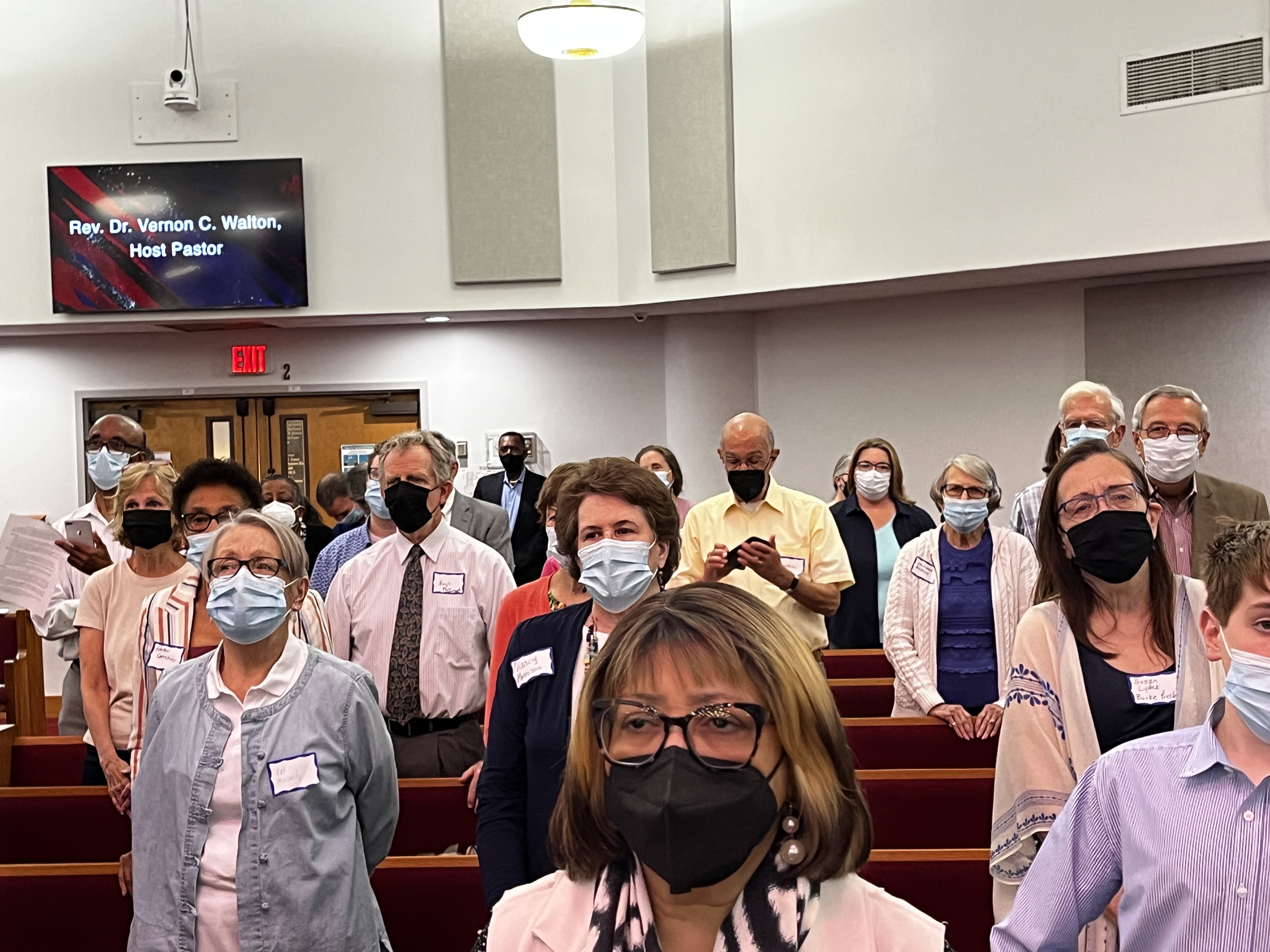 Ramsey said the timetable for another man's freedom cannot be set "until a more convenient season." Ramsey said King wrote that waiting for change is no longer an option. "We do not want our community to elevate consumer goods over human lives. So, we are here together to think together as a community about loss prevention policies in our businesses. We are here to call for proper accountability and training for our police officers. We're here to call for equipping our police officers, whom we value and honor, to be ready to de-escalate situations. We are here to think together about improving public safety so that lives serve the common good of all of us. Those of us who aren't white, we need to be involved in this now."
Karen Campblin, third vice president and immediate past president of the Fairfax County NAACP, attended for Michelle Lee, president. Campblin said she realized the community would still feel King's sentiment and awareness even if his letter were dated today. Disparities persist despite gains. Campblin said they want more than words from the Board of Supervisors, Commonwealth's Attorney, and police chief, "actionable solutions and definitive reassurances that this will never happen again."
"Moving forward," Campblin said, they are asking for an end to "excessive use of force policies that will hold our police officers accountable, instituting comprehensive policies and procedures... establishing a foot pursuit policy … and of course, community-based alternatives that aid in mental health and substance abuse crisis responses." 
According to Campblin, these changes would fail if Black lives were undervalued. Leaders should enforce these new rules.  They must also change the culture, enforce fairness and equality, and admonish efforts to demonize Black, brown, indigenous, and low-income communities. "The urgency now," Campblin said.
Rev. Aaron Fulp-Eickstaedt, a pastor at Immanuel Presbyterian Church in McLean, said he received a call that no pastor ever wants to hear. One of his church members, a young trans man name Aaron Lynch "had been killed by Fairfax County Police." The killing took place after three officers went to his home for the second time that evening, a mental health call. According to Fulp-Eickstaedt, Lynch "was experiencing a psychotic break, and came towards officers brandishing a tribal mask and a wine bottle, and Aaron, who may be weighed 140 pounds soaking wet, was first tased twice and then shot three times."
"Spending time with his grieving mom and dad and then conducting his memorial service was heart-wrenching. With Aaron's death, even more painful for all of us at Immanuel Presbyterian Church was that it didn't have to happen. None of these shootings have to happen," Fulp-Eickstaedt said.
Fulp-Eickstaedt told of a different incident wherein they sent a letter to the Fairfax County chief of police about a successful crisis intervention by a rookie officer who helped during a  mental health call during their hypothermia shelter week. "She helped de-escalate a charged situation like an expert, and she was only a rookie," he said. "We learned that it was in large part because she had received Crisis Intervention Training (CIT)."
According to Fulp-Eickstaedt, part of that letter to the county's chief of police "advocated for him to deploy additional funding and the FCPD budget to make sure that every officer on the force was trained in CIT so that they felt better equipped in such situations… But the letter our board received back from the chief was that there were 1000 officers on the force who had received crisis intervention training, and they didn't need any more of them to be trained," Fulp-Eickstaedt said. "One untrained officer is one too many."
Rev. Dr. Vernon C. Walton, the pastor of First Baptist Church of Vienna, closed the program asking for Fairfax County's elected officials to stand.  "I want to acknowledge Karen Keys-Gamarra (at-large member of the Fairfax County School Board) I did see as we were coming into the sanctuary," Walton said. Keys-Gamarra and Del. Holly Seibold were the only elected officials who attended, although several candidates for office did as well.
"I thought it important for you to see who is present because seeing and acknowledging those that are present, you're also able to see those that are not present," Walton said.
According to Walton, every Fairfax County Supervisor received an invitation. Officials who people elect hold positions to represent their constituents. "You cannot represent us if you don't hear from us," Walton said. "This is not the end; this is just the beginning."