Wednesday, October 5, 2022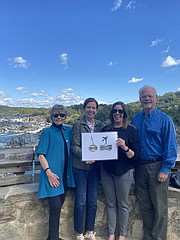 The Arts of Great Falls and the Great Falls Citizens Association opened sales for the new ornament series, a fundraising project to support both organizations.
The official 2022 ornament features a watercolor painting by local artist 
Begoña Morton
 titled "The Great Falls of the Potomac."
 It depicts the view from Overlook 3 at Great Falls Park, Va. 
Ornaments are available in two laser-cut wood styles, either 4.4 inches wide or an oval design, 3.5 inches wide, according to Meralee Fredenburgh, executive director of The Arts of Great Falls. 
The 2022 edition is the inaugural ornament of the two organizations' planned annual tradition to commemorate beloved Great Falls sites. It will be available for purchase, cash or check only on Oct. 7 as supplies last at the Artists' Atelier during the 1st Friday Art Walk for $20 each. After that, ornaments will be available at The Artists' Atelier's weekly Open Studio hours on Wednesdays from 12 p.m. to 2 p.m. and Saturdays from 10 a.m. to 2 p.m., as well as during the Great Falls Studios Art Tour, October 21-23, and the Great Falls Studios Holiday Fest at the Artists' Atelier, Dec. 3-4.