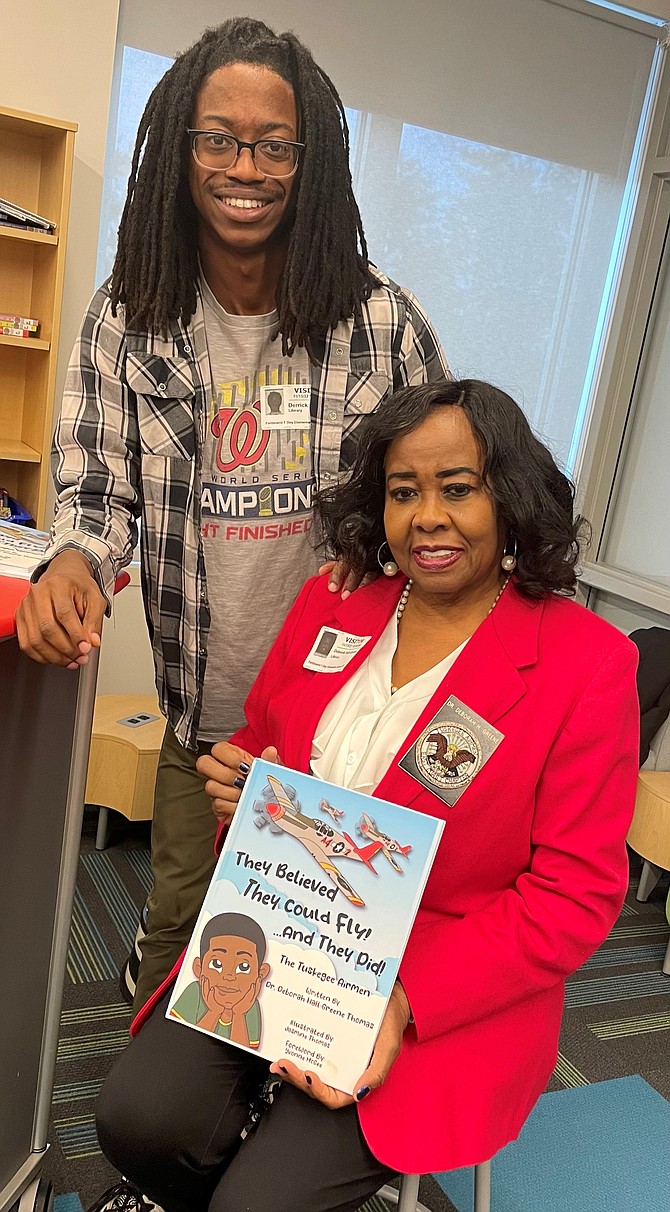 For decades, the contributions of a group of African American veterans during World War II was primarily absent in American history books. Known as the Tuskegee Airmen, their achievements of excelling in a segregated Army Air Corps in the 1940s had a major impact on civil rights movements in the U.S. and abroad and author Deborah Hall-Greene Thomas is determined to tell their story.
"My mission is to keep the legacy of the Tuskegee Airmen alive," said Thomas at a special presentation to students at Ferdinand T. Day Elementary School on Nov. 15.  "I have been the National Protocol Officer for the Tuskegee Airmen for over 25 years. I travel with these guys and everything I talk about is in their own words."
Known as Dr. D, Thomas is bringing her mission to a young audience with "They Believed They Could Fly…And They DID! The Tuskegee Airmen," a recently released book on America's first group of black military airmen.
"I know firsthand about their struggle," Thomas said. "I've talked with them, I've supped with them and I was just inspired by their story. They had the mottos 'soar like an eagle' and 'failure is not an option,' both that I have adopted myself."
Rachel Dischner, principal at Ferdinand T. Day, discovered Thomas' book through a neighbor and immediately set out to arrange the special presentation for her students.
"As soon as I read the book I immediately knew it had a powerful message that was aligned to the message that we are trying to send to our students here at Ferdinand Day about not giving up," Dischner said. "We're a STEM school so we also teach the kids the engineering and design process including 'ask, improve, create and go.' This 'improve' part about not giving up and improving the things we are doing to ultimately get to our goal is in perfect alignment of our school pillars. It is everything that Mr. Day himself stood for."
Accompanied by her son Derrick, who grew up around the Tuskegee Airmen, Thomas displayed a collection of medals, photographs, model airplanes, a Tuskegee Airman action figure and memorabilia from an HBO documentary and movie about the squadron.
"My mission is to keep the legacy of the Tuskegee Airmen alive."
— Author Deborah Hall-Greene Thomas
Thomas wrote her book through the eyes of 6-year-old Derrick, now in his 20s and graduating from Virginia Commonwealth University in December with a Bachelor of the Arts degree.
"At the tender age of 6 my mother would always have me with her in the environment with the original Tuskegee Airmen and other Air Force pilots," Derrick said. "Growing up around that environment it was very inspiring to see these national heroes just being themselves and continuing on their legacy."
Thomas' daughter Jasmine provided the artwork and illustrations for the book, which Thomas says is to inspire students to never quit and that "failure is not an option."
Following the presentation each student received a copy of the book with the inscription, "Failure is not an option! Soar like an eagle! Keep the Legacy Alive!"