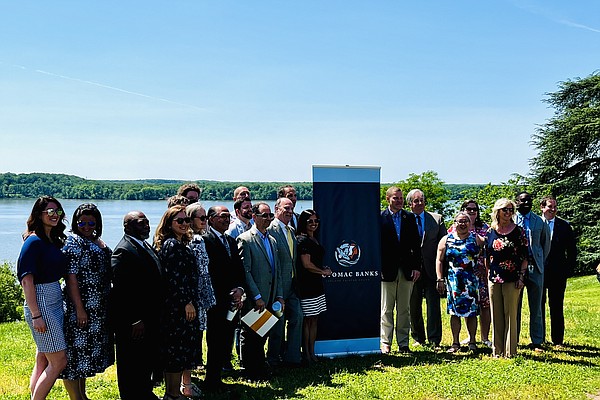 Thursday, May 19, 2022
The Gazette presstime occurred as the announcement was underway. Look for more next week.
At a media briefing held Wednesday, May 17, against the backdrop of George Washington's Mount Vernon, local leaders, and elected officials announced a new brand, unveiled its logo, and a visitors saving pass to cross-pollinate and drive tourism to the southeastern portion of Fairfax County. 
The new brand, "Potomac Banks: Explore Fairfax South," creates synergy between the historical, recreational, cultural, and ecological venues in the region.
Doug Bradburn is President and CEO of George Washington's Mount Vernon. Bradburn said that the new brand would make people more aware of the different ways to have fun and learn in South County. The South County Tourism Task Force conducted a multi-year evaluation organized by Supervisor Dan Storck in partnership with Visit Fairfax and other tourism sites and attractions.
"Tourism is one of the top drivers of Fairfax South's economy, which is a major contributor to Fairfax County's overall tourism impact of more than $3 billion (2019), so the development of an exclusive brand was a natural next step," said Barry Biggar of Visit Fairfax.
The southeastern area of Fairfax County is a destination for visitors to the region and locals alike. It provides many opportunities that tell the history and culture of America through museums, natural resources, and other attractions. George Mason's Gunston Hall, the National Museum of the U.S. Army, the Workhouse Arts Center, and Mason Neck State Park are just a few of the many things to do near Mount Vernon.
According to the chairman of the Fairfax County Board of Supervisors, Jeffrey C. McKay (D), the branding was important not only to tourism but to people who live in Fairfax County to "thread these sites together in a compact way for people to understand."
Potomac Banks is the first joint destination-focused tourism brand in the county. Stock (D-Mount Vernon) welcomed all to come and explore South County. "Meet your history. Meet your community. Make a difference," he said.
Visit Fairfax is the official tourism organization for Fairfax County, Virginia. It is charged with destination marketing and tourism promotion and is directed by many of the county's top tourism and hospitality leaders. www.FXVA.com