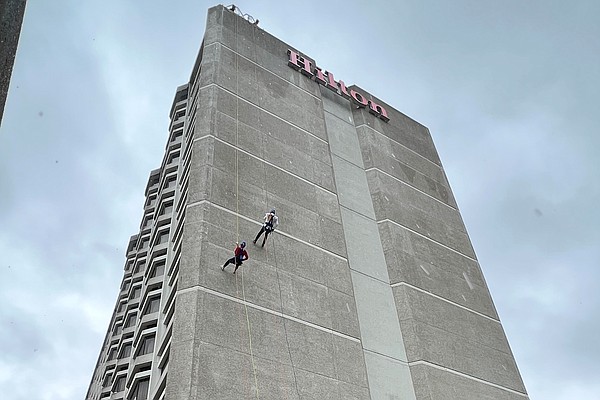 Wednesday, May 11, 2022
Excitement was mixed with tinges of fear as more than 80 volunteers rappelled down the 14-story Crystal City Hilton as part of the Over the Edge fundraiser for New Hope Housing.
Held May 5 and 6, rappellers included Fairfax County Board of Supervisors Chair Jeff McKay, who descended side by side with Arlington County Board member Matt de Ferranti.
McKay admitted he was hesitant but wanted to draw attention to the homeless situation throughout Northern Virginia.
"I was terrified when we started but as we went down it went a little bit easier," McKay said. "But even as scared as I was at the top of the building, it wasn't as scary as sleeping outside in the freezing cold, dead of winter like too many of our homeless people have to each night. So if I can raise awareness and overcome a fear of my own here today it is worth it. Most importantly I wanted to support New Hope and what they are doing."
Based in Alexandria, New Hope Housing is a nonprofit operating homeless shelters and housing programs across Northern Virginia. The event was an alternative to a traditional gala in the wake of the uncertainties of the pandemic.
"This was a COVID-friendly way to raise funds that are desperately needed to support our mission," said Jan-Michael Sacharko, Director of Development for New Hope Housing. "Because of our partnerships with the Crystal City Hilton, Keller Williams Metro Center, sponsors and volunteers we were able to raise more than $225,000."
Alexandria resident Christine Sennott of KW Metro Center was co-chair of the event and also descended 160-feet down the side of the hotel.
"I am petrified of heights," Sennott said. "But if I was going to ask agents and others to participate I had to put my money where my mouth is so I committed to doing this death-defying act."
Sennott said that the tag line for the event was "going over the edge for people who live on the edge."
"I tried to convince myself that my fear of heights was all in my mind," Sennott added. "That worked until I got up on the roof. The most terrifying part was stepping up on that ledge but struggling for a few moments to raise money for those who are struggling and suffering every day was something I could do to help them. It was still scary but the cause was worth it."
Added McKay, "It was an amazing experience and an opportunity to bring awareness to the urgent need to support the homeless population of Northern Virginia."
More than 40 members of the KW Metro Center team were on hand as volunteers coordinating the event, which attracted crowds despite the dreary skies.
"Even in the rain you couldn't chase the crowds away," Sennott said. "People were there cheering and supporting us and having a good time so along with the funds raised, our mission was accomplished."