In a semi-industrial area where Newington Road intersects with Cinder Bed Road in southern Fairfax County, there is a $14 million project on the books to extend the existing bike/pedestrian trail north to the Franconia-Springfield Metro station. It would mean construction in a heavily wooded area that would impact the dwindling tree cover in the county, and a lesser known rare magnolia bog, that's growing in this wooded corridor.
Long Branch creek goes through this area, which links to several creeks in this part of the county. Friends of Accotink Creek are against the bikeway. County district-wise, the path of the bikeway starts in the Mount Vernon District and extends into Lee District, so in February, Lee District Supervisor Rodney Lusk (D) walked through the area with some of the Friends members to discuss the plan.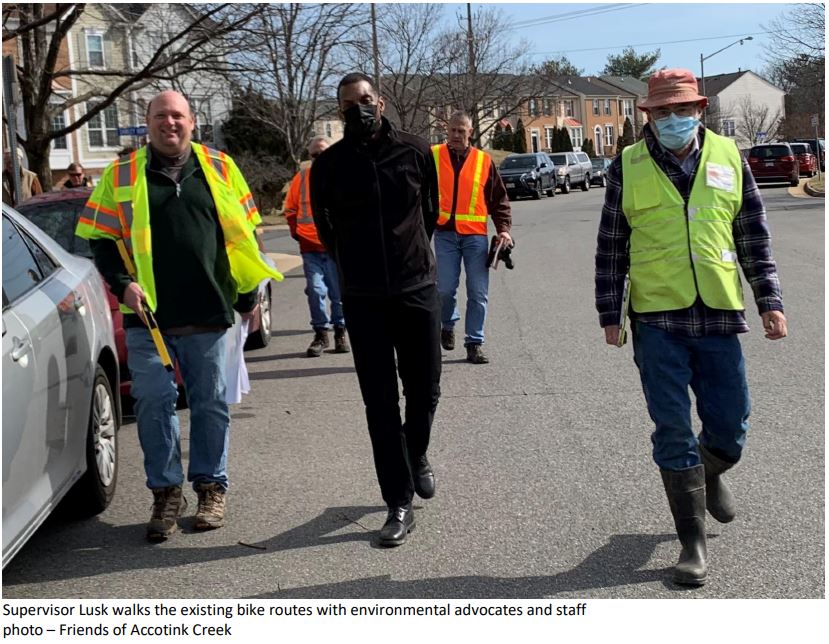 The bikeway plan was presented to the public May 10, 2021. In the presentation, one of the purposes of the project is connectivity. FCDOT received a Federal Grant for a pedestrian/ bicycle connection from Franconia/Springfield Metro/VRE station to Fort Belvoir. Accessing Fort Belvoir from the Cinder Bed-Newington Road intersection would still take some creative cycling. It's far from a straight shot. 
Nonetheless the county is moving forward with the trail.
According to Lusk's office this project was approved by the Board of Supervisors in 2014 and approved for funding in 2015 so there's no change in plans. 
"As is true with any project, we are thoroughly responding to public feedback regarding the design in order to minimize concerns," Lusk said. 
Philip Latasa was one of the Friends group that walked with Lusk, and he feels there is an alternative to cutting down trees and installing a lighting system here. 
"There are many existing options already in place on neighboring roads and trails that already provide routes to Metro," Latasa said. "No sacrifice of natural habitat or citizens' environmental goals is required to enhance these routes. We simply do not have enough forests and streams to provide an alternate transportation system." 
Latasa cited the county's "Complete Streets," program in the ActiveFairfax section of the county's transportation objectives. The Cinder Bed Road Bikeway does not adhere to the plan, he said. 
He named a number of existing trails that are facing maintenance needs, and he would like to see the money and effort go towards that instead of building a new trail.
Lusk said they made some changes to the plan in response to some of the environmental concerns and it meets the requirements of the National Environmental Policy Act which is required for some funding. 
"We continue to work through concerns that environmental advocates have brought to us about the project during our walk-through," he said. Pavement, tree cutting and lighting are still part of the plan although the county does typically plant additional greenery with a project like this.
To Latasa, there's even a global implication with the bikeway plan. "If we cannot forego trees-to-asphalt conversions in instances like these, we lose our moral standing to lecture Brazil and Indonesia about deforestation," he said.