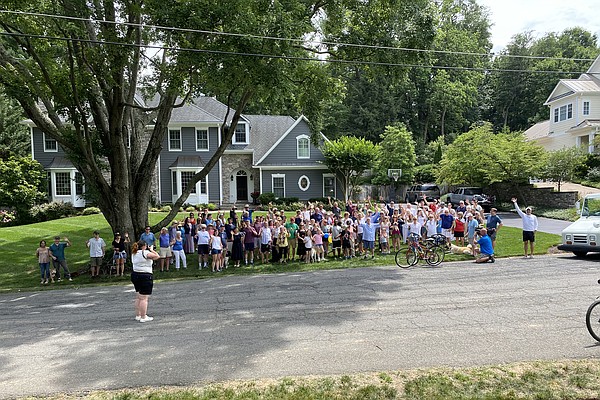 Wednesday, July 20, 2022
On the final day of his almost 40-year career, USPS carrier Scott Arnold received the surprise of his life. More than 200 customers on his McLean route lined the streets on Saturday, July 2, many with their dogs, to say farewell to their beloved carrier, Scott Arnold.
The celebration recognized a person who had traveled the same route and had witnessed the changes in the local communities. In the process, Arnold became part of the community and their families. 
One of the many people who will miss him "dearly" is Kathlyn Burnell, who assisted in organizing and publicizing the surprise. According to Burnell, Arnold was on a first-name basis with every person on his route, and the first-name basis extended to his four-legged canine friends. Arnold even prepared gifts for them.
"At Christmas time each year, he prepared personalized stockings for our pets, along with a Santa Paws letter. This last year he delivered 250 of the socks to happy dogs and owners. He was an excellent mail carrier and a friend to each of us through good times and bad," Burnell said. "We wish him happiness and peace in a retirement well earned. We all miss him dearly."