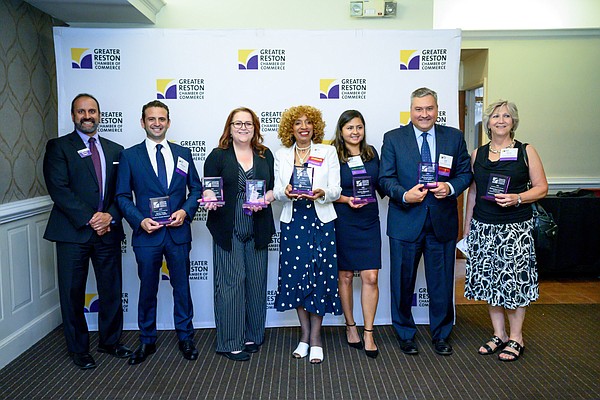 Wednesday, July 20, 2022
The 
Greater Reston Chamber of Commerce
 held its 2022 Awards for Chamber Excellence (ACE) Luncheon at Hidden Creek Country Club in Reston on Thursday, July 14. GRCC celebrated and recognized individual and corporate members nominated by their peers for their demonstrated excellence in business practices, leadership in industry innovation, and support for the mission of the Chamber over the past year. 
The Committee/Council of the Year award went to the Chamber's LeadShare: Wednesday, co-chaired by Micki Moravitz of Century 21 New Millennium and Madhavi Rao of Prana Health Yoga and Wellness. 
GRCC named SpeedPro Northern Virginia winner of the Small Business of the Year award; Guernsey, Inc. Medium Business of the Year; and Northwest Federal Credit Union Large Business of the Year.
Dayana Villanueva, M&T Bank Reston, was awarded Member of the Year, while Samantha Marshall of Sweet Memories Photography was recognized as New Member of the Year.
The winner of the Contributor of the Year award was Mahjooba "MJ" Bianchi of the Three T Institute. Innovative Practice/Partnership of the Year award went to the Dental Group at Reston Station. Andrew Lampropoulos at CST Group, CPAs, received the Young Professional of the Year award. 
Iris Britt of Iris Britt Consulting, LLC, is the recipient of the Pinnacle Award. Anne Rosenblum of the Fairfax County Economic Development Authority received the President's Award. 
As the 2022-2023 Board Chair, Kevin Taylor, Director of Business Development at ANALITK Marketing, spoke to the Chamber membership about his vision for the upcoming year. Charles Kapur, president and CEO of the Greater Reston Chamber of Commerce, announced the newly appointed board members during the July 14 luncheon. 
First-term directors include Matthew Brennan III, General Counsel, P.C.; Dr. Raj Chand, INOVA Fair Oaks; Katherine Deming, Business Engineering Inc.; Meredith Hovan, Cornerstones; Nohman Ishaq, Northwest Federal Credit Union; Paul Kashchy, City National Bank; David Kelley, Fairfax County Economic Development Authority; John Kelly, Bean, Kinney & Korman, P.C.; Robyn McClure, Pinot's Palette – Dulles; Matt Rienzo, Weller Development Company; Michael Romeo, Walsh, Colucci, Lubeley & Walsh, P.C.; and Ken Traenkle, Verity Commercial Real Estate. Colin May, KME.digital, was appointed as a second-term director.
Reston Community Center, MillerMusmar CPAs, Inova Fair Oaks Hospital, Northwest Federal Credit Union, Dominion Energy, and Verity Commercial Real Estate sponsored the event. For more information about GRCC, visit RestonChamber.org or call 703-707-9045.