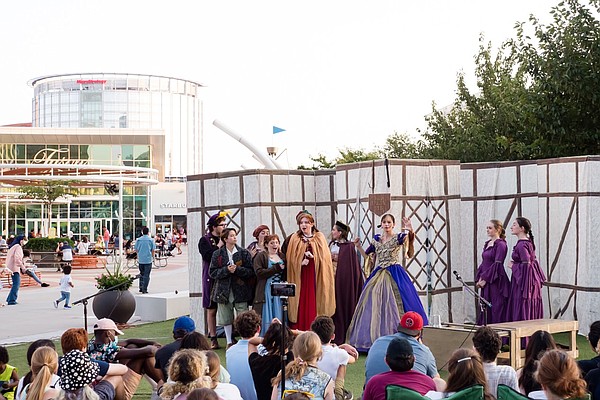 Wednesday, July 13, 2022
 Traveling Players will offer, weather permitting, three days of free, family-friendly performances on The Plaza at Tysons Corner Center, a 1.5-acre outdoor civic space at 1961 Chain Bridge Road, Tysons Corner. Local tweens and teens perform in the premier nonprofit educational theater company.
If inclement weather looms, the performances will be moved indoors to the nearby Traveling Players Studio at Tysons Corner Center – DL01, 1961 Chain Bridge Road, Tysons. According to the organization's website, if families want to ensure that they can attend a free performance on the scheduled day and time, regardless of the weather, they can buy "rain tickets" for $15 each. Capacity is limited in the studio, and tickets are available online now to the public. Tickets may not be available at the door.
On July 14 is the first outdoor free performance of "A Festival of 3 Plays." The performance will be presented again on Aug. 4. The first play is at 4 p.m., Moliere's "Sganaralle." It is recommended for ages six and up and is forty-five minutes long. The organization's release sounds intriguing: "A misplaced locket and an unexpected fainting fit lead to a hilarious mix-up of mistaken identities, miscommunications, and imagined betrayals that might ruin two relationships. "
The Summer Traveling Players perform Carlo Gozzi's "King Stag" at 5 p.m. The recommended age is six and up, and the runtime is forty-five minutes. According to a release, "A naive King's search for love leads to disaster when his evil Prime Minister takes advantage of a magical gift to turn the King into a stag." "A Festival of Three Plays" concludes at 7 p.m. with "Two Gentlemen of Verona" by William Shakespeare. It is recommended for ages eight and above and runs for a total of seventy-five minutes. "When Valentine and Proteus visited Milan to broaden their horizons, they never expected that they would both fall in love with the same woman," states the release.
On Aug. 3, at 7 p.m. is a free performance of William Shakespeare's "Comedy of Errors" performed by the company's most advanced students in the Shakespeare Troupe. A released script summary states, "Twenty years ago, two pairs of identical twins were separated in a great storm. Now they are on a mission to reunite. "
In addition to the free performances, Traveling Players will present in the Traveling Players Studio a ticketed performance of "Heracles!" by Judith Walsh White on July 29 at 11 a.m. It premiered on July 8 and is recommended for ages six and above, with a 35-minute runtime. Traveling Players commissioned the work to provide young performers with material commensurate with their abilities and imaginations. Former Holton-Arms teacher and award-winning D.C. poet and playwright Judith Walsh White wrote the play. Nathan Sherwood Liang composed the original score for this work. Tickets are $15 and may not be available at the door.
To learn more about the Traveling Players Ensemble or to purchase tickets, go to  the company's 
website
, https://www.travelingplayers.org/performances/. Masks are required during all studio performances.