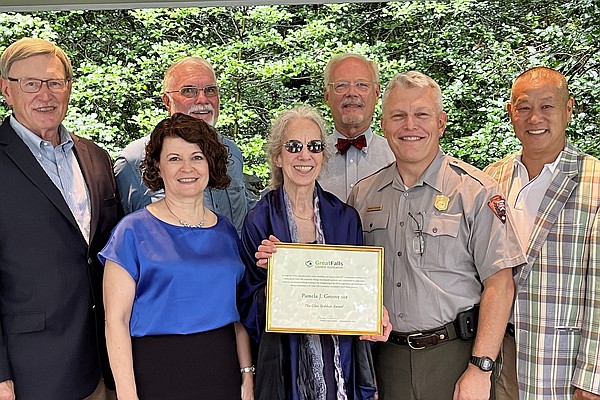 Wednesday, July 13, 2022
Pamela J. ("Pam") Grosvenor received The Glen Sjoblom Award 2022 from the Great Falls Citizens Association for her "extensive and meritorious service" to the Great Falls community. Grosvenor is the fourth recipient of this award, which recognizes people who have made outstanding and lasting contributions to the community of Great Falls through their service and collaborative teamwork, innovation, and sustained leadership in the Great Falls Citizens Association.
The informal ceremony was held outdoors under a pavilion overlooking the gardens of GFCA members Allie and Ellen Ash on Saturday, July 9. Guests included Virginia Sen. Barbara Favola (D-31), Supervisor John W. Foust (D-Dranesville), Charles J. Cuvelier, superintendent of the George Washington Memorial Parkway, GFCA members, relatives, and friends.
Before the ceremony began, guests mingled while enjoying the food made by GFCA Leadership, Jennifer Falcone and Elizabeth Huebner and the refreshments by Scott Knight, as well as appreciating the certificate and text by Peter Falcone, which would be presented to Grosvenor. 
"This is a nice grassroots event where the Great Falls Citizens Association honors a special volunteer," said Favola. The senator represents sections of Fairfax County, including Great Falls, and portions of Arlington and Loudoun counties. "Pam Grosvenor has done so much for the Great Falls community," Favola said.
When asked to define Grosvenor's characteristics, Foust said: "Amazingly conscientious, hard-working, common sense gets things done." 
A bell rang to alert guests to take their places at the tables. Bill Canis, president of the GFCA, served as master of ceremonies. He asked those gathered if they would like to say a few words. Cuvelier, superintendent of the George Washington Memorial Parkway, said when he came on board in 2019, he knew there was probably something afoot and some degree of unhappiness or discontent. "What I am going to tell you is what Pam asked us (to do) was really to be a better neighbor. Expect more from the government as the government sometimes drags its feet. We are a public service agency."
Cuvelier recalled Grosvenor saying, "I think you can do better than what you're doing, and I'm going to hold you to account for that." Cuvelier said that conversation led to the improvement. 
Canis read the GFCA executive board's resolution nominating Grosvenor for The Glen Sjoblom Award 2022. "She has consistently demonstrated sustained leadership, sought innovative solutions, provided a fair and cooperative outlook with her colleagues, GFCA members, and government officials, and shown an unrivaled attention to detail and accuracy in her communications," he said.
According to Canis, Grosvenor served on the GFCA board for eleven years in several positions, including as a member of the Transportation and Membership & Outreach committees, before assuming leadership responsibilities and becoming chair of both. As chair of the Transportation Committee, Grosvenor brought "outstanding organization and clarity to the public meetings." She guided the group in resolving various issues, such as the development of cost estimates and preliminary plans for a crosswalk at the Georgetown Pike and Walker Road intersection and improvements to the Route 7 corridor. She also contributed to safe pedestrian mobility to the village's two commercial areas, traffic-calming measures, and 'Protect the Pike' initiatives.
Canis added that Grosvenor co-chaired the Transportation Committee's Great Falls Park Working Group, seeking "innovative and well-researched solutions to traffic congestion and parking issues at the intersection of the Georgetown Pike and Old Dominion Road." She worked closely with local National Park Service executives and established a liaison with the member of Congress representing Great Falls, a U.S. Senator, to get funding for U.S. Park Police at the intersection.
Gary Pan, commissioner of the Virginia Department of Labor and Industry and GFCA member, deemed Grosvenor's award commensurate with her many years of effort. As a board member, Pan had watched Grosvenor in action, particularly in the fields of transportation and the environment, but "in pretty much everything. … She's been high-impact and so absolutely a dedicated citizen leader in our community," Pan said.
Erik Knudsen, The Glen Sjoblom Award 2021 recipient, said that Grosvenor was the person who did the research and gathered the data so he could help the community. "Pam has always been on my side and gave me a talking to and a different point of view if I needed it," Knudsen said.
Grosvenor said she liked being a "back-office person" where she felt more comfortable. However, GFCA offered an opportunity to make many friends. Joining the association allowed her to work with "very smart, dedicated people." 
Grosvenor said that over the years, she realized that GFCA board members might not always agree about everything, and it could get rough when a disagreement arose. Meetings could continue until 11 in the evening. "But we all have the same goal: we want to make the community better. We want to protect our Dark Skies. We want to protect our environment; protect Georgetown Pike and the parks; we love our local parks that are right at our fingertips. And we want to keep our sense of community," she said.
Grosvenor shifted the focus away from herself and acknowledged many with whom she had worked over the years, crediting them with accomplishments and recognizing their attributes. "So, you know, there's a familiar saying, it takes a village to raise a child. I think it takes volunteers to preserve our village."