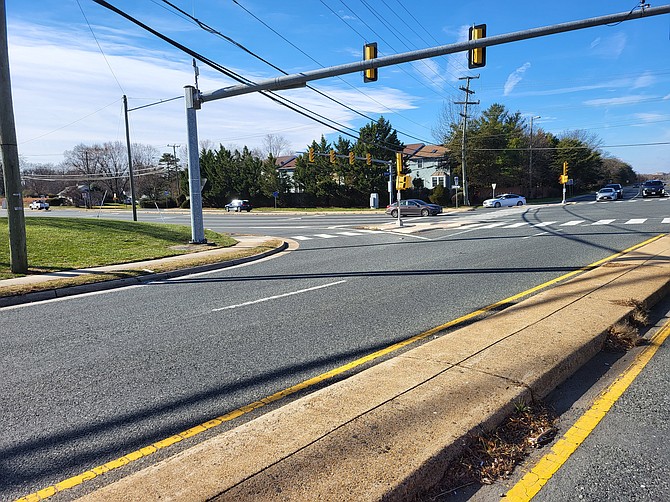 At the Franconia Traffic Safety Town Hall on Dec. 7, the questions from local residents echoed concerns that surround this road-centric part of Fairfax County that is bisected by Backlick Road, Richmond Highway and Franconia Road where most of the traffic is concentrated.
Questions:
What are you doing about the cyclists and the pedestrians getting hit?
What about the loud, obnoxious mufflers that are sounding out all night?
What's happening to the Franconia Road-Rose Hill Drive intersection?
What about all the commercial vehicles parked on the roads?
Is there a possibility that the speed limits are going to be decreased?
This is what the drivers in the Franconia District want to know, and Supervisor Rodney Lusk (D-Franconia) as well as the police, VDOT and FCDOT addressed the concerns as well as they could. Speeding seems to be a big issue.
"It's never about enforcement or tickets," said Franconia Police Captain John Lieb. "Total crashes and injuries are up," he said.
This was a meeting Supervisor Lusk set up to address the traffic situation in the Franconia-eastern Springfield area with the county's Active Transportation Plan. Fairfax County is studying 37 intersections in the area and dedicating funding. The county is starting a pilot program to address the speeding using speed cameras in school or work zones and possibly lowering the speed limits in some neighborhoods to 20 or 15 miles per hour. 
"We're still exploring this with the county attorney's office," Lusk said.
A few weeks ago there was a meeting at Edison High School, to see if the students were following the rules, and officials partnered with the officers at the Mount Vernon police station to see what was going on. There were 283 citations handed out in Mount Vernon in 2022.
"We've had our challenges in the county this year," said Captain Al Hanson, the commander of the traffic division at FCPD.
Another improvement in the form of new sidewalks is being installed on the Richmond Highway side of Huntley Meadows park as part of the "Safer Routes to School" program.
Traffic-FCPD Snapshot:
·         53 active traffic cases
·         12,000 traffic calls in 2022
·         DWI enforcement is up 21%
·         37 intersections being studied in the Active Transportation Plan
·         $100 million allocated to pedestrian and bicycle safety
·         Two bus stops under study in Kingstowne for pedestrian refuge improvement