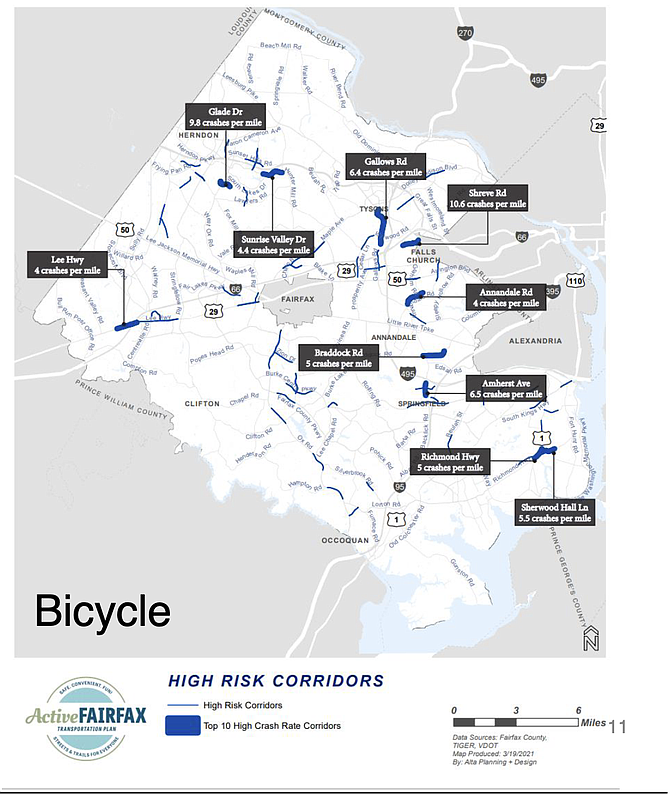 Every year in Fairfax County, the number of pedestrian and cyclist fatalities and injuries continues to rise. With so many transportation initiatives in and around Fairfax County and the record number of pedestrian-related fatalities on county roads in 2022, communities in the county, like McLean, will vie for limited funding.
The Fairfax County Police Department reported 13 pedestrian-related fatalities in 2021, including two in McLean. On Dec. 29, 2021, a driver at Dolley Madison Boulevard and Ingleside Avenue hit and killed 33-year-old cyclist Matthew Jaeger. On Dec. 30, 2021 Annandale pedestrian Filadelfo Ramos Marquez, 74, was struck and killed by a driver while crossing the 1900 block of Chain Bridge Road south of Tysons Boulevard.
On Dec. 18, 2022, detectives from Fairfax County's Crash Reconstruction Unit investigated the 22nd fatal pedestrian crash in Fairfax County this year. It occurred at 5:54 a.m. at Arlington Boulevard and Westmoreland Road in the Falls Church section of Fairfax County. Thomas Escudero Machado, 76 of Falls Church, was attempting to cross the eastbound lanes of Arlington Boulevard from the north side of the road to the south. The driver of a 2003 Honda Accord traveling eastbound on Arlington Boulevard struck Machado in the roadway. Police reported that there is no crosswalk at that intersection.
On Dec. 19, Fairfax County Police reported a fatal pedestrian crash at Fairfax County Parkway and Old Keene Mill Road when a bus driver struck a man, marking the 23rd pedestrian crash in the county. 
The McLean Citizens Association held a 90-minute virtual public meeting with Fairfax County Department of Transportation (FCDOT) director Tom Biesiadny on Nov. 30. Biesiadny said the Board of Supervisors set a goal of $100 million in local funding over six years to improve pedestrian and bicycle safety in the county. 
The $100 million commitment arose from the Joint Board Matter, "Funding Safer Pedestrian and Bicyclist Facilities," Oct. 5, 2021, presented by Supervisor John Foust (D-Dranesville). Aside from the monetary commitment, the board directed the Department of Transportation to develop a list of potential projects and a prioritization process for implementation.
The term "vulnerable road user" could be interchanged with pedestrian and/or cyclist. A vulnerable road user is a person on the road who isn't behind the wheel of a car or truck. This includes pedestrians, cyclists, motorcyclists, roller skaters, and skateboarders. They are described as vulnerable because of their lack of protection compared to a passenger vehicle or a larger commercial vehicle.
Funding for Pedestrian and Cycling Improvements 
As of Dec. 18, the board had approved a total of $30 million of the $100 million. "The board adopted the first $5 million in March of this year, and subsequently, in October, they approved an additional $25 million," Biesiadny said. According to FCDOT News, on Nov. 1, the board approved the first tranche of $5 million of the $30 million for pedestrian and bicycle improvement and maintenance projects.
"The $5 million is to be used for what staff determined were quick fixes, intersection projects, usually crosswalks that didn't require right-of-way and didn't require moving utilities," said a spokesman for the Dranesville District.
All districts in Fairfax County share the $5 million. It funds at least two projects per district. Of the $5 million, crosswalk improvement projects receive $2.7 million. Potential trail and sidewalk maintenance projects are funded for $2 million, with $200,000 in Safe Routes to School Fund matching and $100,000 for speed display signs.
In McLean, the crosswalk improvements projects are at the intersection of Westmoreland Street and Rosewood Drive, where the proposed scope of work is to install a refuge (intended to help protect pedestrians who are crossing a multi-lane road) and a rectangular rapid-flashing beacon, and to relocate the bus stop.
The second project in Dranesville is in Great Falls, at Georgetown Pike and the Great Falls Library, where the proposed scope of work is a refuge and ramps near Bucks Lane on the west side of the Tex-Mex driveway.
In the Franconia District, where Kingstowne Village Parkway intersects with Park Village Drive, the proposed scope of work is to install a refuge and relocate the bus stop. Similar work is proposed at Kingstowne Village Parkway at the intersection of Cross Gate Lane.
The second tranche is $25 million. "As you can imagine, $25 million spread out among the county is not a lot of money per project," said a Dranesville spokesman. "Staff will be working with individual board offices early in 2023, and the vote on how that $25 million would be spent would be sometime in March."
Potential Projects, Prioritization and Implementation
The remaining dollars will fund priority projects identified by the board, including additional trail and sidewalk maintenance. Staff identified them through a prioritization process and prepared a recommendation for the board to consider.
"We have collected over a period of years what we call the 'unfunded project list,'" said Biesiadny. "Anytime anyone calls and says, 'Hey, there is a missing sidewalk on a particular street; we can use a crosswalk or flashing light,' that's what goes on the list," he said.
There are 2,800 recommended unfunded projects on the list. Biesiadny noted that the recommendations that MCA submitted earlier are included in it. Staff identified, as Step 1, a subset of what they thought of as high-priority locations. What the staff did differently this time was to look at property implications and environmental impacts before funding. "We had projects that got funded, and they had some fatal flaws," said Biesiadny. Step 2 was to identify the locations that the board members had identified. Steps 1 and 2 are completed.
Step 3 is currently in progress. Staff is looking for gaps in the network, proximity to "pedestrian generators" such as schools, major activity centers, and employment centers, and ways to narrow the list further. At that point, they will do a feasibility study and cost estimates to develop a prioritized list.
Step 4 will happen in early 2023. Staff will consider the ease of implementation, environmental impacts, and the order of magnitude cost of the highest-scoring projects. Public engagement occurs during steps three and four. In the spring of 2023, the board selects projects for funding.
Speed Kills; Speed Cameras Coming 
On Dec. 6, the Board of Supervisors approved an ordinance to allow the Fairfax County Police Department to conduct a speed camera pilot program in 2023 and offered several additional recommendations.
"What we don't have right now is the location of the speed camera in the Hunter Mill District," said Supervisor Walter Alcorn on Dec. 19. "It would be in a school zone though."
Ten cameras are planned to be installed, one in each district in a school zone and one in a work zone. Funding comes from the county; authority comes from the Virginia General Assembly. Vehicle owners will pay fines as set in the statute.
"The idea is not for the county to make money off this," said Alcorn. "We'd be happy just for people not speeding through those areas."
Fairfax Families for Safe Streets supports automated speed enforcement in Fairfax County. 
"We have advocated for the use of automated speed enforcement throughout the region for many years and we are happy to see it coming to Fairfax County. [Automated speed enforcement] is a proven and effective tool in reducing vehicle speeds – and speed is the primary factor in determining whether or not a vulnerable road user survives or does not survive a crash with the driver of a vehicle. Speed kills."