Wednesday, August 3, 2022
Photo Gallery
Block Party Blast at St. Tim's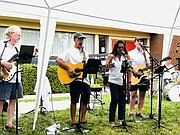 Parishioners and community members rock in the sunshine.
St. Timothy's Episcopal Church in the Town of Herndon rocked the church grounds with a block party full of music, games, food trucks, friendships, and joy. St. Tim's Block Party ran from late afternoon to early evening on July 28, highlighted by a performance by Big Al's Garage. According to the Rev. Charles Cowherd, Pastor-in-Charge at St. Tim's, despite the oppressive heat, over a hundred people attended the event, including parishioners from the English- and Spanish-speaking congregations as well as community members.
Free and open to the public, the crowd of young and old enjoyed the moon bounce, games, dinner and icy treats from local food trucks, and picnicking beneath the shade trees as the oldies band played. With temperatures exceeding 90 degrees, the numerous kiddie splash pools were extremely well-liked among children.
The Great Falls Volunteer Fire Department's Fairfax County Fire & Rescue Station #12 deserves special recognition. As a community service, Robert Ferretti, Rudy Corado, and Sarah McMichael arrived at the block party in emergency vehicle 412. They opened the doors and invited the children and adults to explore and ask questions. A second recognition goes to Block Party organizer Melissa Druitt and the volunteers.
The next event at St. Tim's is Family/Community Day, which takes place on Aug. 20 and is hosted annually by the Spanish-speaking congregation. The picnic and games begin at 4:30, and end before the 7 p.m. Bilingual Eucharist. Bring backpacks and laptops to the three weekend services to be blessed. St. Timothy's, established in 1868, is located at 432 Van Buren Street, Herndon.