Wednesday, April 20, 2022
At its regular meeting on April 14, the Fairfax County School Board voted 9 to 3 to appoint Michelle Reid, Ed.D. as division superintendent of Fairfax County Public Schools, effective July 1, 2022, and ending June 30, 2026, replacing Superintendent Scott Brabrand, who is stepping down. The appointment was accompanied by concern and angst by school board members. Laura Jane Cohen (Springfield) described the board as "a collective group of 12 very different people."
Rachna Sizemore Heizer (Vice Chair and Member-at-Large) said that Reid performed consistently at the top of the candidates for superintendent of FCPS, impressing them with her "thoughtful, brilliant, and insightful analysis, her work around STEM, and strong academics for all students, and an understanding that our focus must also be on the whole child." Sizemore Heizer said she was also impressed with Reid's work on racial and educational justice and inclusion, demonstrating support for and deep understanding of LGBTQIA students, students of color, students from various religious backgrounds, English language learner students, immigrants, students with disabilities, and those with different gender identity. "She was the only one to talk about ableism and demonstrate understanding of the concepts of neurodiversity."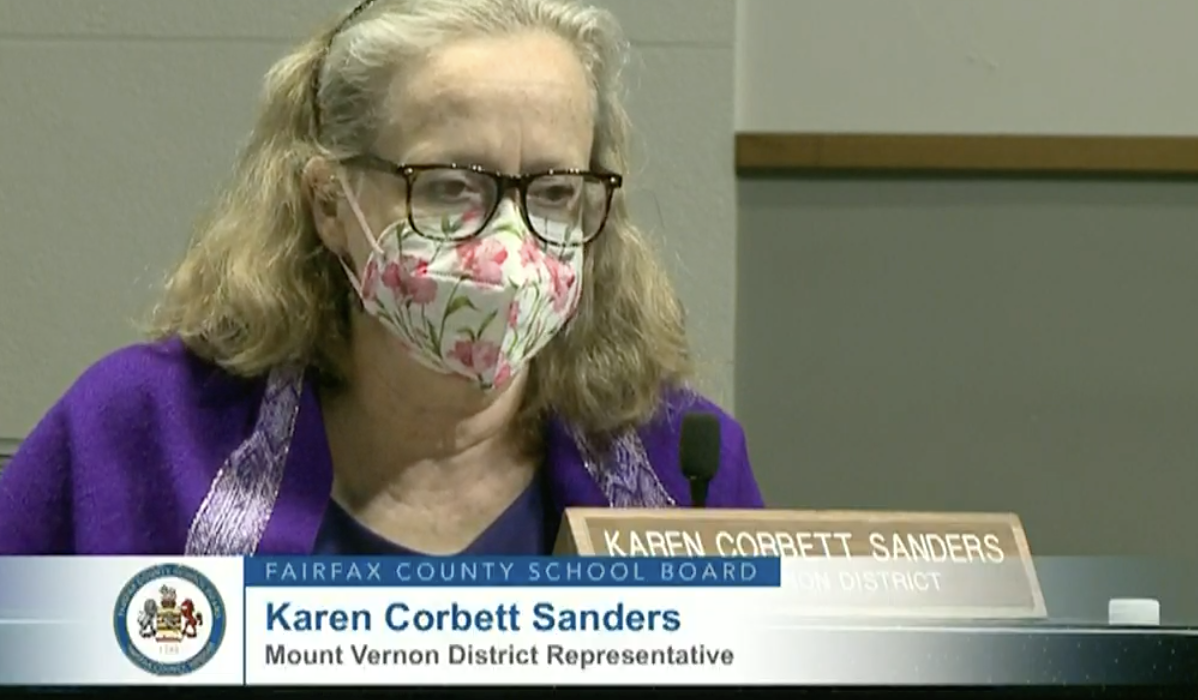 Karen Keys-Gamarra (Member-at-Large) made a motion to delay the vote, seconded by Dr. Ricardy Anderson (Mason District). Keys-Gamara addressed Reid, who sat in the audience, saying that what she was about to say had little to do with Reid but with the process. "As many people know, our community has expressed some outrage. I can't blame them," Keys-Gamarra said. The people who reached out were community members, according to Keys-Gamarra. "It is our job to hear them. For a public school system, our school system belongs to the public. So, my objection today has to do with the fact that we seem to be rushing this decision … This is their community, and they care. It's our responsibility to listen and not to jam this vote through. In my opinion, it is sending them a message that they don't matter."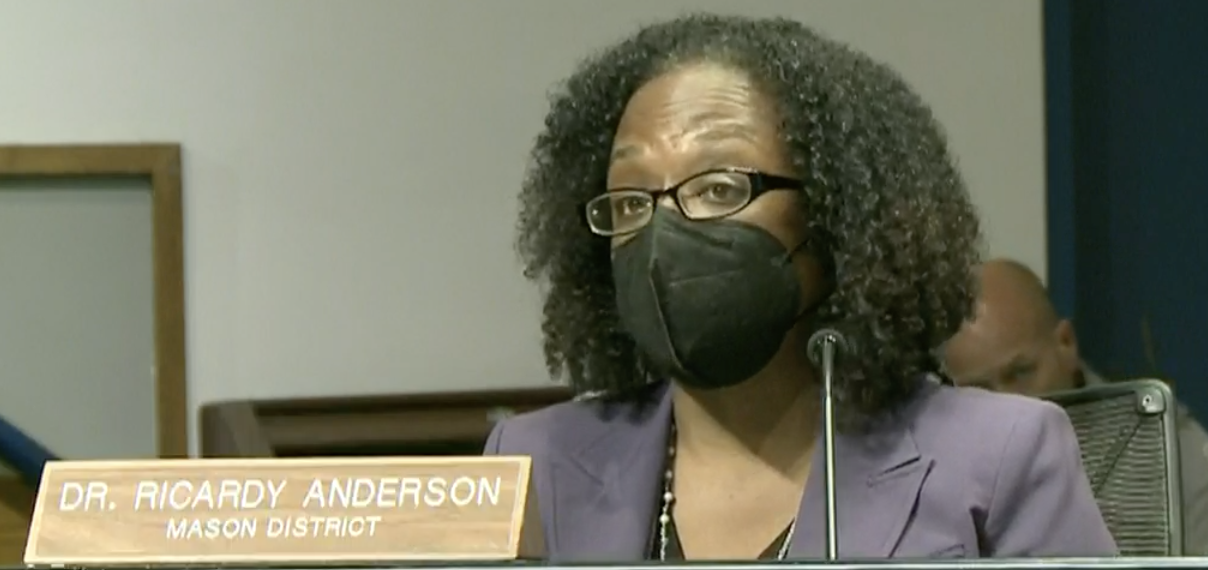 Dr. Ricardy Anderson (Mason District) concurred, saying that the community bombarded them with emails and phone calls. "They have asked to be heard. I strongly believe that we should afford ourselves the gift of time to reach out to those who have expressed their concerns and to listen more closely before finalizing our decision."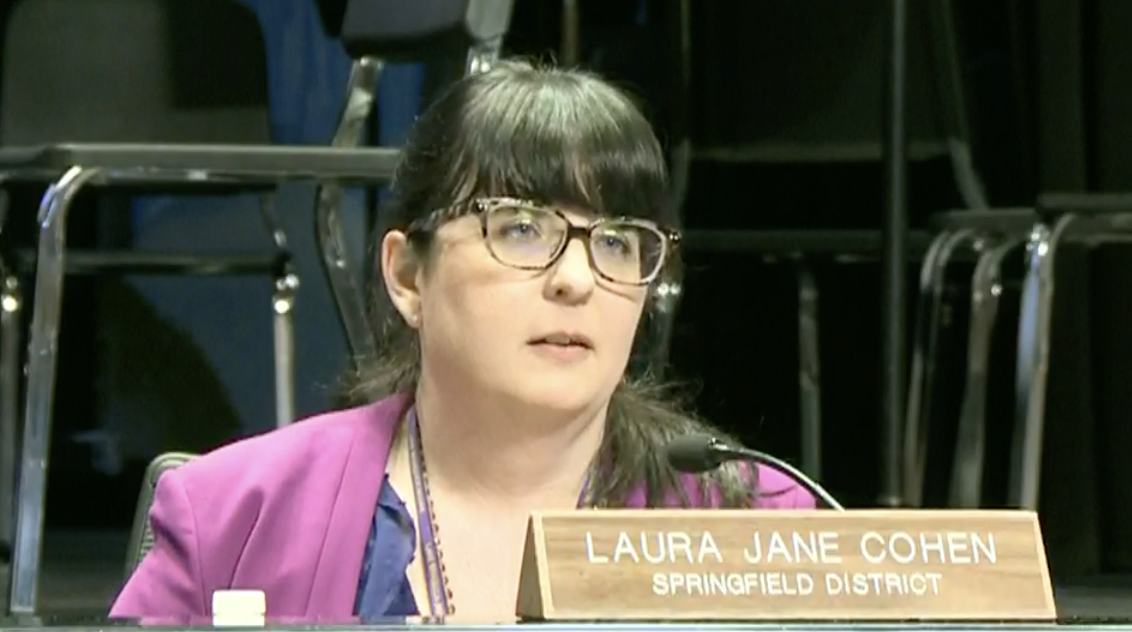 Laura Jane Cohen (Springfield) said she respected how Keys-Gamarra and Anderson felt and would not pretend to say that she understood their hurt. She said the system was imperfect, run by human beings. "There's not a person up here who does not understand how high the stakes are … I'm proud of who we chose, and I trust you to get us to where we need to be. I hope that we're all going to do our best to work together and figure out how in the heck we got here."
Elaine Tholen (Dranesville) said she struggled with this as the board worked for months and held public sessions. "We tried to hear from the public. I am really hurt people feel disenfranchised … All I can say is I worked in good faith. I have read resumes. I have interviewed people over and over and over. What we put these candidates through was so intense. We got to a point where we had two incredible, incredible people. As we slowly went through the interview process, the decision was tough … We voted as the board, and Dr. Michelle Reid came out on top, fair and square."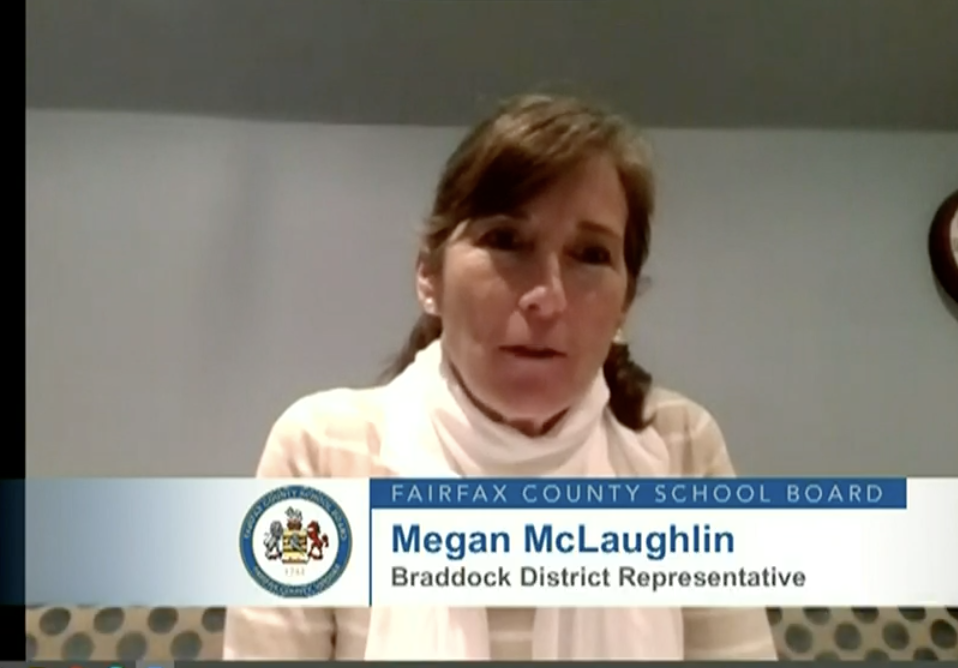 Megan McLaughlin (Braddock) expressed empathy for her colleagues and the public, who felt hurt and concerned about the process. She reaffirmed that the board was transparent in publishing the calendar and the process. It would be a confidential search because the board was trying to attract the best candidate, and they didn't necessarily want to leave their districts. She said that the recruiting company had found strong candidates, and she wanted to celebrate the board's incredible finalist. "I don't believe that we are discounting the people who we were elected to represent. I don't feel that we've rushed this process or had a lack of transparency. Our calendar, our timeline, our entire process was all published … I believe all 12 of us care deeply, and we recognize that, sadly, there are hurt members in our community."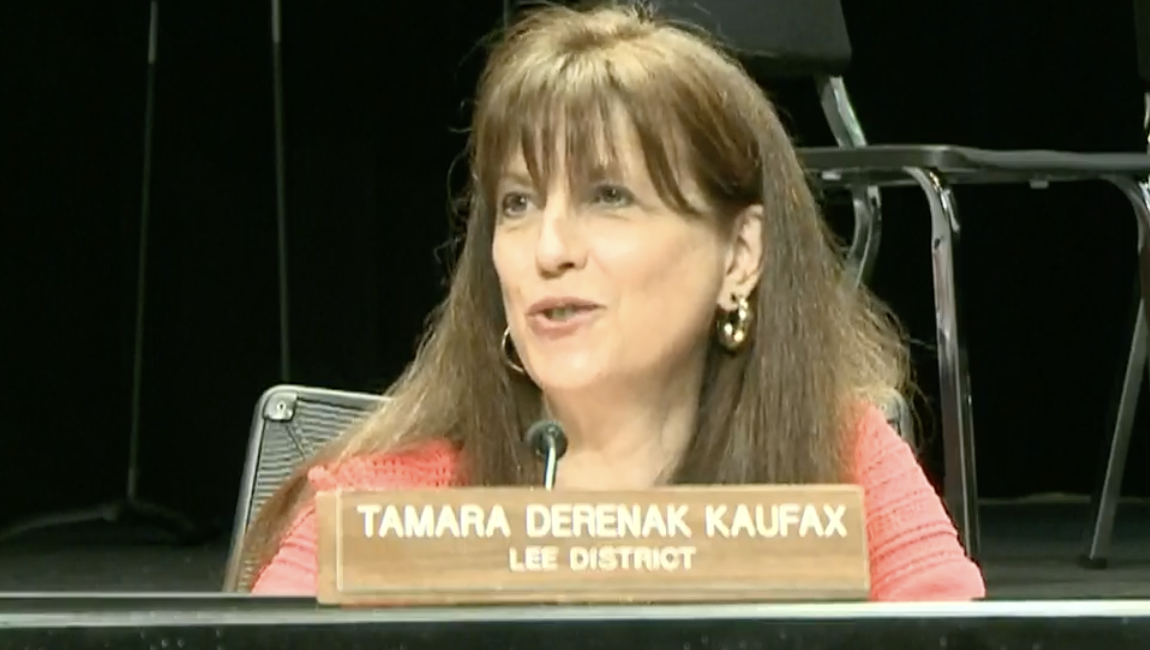 Tamara Derenak Kaufax (Lee) welcomed Reid as the board's top candidate. "We knew that when we extended the offer to you on April 2, we were getting a visionary educator who was known both regionally and nationally for your outstanding instructional leadership." Kaufax said that FCPS is not without its challenges, but Reid had described herself as a "visionary, as an incurable optimist." 
"You will need that here," Kaufax said. "I look forward to working with you to build community trust and to bring our community together."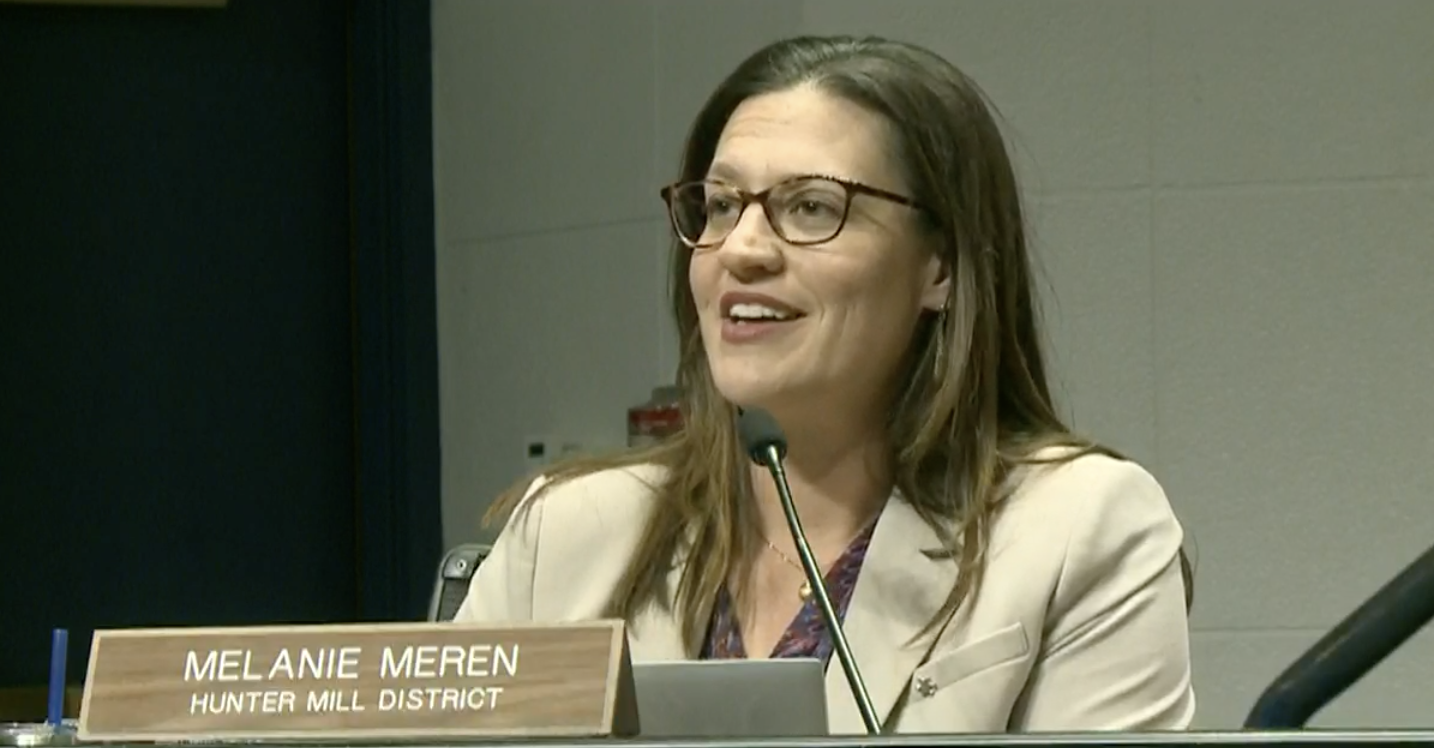 Melanie K. Meren (Hunter Mill) described Reid as a "thought leader," saying it is an accomplishment few people can obtain because it demands discipline of curiosity, investigation of data, and the calculated risk of innovation. Meren said Dr. Reid demonstrated intimate knowledge of data about Fairfax, and she heard in her voice the eagerness to see and experience for herself that data as it comes to life through the county's students, staff, and communities. Meren appreciated how Reid understood the value of play. "I believe that Dr. Reid will lead Fairfax County into fulfilling the birthright that is public education in America."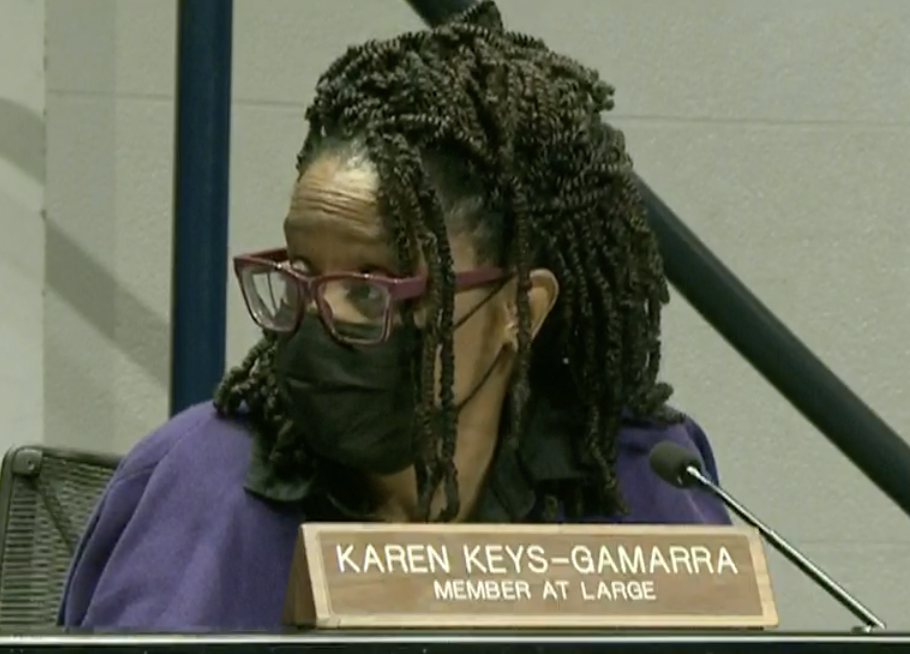 Karen Corbett Sanders (Mount Vernon) said that this had been a difficult decision for this whole board. "It impacts everything FCPS does as a system and each student in ways that the school board knows and ways that they do not yet know. … As stewards of a $3.3 billion entity, we know that FCPS is both a complex business entity and an academic center of excellence," Sanders said. She knew the application process had been extensive, yet FCPS's needs were vast and differed from those of the district Reid currently serves as superintendent. "My decision to vote no tonight is a difficult one, and it is based on my concerns that center around the ability to scale up from a small school system … to a system the size of Fairfax County with 180,000 students, (and) the absence of experience in a large, diverse district."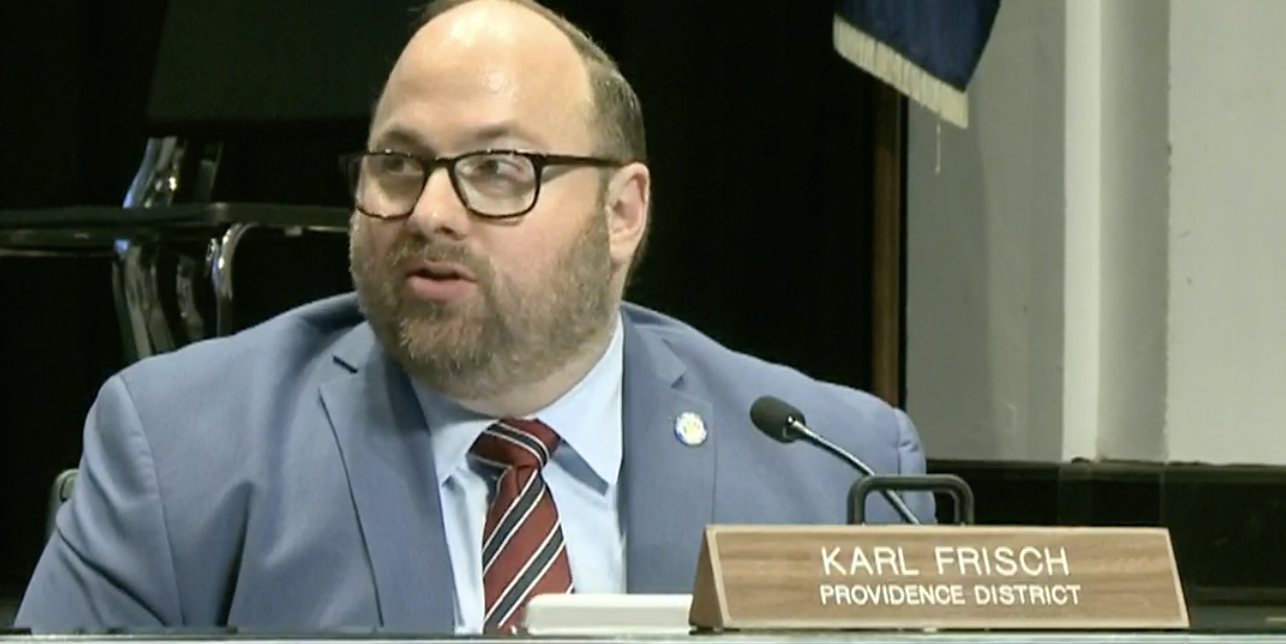 Karl Frisch (Providence) said he was thrilled when the school system received dozens of "amazing, qualified, and impressive applicants." "Through round after round of interviews, with tough, probing questions, I was always impressed with Dr. Reid's answers, not only for the clarity and detail with which she described her work as superintendent, but with her insights about Fairfax County Public Schools," Frisch said. According to Frisch, Dr. Reid "routinely spoke unprompted about the ways she addressed the equity needs of her student body: LGBTQ students, Muslim students, students of color, English language learners, students with special needs, and more." Her commitment to equity was woven through her answers and accomplishments, he said.
Abrar Omeish (Member-at-Large) said, "Today, I am asking for a rare commodity in our public arena, and all I can offer you is good faith, hard work, thoughtful consideration, and a track record of sincerity, dedication, and advocacy for equity and inclusion. I'm not here to dismiss anyone's feelings nor discredit the multitude of perspectives, and insights community members have around how we experienced today." Omeish added that she agreed that there were concerns. She had her own reservations. But the reality was that "the work of democracy is always messy to bring 12 people behind one decision. I'm supporting Dr. Reid today for several exciting reasons, one of which is because she had the most holistic equity responses we've encountered."
Stella Pekarsky (Chair, Sully) spoke directly to Reid. "Nothing is easy in Fairfax. But I am sorry, I am sorry because you deserve a much warmer, better welcome than we were able to give you tonight. And it is my opinion that none of this has to do with you. You are an exceptional educator- exceptional; and those who strive for excellence, never settle for anything else."
Pekarsky said she was honored to have Reid present, selected by the school board, as it begins writing the next chapter for Fairfax County Public Schools in partnership with the community. 
"Dr. Michelle Reed exemplifies the critical characteristics of servant leadership in every way and is driven by a vision for public schools that is resolutely student-centered, a vision not for what education is today, but what it could be, what it must be for kids who will be the leaders of tomorrow."
Reid received her doctorate in Educational Leadership from the University of Washington, master's degree in educational administration from University of Washington, and her bachelor's degree in natural science and chemistry from the University of Puget Sound.