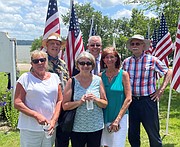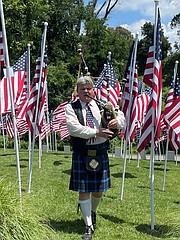 The strains of Amazing Grace filled the air as a lone bagpiper stood among hundreds of American flags overlooking the Potomac River as part of the 4th annual Flags for Heroes display June 27 on the grounds of Cedar Knoll Restaurant.
"This is a great, patriotic program," said project organizer Sharon Meisel. "And the flags are magnificent with the Potomac as a backdrop. We are humbled to honor all the individual heroes who are remembered here today."
Sponsored by the Rotary Club of Alexandria, the Flags for Heroes project provides community members an opportunity to dedicate a flag to honor a hero in their life. A card attached to each flag bears the name of the hero – a friend, family member, veteran, healthcare worker, first responder or other hero – along with the name of the individual sponsor.
Scouting troops joined Rotary volunteers in unfurling more than 250 flags at 6 a.m. the previous day to set up the display, which will remain in place through July 11.
Rotarians from Mount Vernon and Alexandria West partnered with Alexandria in the program with Alexandria West president William Berry paying tribute to Engie Mokhtar, a past club president who died in April of cancer at the age of 50.
This year's Flags for Heroes program has raised in excess of $20,000, which will benefit Alexandria Rotary Club community projects and provide direct financial support to more than 40 local charities and nonprofits.
"What a beautiful day," said Alexandria Rotary president John Moorman. "We had a great host in Cedar Knoll to make this a big success."