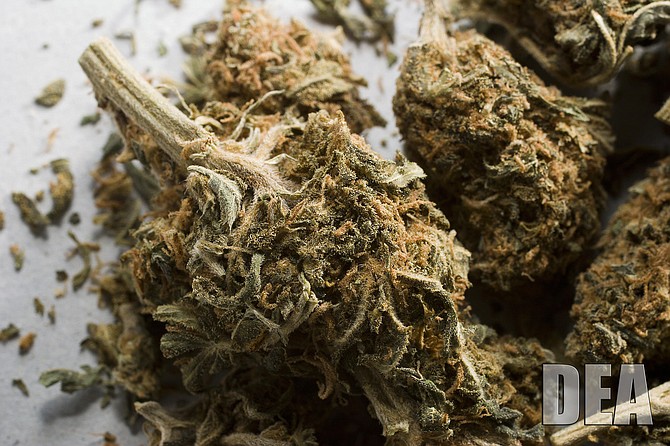 Smoke 'em if you've got 'em because pot is now legal in the commonwealth of Virginia.
For advocates who have been working in the trenches for years, the new law that goes into effect July 1 is the culmination of years of determination in the face of seemingly impossible odds. The tide began to turn after Democrats seized control of the General Assembly and lawmakers started taking a new look at police brutality after the murder of George Floyd. Now that law is signed, sealed, delivered and ready to light up.
"Virginians have long been calling for the end of prohibition," said Jenn Michelle Pedini, the executive director of Virginia NORML who led the fight for legalization. "In 2021, their voices are finally being heard."
Although marijuana is now legal in small amounts for adults, possession of more than an ounce can result in a civil penalty of $25 and possession of more than one pound is a felony. This mirrors the way other states have eased into legalization, allowing small amounts before gradually increasing how much of the drug they can have on them at a given time. Many advocates applaud the new law legalizing pot in small amounts, but they say keeping the penalties for larger amounts is problematic.
"This is one step to eliminate the racist policing around simple possession," said Chelsea Higgs Wise, executive director of Marijuana Justice Virginia. "People are still incarcerated for larger amounts than one ounce, and Virginia is making a way to profit off of pounds of marijuana while really ignoring and neglecting a lot of folks who have lost their lives and their families to the enforcement of marijuana [prohibition] that has been disproportionately on Black Virginians."
"The prohibition on marijuana has failed both in this commonwealth and in this country."
— Sen. Adam Ebbin (D-30)
THE NEW LAW ALLOWS each household to have four plants, although commercial sales won't begin until New Year's Day 2024. Smoking weed in public is not legal, although you can smoke it in the privacy of your home or anywhere on your property. In many ways, the new rules around pot mirror all the existing ones around alcohol. Having an open container of marijuana in a vehicle is not allowed, and driving under the influence remains illegal.
"The prohibition on marijuana has failed both in this commonwealth and in this country," said Sen. Adam Ebbin (D-30), who introduced the bill legalizing marijuana. "Cannabis does not have to be the boogeyman that some are making it out to be."
The journey from prohibition to legalization began after Democrats won control of the House and Senate in 2019. The following year, they decriminalized marijuana and began setting the groundwork for legalization. The bill legalizing marijuana was a heavy lift for a General Assembly that was meeting mostly virtually, and it included everything from expunging old convictions in the failed war on drugs to the creation of a new Cannabis Control Authority. The effort almost fell apart in the Senate, where some conservative Democrats opposed legalization.
"People smoke marijuana to get high," said Sen. Chap Petersen (D-34). "The purpose of smoking it is to create an altered mental state, and that may be fine on your own time but once you legalize something people have the ability to pretty much use it anytime they want."
THE DEBATE OVER LEGALIZATION culminated in a moment of high drama in the Senate, which was meeting at the Science Museum of Virginia to allow for social distancing. Senators were tied 20 to 20, and Lt. Gov. Justin Fairfax broke the vote in favor of legalization. As part of a compromise that secured the deal, lawmakers agreed to circle back around next year and work out the specifics about how the new industry will work and how licenses are granted.
"It is quite rare for a new industry to just show up somewhat suddenly, but Virginia has had the opportunity to watch and learn from other jurisdictions," said Paul Seaborn, a professor at the McIntire School of Commerce at the University of Virginia. "The goals as they've been stated in Virginia is to make this new industry more equitable than most or maybe all of our other industries."
When the Cannabis Control Authority starts granting licenses, some applicants are likely to have priority over others. For example, people who have been convicted of possession of marijuana might end up receiving preferential treatment. Family members of people who have been convicted of possession could also get priority. Residents of neighborhoods that have been disproportionately policed could also end up getting preferential treatment, although all the specifics of how those social equity licenses will work have yet to be approved by the General Assembly.
"This is one step to eliminate the racist policing around simple possession."
— Chelsea Higgs Wise, executive director of Marijuana Justice Virginia
Some are opposed to that approach.
"You cannot provide preferential treatment lifting up one class or group of citizens without diminishing the rights of another," said Sen. Bill DeSteph (R-8), previewing the coming debate over the issue in 2022.
THE CREATION OF A new industry also allows Virginia to create new worker protections for employees in the marijuana business, including prohibiting worker misclassification and union busting. Gov. Ralph Northam and House Democrats want to prevent license holders from taking sides in union organizing efforts and require them to pay a prevailing wage. That's a proposal that's likely to receive opposition from Republicans and conservative Democrats who support Virginia's right-to-work law.
"These are state licensees, just like a contractor or a doctor or a lawyer or your plumber," said Stephen Haner, a senior fellow at the Thomas Jefferson Institute. "There's no other state licensee where the licensing requirements are tied into basically what I consider a very pro-union interpretation."
Labor leaders see this as an opportunity to protect workers before they are hired in an industry that won't even begin until 2024. As is the case with the social equity licenses, the rules about worker misclassification and union busting can be targeted to work against some of the damage created by the failed war on drugs. But that will only happen if lawmakers are able to get the legislation out of both chambers, which could be tricky.
"This is an industry that was specifically designed to combat some of the problems and failures that were caused by the war on drugs, and specifically the impact on certain communities especially Black communities and brown communities," said Michael Wilson, vice president at United Food and Commercial Workers Local 400.