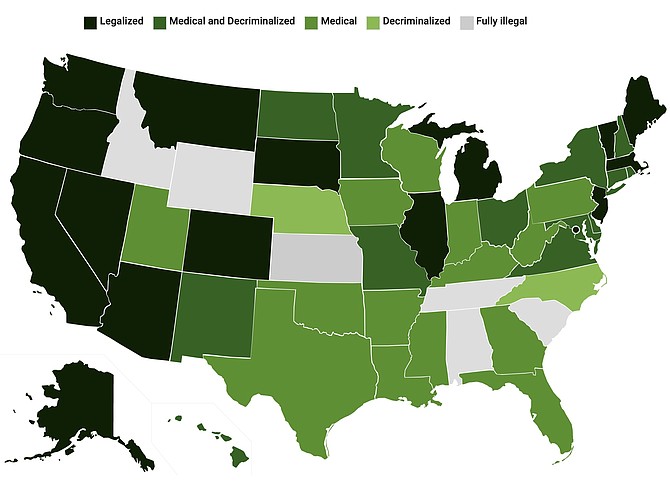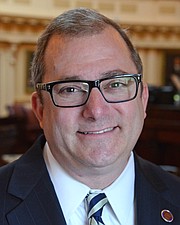 The so-called "war on drugs" was a failure, locking up generations of Black men and tearing Black families apart. Now lawmakers in Richmond are finally coming around to realizing the damage that the prohibition against marijuana caused in minority communities. Last year members of the General Assembly approved legislation decriminalizing marijuana. This year, they may be on the verge of legalizing recreational use of marijuana — ending the failed war on drugs and adopting new equity measures to address some of the damage it caused.
"The prohibition on marijuana has failed both in this commonwealth and in this country," said Sen. Adam Ebbin (D-30), who introduced the bill now being considered in the Senate. "The question is what is the role of government in telling people what they can and can't use."
Lawmakers are working their way through a number of issues, a measure of complexity reflected in the size of the mammoth 500-page bill. The legislation touches on everything from which government agency will regulate marijuana to how the tax revenue is spent and under what circumstances local governments can opt out of legalization. In his State of the Commonwealth Address, Gov. Ralph Northam explained the effort to legalize marijuana was an effort to combat systemic racism in Virginia.
"One of the early leaders of the federal Drug Enforcement Agency was clear that marijuana laws should be written explicitly to target people of color. And so they were, and they've been targeting people for years," said Northam. "It's time to join 16 other states and make marijuana legal, and end the current system rooted in inequity."
THE MOVE FROM controlled illegal substance to regulated agricultural product will require a government agency to issue licenses and oversee a newly created industry. The governor initially wanted that job to be assigned to the Virginia Alcoholic Beverage Control Authority, an organization created when the failed prohibition against alcohol ended a century ago. Northam argued that using an existing agency would take less time and cost less money than standing up a new agency.
"The prohibition on marijuana has failed both in this commonwealth and in this country."
— Sen. Adam Ebbin (D-30)
"ABC is the only state agency in the commonwealth that has the experience of regulating a product that is as controlled and also a product that was formerly totally prohibited," said Brad Copenhaver, deputy secretary for the Department of Agriculture and Forestry. "So we know that we can gain a lot of efficiencies and a lot of knowledge working with ABC."
When Ebbin's bill was considered by the Senate Rehabilitation and Social Services Committee, senators took issue with the governor's approach. Several senators pointed out that the main goal for ABC is enforcing the state's monopoly on liquor, and that law-enforcement experience wouldn't translate well to helping a new industry regulate and market an agricultural crop. The agency's lack of diversity was also a problem for a legislative effort guided by equity.
"I think this is too much for ABC to handle," said Sen. Lionell Spruill (D-5). "We need another agency that has the time and the know-how to put all the staff together to make this thing work for us."
THE EXPERIENCE LEGALIZING alcohol is informing how marijuana will be legalized when the governor signs the legislation. Local governments that want to prohibit the sale of marijuana at the local level would need to go through some difficult and expensive steps in order to opt out of legalization. They would not be able to do it with a vote of a city council or board of supervisors. Instead, they would need to conduct a referendum and have a majority of voters approve a new local prohibition against retail locations.
"It will be legal in jurisdictions for a period of time before a referendum could even be held by the locality to determine whether they want to opt out," said Sen. Ryan McDougle (R-4). "I have some concerns about whether a jurisdiction can take away that right without it being a taking once it's vested and someone has established a shop."
Supporters of the legislation point out that local governments must conduct a referendum to implement a local prohibition against commercial sale of alcohol. One of the principles guiding the discussion is that the marijuana legalization effort should mirror the alcohol legalization effort a century ago, although nobody is making the case that the newly created Virginia Cannabis Control Authority should hold a monopoly on the product the way ABC controls the liquor market.
"Choosing an opt-out process is just about shifting the process burden to make the default, yes, you can have a business here," said Ngiste Abebe, a member of the governor's task force on legalization. "There will be time before the retail shops are allowed to open, so communities that are passionate about not having retail cannabis locations can organize and conduct a referendum before the retail shops open."
LICENSES FOR SELLING marijuana will be extremely valuable, and lawmakers are keenly aware of the danger posed by creating an industry where Richmond-based Altria would be able to corner the market and exclude Black communities that were devastated by the war on drugs. That's why the bill includes language created social-equity licenses, making sure the gold rush for Virginia kush won't go to fat-cat corporate titans who make millions selling cigarettes to teenagers.
"It's time to join 16 other states and make marijuana legal, and end the current system rooted in inequity."
— Gov. Ralph Northam
"I grew up in an area where we have a lot of minority farmers, and quite frankly they're pretty good at growing pot," said Sen. Richard Stuart (R-28). "Do those folks have the opportunity to get into this? Or is this just a corporate giveaway?"
This is the part of the legislative debate that's causing the most concern for lawmakers and advocates. The bill now under consideration attempts to thread the needle between providing a business carveout for communities that were the target of the failed war on drugs while also creating a market that allows capitalism to thrive and tax revenue to flow. People who follow the industry expect Altria to be waiting for federal legalization, so Virginia could have an opportunity to help small and minority businesses to establish themselves before they face that corporate competition.
"Not only do we have Altria in our backyard, but we have the burgeoning cannabis industry that will be knocking at Virginia's doors," said Jenn Michelle Pedini, executive director of Virginia NORML.
RETAIL SALES won't be the only way people can get marijuana. People will be able to grow plants at home. The current bill allows a total of four plants per household, two mature plants and two immature plants. Republicans tried to strip this provision from the bill last week, but that effort failed as Democrats passed the bill out of the Senate Rehabilitation and Social Services Committee.
"This should be viewed the same as alcohol in terms of you can home-brew alcohol like my grandfather did back in Franklin County," said Sen. Scott Surovell (D-36). "There's consequences for selling alcohol if you make it at home and don't tax it, and I view it akin to that."
One of the potential pitfalls with the four-plant limit is that it would apply to a household, not an individual. So if two or more roommates want to grow marijuana plants, they would need to figure out a way to distribute the household limit among themselves. Critics say the limitations create the possibility for a new war on plants.
"The whole four plan thing is a bit far-fetched for home growing," said Mike Thomas of Grow Your Own RVA. "Cannabis is a medicine, and a lot of clients or patients have more than one medicine, so they would need a plant for pain, a plant for sleep, maybe a plant for appetite."