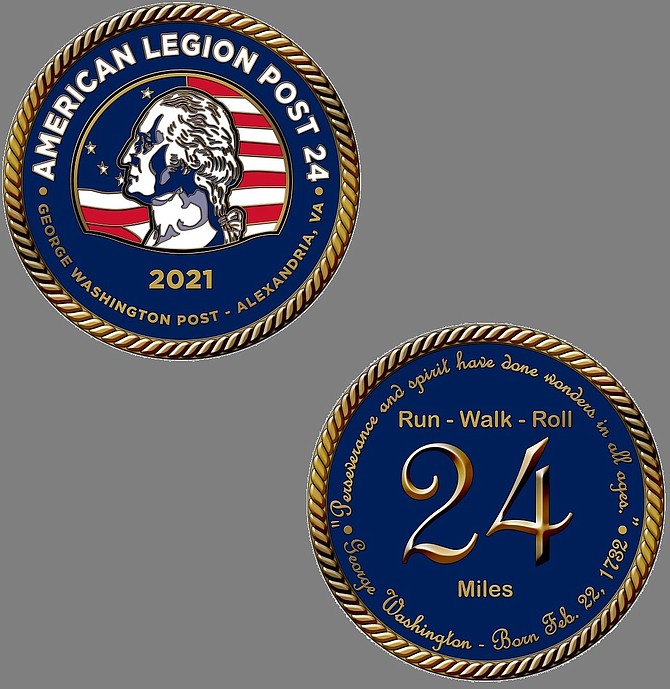 With the city's annual George Washington Birthday Parade on hold for this year, Alexandria's American Legion Post 24 is hosting a commemorative virtual event to honor the nation's first commander-in-chief.
"The 24-mile virtual challenge is intended to build community and enhance the physical, mental and emotional resiliency of participants—veterans and non‐veterans alike," said Post 24 organizer Mike Mixon.
The month‐long virtual event will be held during February and encourages participants to run, walk and/or roll on their own for at least 24 miles in increments and routes they choose.
"We designed this challenge to be all inclusive," Mixon said. "Two thousand steps in your house equals a mile, so if you are homebound or the weather is not cooperating, you can still participate. Bicycles, wheelchairs – all are welcome. We just want to encourage people to get active."
Registration is online only through Jan. 31 and is $24 per participant. Registrants will receive a certificate of completion and a custom-designed George Washington Birthday commemorative coin.
All proceeds will support veterans and youth programs conducted by the Alexandria American Legion Post 24, Inc.—a tax exempt 501(c)(19) veterans' organization.
For more information or to register, visit www.valegionpost24.com/events-calendar.