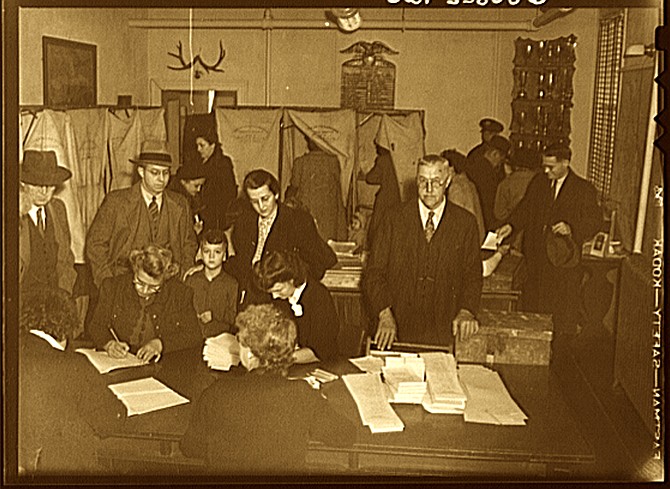 Felons have been prohibited from voting in Virginia since 1830, when the "right to suffrage" was denied "to any person convicted of any infamous offense." But it was during the era of Jim Crow that felon disenfranchisement became weaponized to prevent Black voters from influencing elections. The Constitution of 1902 disenfranchised Virginians convicted of "treason or of any felony, bribery, petit larceny, obtaining money or property under false pretenses, embezzlement, forgery or perjury." Now, more than a century later, lawmakers are considering a constitutional amendment stripping felon disenfranchisement from the Virginia Constitution.
"This is something I've been fighting for ever since I've been in the General Assembly," said House Majority Leader Charniele Herring of Alexandria, who was first elected in 2009. "Once someone has served their time, they have the civil right to come back fully and exercise their right to vote."
Herring introduced House Joint Resolution 555, which would restore the right to vote for convicted felons upon "completion of his sentence of imprisonment." If lawmakers approve the resolution this year, that would be the first step in a long process. Members of the next General Assembly would have to approve identical language next year after the election this fall. Then voters would have to approve the amendment in November 2022. Gov. Ralph Northam identified this as one of his top priorities in his State of the Commonwealth address last month.
"Virginia is one of just a few remaining states where, if you have a felony conviction, someone has to act to restore your civil rights to vote or run for office," said Northam. "It's not automatic, but it should be."
THE ROOTS OF felon disenfranchisement go back to the age of Jackson, when the dominance of the ruling elite was threatened by calls for expanding electorate to universal white male suffrage. Virginia responded by calling for a constitutional convention, which met at the Capitol from October 1829 to January 1830. The convention rejected extending the vote to all free white males, although delegates extended the franchise to long-term leaseholders and male heads of household. The right to suffrage was denied to "any person of unsound mind, or who shall be a pauper, or a non-commissioned officer, soldier, seaman or marine, in the service of the United States, or by any person convicted of any infamous offence."
"These exclusions were directed specifically at those persons who were perpetually in a state of dependence or, the case of convicts and servicemen, had ostracized themselves from the interests of a specific community," wrote historian Christopher Curtis. "Nonetheless, the idea of dependency itself had been transformed from a test of the ability to produce one's own food into a test of relative social productivity."
"Once someone has served their time, they have the civil right to come back fully and exercise their right to vote."
— House Majority Leader Charniele Herring
The disenfranchisement for felons did not apply to African Americans because they couldn't vote anyway. Subsequent Virginia constitutions built on the initial exclusion for anyone convicted of an "infamous offence." In 1851, bribery was added. Then, in 1870, treason and corruption were included. When a constitutional convention began in 1901, delegates drew on language from several other states to dramatically expand the list of felonies preventing participation of Black voters. The Constitution of 1902 was a Jim Crow document aimed squarely at institutionalizing white supremacy and preventing Black people from being able to exercise the franchise of voting.
"Our politics will be purified," boasted state Sen. Carter Glass, a newspaper editor from Lynchburg who played a key role in the constitutional convention. "This plan of popular suffrage will eliminate the darkey as a political factor in this state in less than five years so that in no single county of the commonwealth will there be the least concern felt for the complete supremacy of the white race in the affairs of government."
WHITE SUPREMACY was the declared goal of the 1902 Constitution, and it was devastatingly successful. A new literacy test required voters to give a reasonable explanation of any section of the constitution unless he paid property taxes to the state or was a Civil War veteran or the son of one. Although a previous Constitution had done away with the poll tax, the 1902 version brought it back. Anyone who registered to vote after Jan. 1, 1904 was required to pay a poll tax of $1.50 for each of the three years preceding an election. The electorate was reduced by half.
"The electorate was so thoroughly eviscerated that throughout the first half of the 20th century, the Democratic Party regularly elected its gubernatorial candidates with the support of less than 10 percent of the adult population," wrote historian J. Douglas Smith. "So few Virginians voted in the first half of the 20th century that political scientist V.O. Key quipped that 'by contrast Mississippi is a hotbed of democracy.'"
The disenfranchisement of felons was a feature of the 1902 Constitution that was retained when Virginia wrote a new Constitution in 1971. Now, one in five Black Virginians are permanently disenfranchised. African Americans make up one fifth of Virginia's population but more than half of those disenfranchised are African American. Virginia is one of only 11 states that permanently disenfranchise voters. Even though the roots of felon disenfranchisement stretch back to 1830, the effort to remove it from the constitution are viewed largely through the Jim Crow chapter of its history.
"It is time for us to reverse what has been a racist law," said former Gov. Terry McAuliffe, who testified in favor of the amendment. "It is time for Virginia to be on the right side of history."
THE CURRENT PROCESS for restoring the right to vote involves a petition to the governor, which can be an intimidating process for people who are trying to get their lives back together after being incarcerated. And an application does not guarantee the restoration of rights. During his term, Republican Gov. Jim Gilmore restored rights to 238 individuals. By contrast, Gov. McAuliffe restored rights to 173,000 people.
"I would like nothing more than to put our office out of business," said Secretary of the Commonwealth Kelly Thomasson, who oversees the process for restoring civil rights for the governor.
People who work with those who have felony convictions to restore rights say the process can take as long as seven months for some. For others, they may have already had their rights restored but didn't know it. In those cases, people come to the painful conclusion that they could have been voting for years but didn't because they were told they would never again have the right to vote. Some have argued that people should never lose their right to vote, even while incarcerated.
"At the very least, we should make the restoration of civil rights automatic," said Chris DeRosa, leader of the Arlington chapter of Spread the Vote. "They should not have to jump through hoops and beg to have their voting rights restored by the governor."