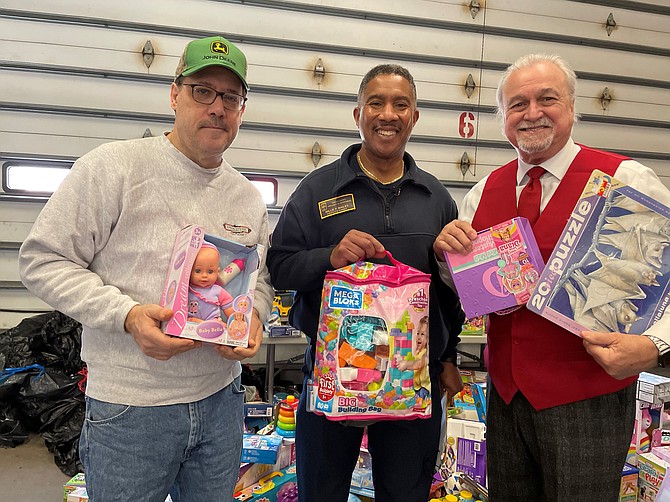 Fairfax County Fire and Rescue, in partnership with Firefighters and Friends to the Rescue, continued its annual toy drive with distribution day Dec. 10 at Penn Daw Fire Station 11.
"Over 60 schools, shelters, and nonprofits requested our assistance this year," said Fairfax County Fire and Rescue Deputy Battalion Chief Willie Bailey. "In the end we were able to distribute over 3,500 toys, including bikes and gift cards."
Representatives from local organizations provided information to the firefighters and picked up bags full of gifts collected by the firefighters and provided by sponsors.
"Though we remain in a pandemic our sponsors were not going to let that prevent them from supporting the event this year," said Bailey, who began the toy drive more than 22 years ago. "We received several calls from our sponsors hoping that we would find a way to pull off the distribution and as always, the sponsors stepped up to make this event a great success."
Sponsors for the toy drive include: Ken & Kelly Savittiere Foundation; Jack Taylor Alexandria Toyota; Apple Federal Credit Union; Chadwick's Restaurant; Five Guys (Sam Chamberlain); Union Street Public House Restaurant; Energesco Solutions LLC; Progressive Firefighters of Fairfax; Local 2068; Fairfax Fire & Rescue Retirement Assoc.; Nationwide Credit Corporation; SEIU-512 ; Kelly's Irish Times; Democratic Women of Clifton and Northern Va.; Medocracy, Inc.; Dr. Fauzia Abbasi; Heart Care Imaging; Rotary Club of Tysons Corner; Fairfax County Police Department; and Movement Studios.
"The support of our sponsors was certainly needed this year because we had a bigger demand for help than usual," Bailey added. "Also, because of COVID we did not invite the children to pick out their toys in person, which our volunteers always look forward to. But thanks to the generosity of so many they will all be receiving their holiday gifts."
Firefighters and first responders in the community have supported the event for more than two decades.
"When we are not running 911 emergency calls, we are trying to find other ways to help the community," Bailey said. "This holiday season it's ensuring that local children have a wonderful Christmas. It's teamwork that made the dream work for them this holiday season."