Tuesday, December 7, 2021
School Board Member Tamara Derenak Kaufax (Lee) thanked the members of the Challenged Book Committee at the 
Fairfax County School Board regular meeting held on Thursday, Dec. 2
, for their recent review and decision to reinstate the books in question, "Gender Queer: A Memoir" by Maia Kobabe and "Lawn Boy" by Johnathan Evison. The books were temporarily removed from FCPS high school libraries following a challenge in September.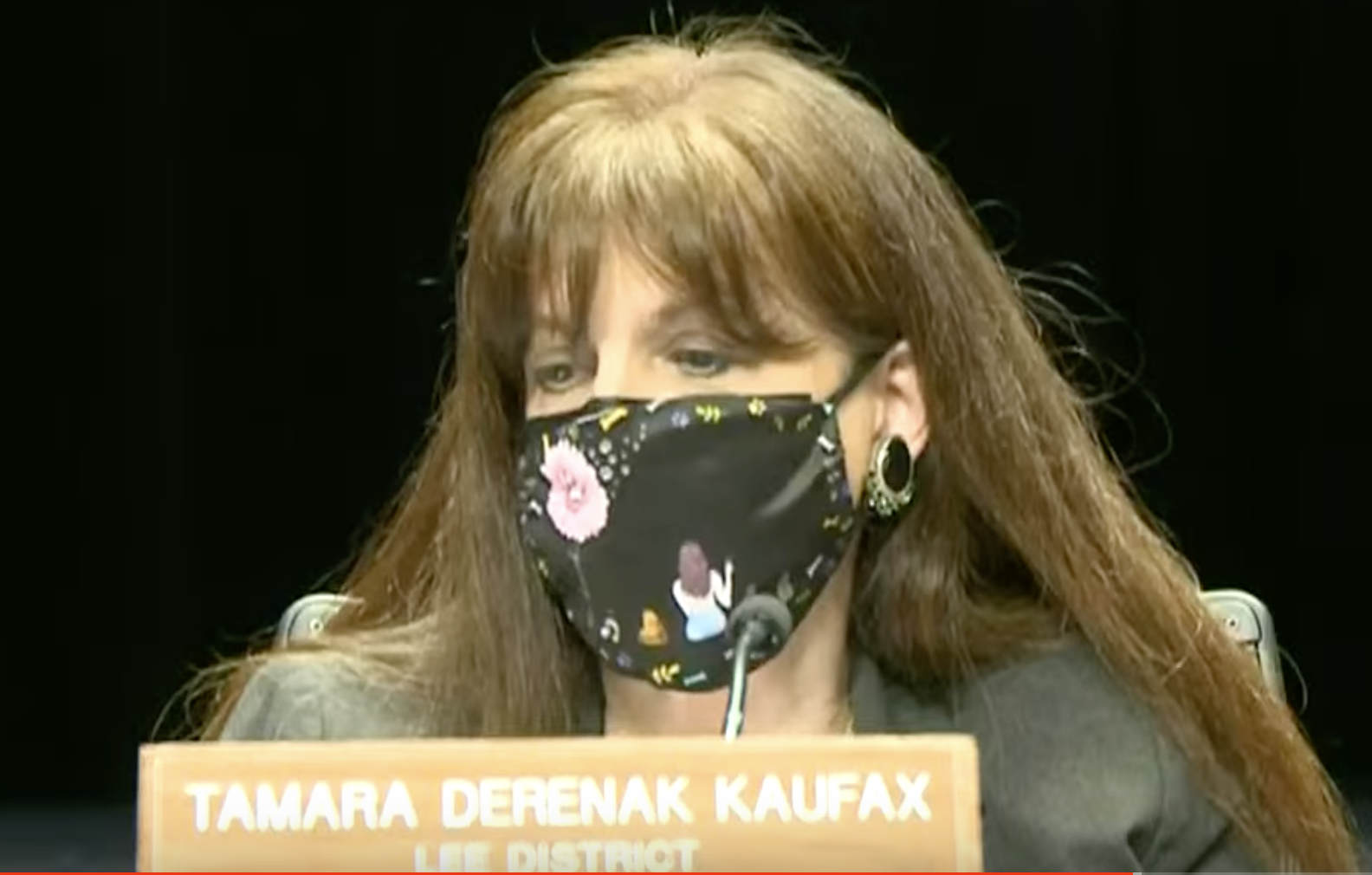 Kaufax said teachers, parents, administrators and students comprised the committee, and she, too, read both books in question. 
"These books were not obscene, and there is absolutely no pedophilia in either of these books. As an educational system, it is our duty to provide materials for children to better understand their identities, as well as those of their classmates," Kaufax said. She added that having access to books reflective of their own lives helps mitigate the real risks of bullying, social isolation, and suicide that LGBTQIA+ students are known to face. 
Laura Jane Cohen (Springfield District) said if someone believed that certain books were not appropriate for their child, that was probably a conversation for the person to have with their child. Cohen said she would not dream of parenting someone else's child and could only share how she parents her own children. According to Cohen, in her home, they believe that our schools are responsible for making sure all children know they are okay. "That they are normal. That they are, as Psalm 139 says, "
'wonderfully made.'"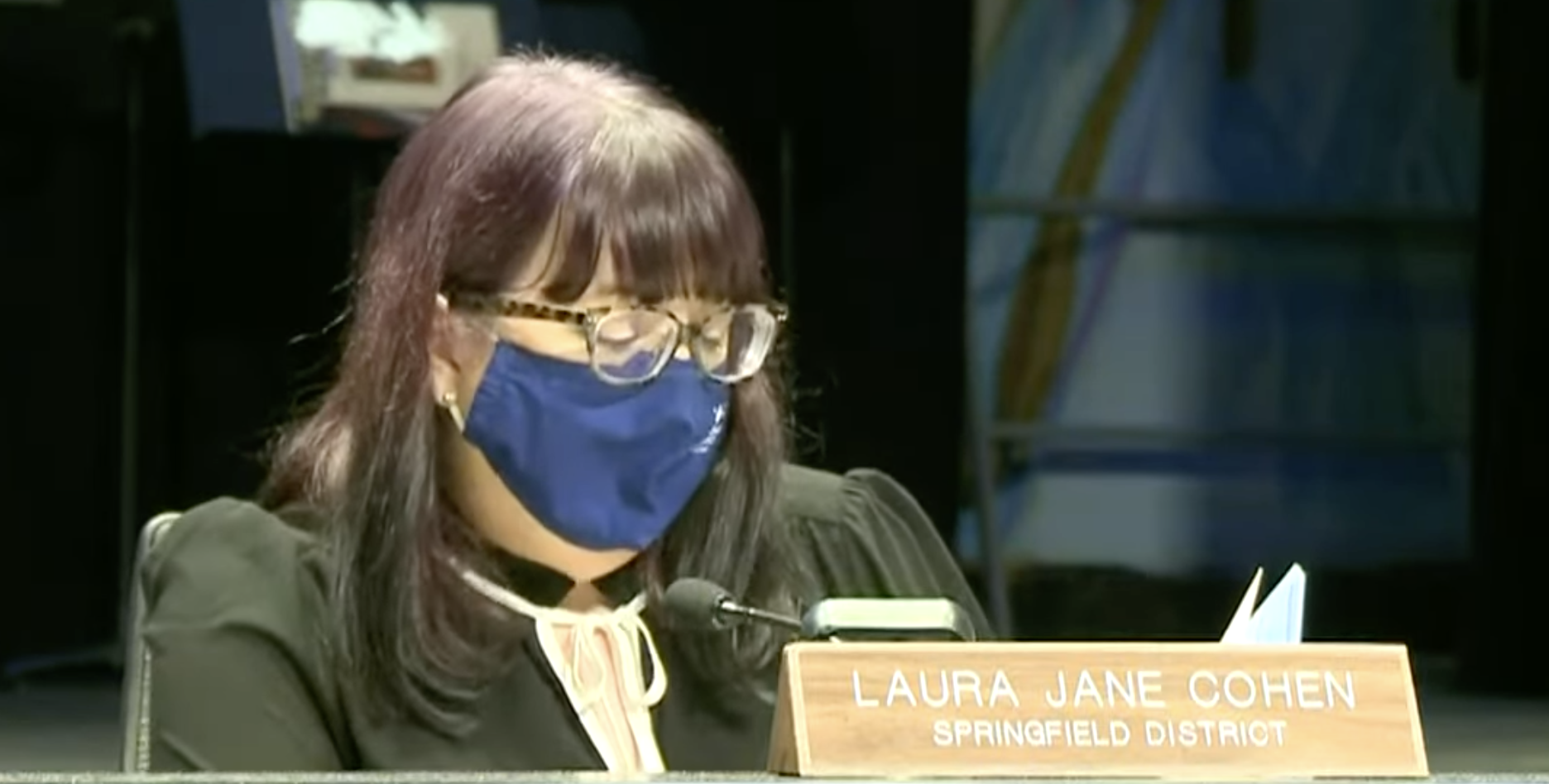 Then Cohen read a passage by journalist and LGBTQIA+ activist George M. Johnson from his 2020 book, "All Boys Aren't Blue: A Memoir-Manifesto."  
"So as heavy as these subjects may be, it is necessary that not only are they told, but also read by teens who have to navigate many of these same experiences in their own lives. … I released the deepest and darkest things about my past in the hopes that someone might see a reflection of themselves in the words and know that they are not alone. And that they, too, can grow and thrive."
Cohen said she was glad for all children to get an opportunity to see themselves in the work that the Fairfax County librarians do and in the over 3 million books the county has in its libraries.
Karl Frisch (Providence) said he was grateful to the students who came to the school board meetings hoping that adults would hear them and that their courage was inspiring. Frisch said that he never dreamed of speaking up for LGBTQ inclusion at school as a teenager. "I couldn't even tell my friends I was gay," Frisch said. "I was worried, if I acknowledged my truth, I would lose the love of my friends and my family." He told how when the conversation about LGBTQIA+ first started, he told the board he would never back down. 
Fritsch said he got over 1,000 emails, voicemails, letters, and social media comments in the days after, labeling him a pervert and worse. He told of threats of violence against him and his partner and how there were days he didn't want to touch his phone or look at his inbox. 
When non-LGBTQ young people become aware of the diverse and complicated lives of LGBTQ people as a result of the history they study or the novels they read, they do not become LGBTQ. "LGBTQ is not contagious, but being more acceptable to different people certainly can be," said Fritsch. "That scares some people, which is precisely why this work must continue. It is for everyone."
More Resources for Mental Health
Megan O. McLaughlin (Braddock) provided an update as the board representative to the Fairfax County Successful Children and Youth Policy Team (SCYPT) during School Board member committee reports. SCYPT serves as the policy team for a broader, community-wide approach to ensure the success and well-being of children and youth in Fairfax County. 
According to McLaughlin, one of the topics covered was a request for financial assistance for mental health upgrades and training additional therapists in Fairfax County to shorten the waitlist for families needing help. McLaughlin said that the committee recommended acceptance, but the Board of Supervisors must eventually approve it.
The second section of the mental health discussion dealt with hospitalizations. "We've got some really heartbreaking data about it even here in Fairfax County, the number of students who are requiring hospitalization for mental health needs," McLaughlin said. 
Explaining because there were not enough beds at any given time, McLaughlin said, "We had 17 students and their families waiting with an average of seven days in order to get a bed."
She added that SCYPT was trying to get additional funding for multidisciplinary services. That would be an alternative to having students in the hospital emergency rooms. 
15 Contracts
At the Fairfax County School Board regular meeting held on Thursday, Dec. 2, the board awarded 15 contracts. Four contracts will provide hands-on installations every student at four elementary schools will enjoy for years to come. The Major Maintenance Fund will provide ADA-compliant playground installations at four elementary schools: Fairfax Villa-$339,396; Floris-$365,370; Oak Hill-$362,105; and Vienna-$314,897. While not as much fun but surely appreciated, major maintenance will also fund a chiller repair at Centre Ridge Elementary School for $577,954.
The Elementary and Secondary School Emergency Relief (ESSER) II Fund under the Coronavirus Response and Relief Supplemental Appropriations Act, 2021 provides funding for automated temperature controls at two elementary schools, Bush-$587,600 and Spring Hill-$821,530; and for a rooftop unit replacement at Forte Support Center in Springfield-$791,000.
Two elementary schools received roof replacement projects, Westbriar-$159,324 and Fairfax Villa-$304,972 through the Infrastructure Replacement Fund.
The board approved synthetic turf field replacement projects at two high schools. One is at Langley for $871,055, funded by Fairfax County Public Schools, and the other is at South Lakes for $960,000 funded by Fairfax County Public Schools and Fairfax County Park Authority.
Finally, the board awarded the contract for Kahua Software and professional services with a projected initial software cost of $165,000 annually for a three-year term and a $40,000 approximate startup cost for professional consulting services to implement the software and train staff on Kahua Software License and Professional Services. Kahua will assist the Office of Design and Construction to govern and streamline document management.