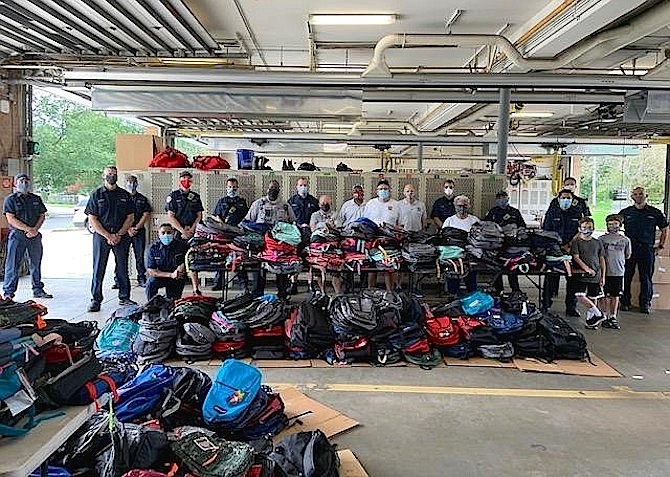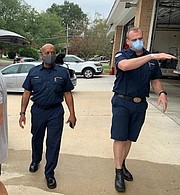 Fairfax County Fire and Rescue Chief John Butler was among the volunteers at Penn Daw Fire Station 11 Aug. 31 to distribute more than 1,100 backpacks filled with school supplies for families in need throughout the county.
"It is always rewarding for the fire department to give and assist those in need," Butler said. "But it's especially critical during these challenging times in a pandemic."
Unlike in previous years, children did not attend the distribution day and on-site volunteer help was scaled back.
"We did not use as many volunteers as in the past because of the pandemic," said Deputy Chief Willie Bailey, organizer of the annual event. "But we knew this was something that needed to be done. The schools and nonprofits that picked up from the event pulled up to the fire station and we placed the items in their vehicles. This allowed us to keep individuals entering the fire station to a minimum and helped us with social distancing."
New backpacks were pre-filled with school supplies and loaded into vehicles that made deliveries to nonprofits and schools across the county as students entered their first week of classes.
"With children starting classes virtually, we were hoping that we could add some type of normalcy to the start of the school year, i.e. new backpacks with school supplies," Bailey said. "Our greatest natural resource is the minds of our children and especially during this pandemic, the need continues for so many families."
Sponsors of the backpack distribution include: Apple Federal Credit Union; K12 Athletics Foundation; Progressive Firefighters of Fairfax County; Local 2068; Fairfax Retired Firefighters Association; Nationwide Credit Corporation; Jack Taylor's Alexandria Toyota; Promax Realtors; and Penn Daw Fire Station 11.
"My thanks go out to all the organizations that partnered with us to give children school supplies and learning materials to begin their school year," Butler added. "It's a blessing to have so many local organizations and businesses supporting us this year."