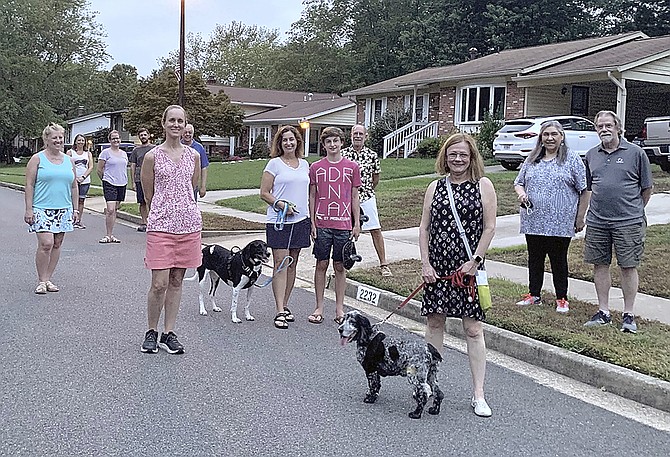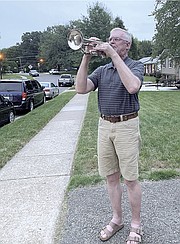 It was a simple enough request. Retired Navy Captain Charlie Kropf, now in his late 80s, asked his neighbor Paul Johnson if he would play Taps at sunset. The date was April 4 and thus began the nightly tradition that continues in the Williamsburg Manor North neighborhood.
"I had stopped in to check on how Charlie was doing during the quarantine," said Johnson, a retired Navy Master Chief and former member of the Navy band. "When I first moved to the neighborhood in 1991 Charlie and another neighbor, Lou Genario, a retired Army colonel who has since passed on, asked me to come out and play morning colors while Lou put his flag out on his garage. We did that a couple of times but Charlie remembered and asked me again."
Johnson didn't hesitate to honor his friend's request, but instead of a one-time performance, the 30-year Navy veteran has continued performing each night at sunset as neighbors gather in somber silence in memory of lives being lost each day to the COVID-19 virus.
"Paul has saved my heart," said Nedra Darling, who stands in memory of lives lost on Indian reservations across the county. "I am far away from my Prairie Band Potawatomi Nation reservation and know 35 people who have died due to COVID. Those who have lost loved ones during this time can't have closure so this is closure for the evening. And thank God he's there the next evening giving us closure every day that we can get some rest and then we start again."
Said another neighbor, Deborah Matthews, "Paul plays Taps for people who die every day of COVID. I am grateful that he is a neighbor and gives us a place to gather every evening."
Johnson, who arranged for a substitute on the two occasions he was out of town, has no set date for ending the nightly tradition.
"I was thinking maybe I will play until we get a vaccine," Johnson said. "I began this to bring some comfort to Charlie but said to him 'Charlie, if it's meaningful to you I know it will be meaningful to other people too.'"