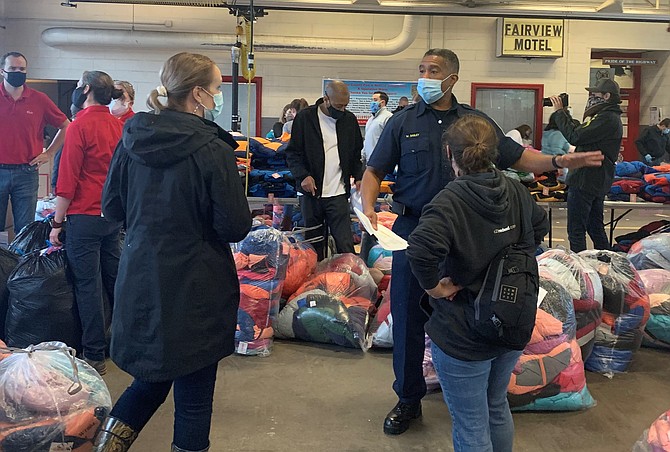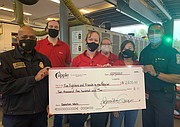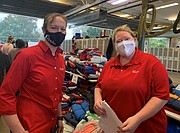 Fairfax County Fire and Rescue Chief John Butler joined volunteers at Penn Daw Fire Station 11 Oct. 29 to organize and distribute thousands of new winter coats for children in need as part of the Firefighters and Friends to the Rescue annual coat drive.
"We gave away over 3,000 coats for children and families in need," said Fairfax County Fire and Rescue Battalion Chief Willie Bailey. "We had 67 schools, nonprofits and shelters participate in collecting coats to distribute throughout the region."
Tables were piled high with coats, all Made in the U.S.A., that had been sorted according to age and sex. Volunteers selected and bagged coats for each organization with representatives waiting in vehicles for a curb-side pickup.
"Willie printed up sheets for each location," said Jennifer Tillet, Mount Vernon branch manager for Apple Federal Credit Union, a major sponsor of the coat drive. "We are organizing the coats by school then labeling the bags so that social workers can easily and safely pick everything up without getting out of their vehicles."
Bailey founded Firefighters and Friends to the Rescue 18 years ago as a holiday toy drive. In 2011, Firefighters and Friends joined forces with Operation Warm, a national nonprofit that has provided coats to more than 1.4 million children in need. Since that time firefighters across the country have helped expand coat distribution while supporting American manufacturing jobs.
"The COVID-19 pandemic has impacted everyone, some more drastically than others," Bailey said. "For many families the pandemic has led to a loss of income, childcare and social support. With so many families struggling to make ends meet, fire department events like this are more important than ever."
Sponsors for the 2020 coat drive include: Progressive Firefighters Inc.; Local 2068; Apple Federal Credit Union; Fairfax Retired Firefighters Association; Medocracy Inc.; Ken & Kelly Savittiere Family Fund; Nationwide Credit Corporation; Promax Management Inc.; Fairfax Education Association; and Primo Family Restaurant.
"We are working hard and staying safe to make sure children in need have school supplies, warm winter coats and holiday gifts," Bailey said. "Throughout the pandemic, we continue to live by our motto: Teamwork makes the dream work."
For more information or to make a donation to Firefighters and Friends to the Rescue, visit http://www.ffandfriends2therescue.org/ or call Deputy Chief Willie Bailey at 571-641-0036.
"Because the need is so great this year, any help in assisting those less fortunate families will make an impact," Bailey added.