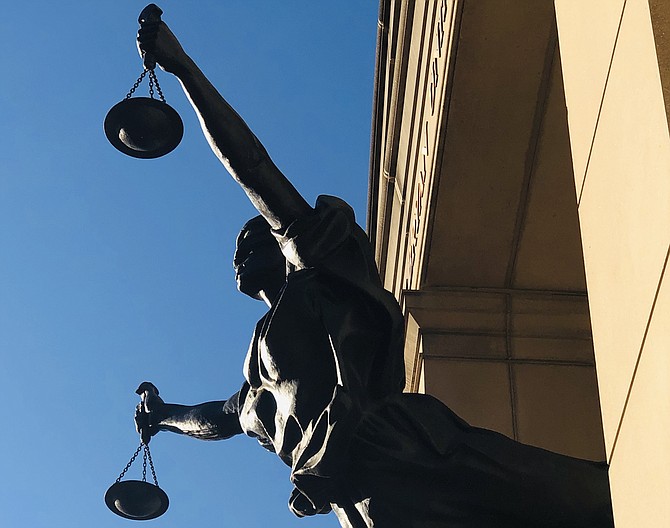 Virginia is the only state in the country that does not guarantee a right to appeal, allowing circuit court judges to make decisions with little oversight or scrutiny. Critics have been calling for reform ever since the Court of Appeals was first created in 1985. The Supreme Court of Virginia recommended an appeal of right as a "long term goal" in 2018. Now, Gov. Ralph Northam says he wants lawmakers to add four judges and support staff "to ensure the court can hear more appeals cases in a timely manner under an increasing workload."
"The Supreme Court barely takes any cases, so the circuit courts are effectively the court of last resort," said Sen. Scott Surovell (D-36), who will be working in the Senate Judiciary Committee on the issue. "That gives circuit court judges a tremendous amount of power because their decisions are rarely reviewed."
Soon after the governor announced his support for funding the proposal in a speech outlining his budget priorities for the upcoming General Assembly session, Republicans unleashed a buzzsaw of opposition. The chairman of the Republican Party of Virginia called the proposal to increase the appeals court from 11 judges to 15 judges a "court-packing plan." The conservative Family Foundation said it was an effort "to protect the left's radical new policies." Senate Republicans said they would stand in opposition to the proposal.
"Governor Northam's proposal to pack the Court of Appeals politicizes Virginia's judiciary," said Sen. Ryan McDougle (R-4), chairman of the Senate Republican Caucus. "I will adamantly oppose this effort by the governor."
The fight over Virginia's Court of Appeals comes after a blue-ribbon panel issued a 71-page report endorsing the idea of allowing appeal of right in all circuit court cases. A few months ago, a 24-member working group unanimously supported expanding jurisdiction. That was followed by an endorsement from the Judicial Council of Virginia, a group of judges, lawmakers and lawyers who voted unanimously in support of the proposal. A statement from the Virginia Bar Association explained that while some members were opposed, the consensus view was in favor of expanding the jurisdiction of the Court of Appeals to guarantee a right to appeal court cases.
"Our members see this as an access-to-justice issue, and one implicating due process of law," wrote Alison McKee, president of the Virginia Bar Association. "A circuit court's rulings stand very little chance of reversal. That, our members posit, means that many erroneous circuit-court rulings go uncorrected."
THE DEBATE OVER ADDING JUDGES to the Court of Appeals is happening in an election year when candidates are jockeying for position during a heated primary season. The June primary for statewide offices will feature a huge slate of General Assembly members who will be hoping to use the upcoming session to highlight their policy positions and political skills. One of the House Republicans who is opposed to the governor's proposal is Del. Jason Miyares (R-82), who is running for attorney general.
"Flipping the ideological makeup of this court will make it soft on crime," said Miyares, who is one of two Republicans running in the June primary for attorney general. "This is yet another reason why we must restore conservative leadership back to Richmond for a safe and secure commonwealth."
"The Supreme Court barely takes any cases, so the circuit courts are effectively the court of last resort. That gives circuit court judges a tremendous amount of power because their decisions are rarely reviewed."
— Sen. Scott Surovell (D-36)
Advocates for expanding the Court of Appeals say Virginia's system is broken. Under the current system, the vast majority of defendants seeking an appeal for criminal convictions are denied. Even in civil cases, appeals are usually only heard in certain kinds of cases. That creates a disparity that is a black eye for Virginia, which is the only state in the country that has a system that does not guarantee a right for people to appeal a court ruling they feel is flawed.
"On a case by case basis, it's harmful because if a judge made an error in your case you didn't get justice," said Andrew Elders, policy director for Justice Forward Virginia. "On a larger scale, the Court of Appeals makes law because it gives judges clarity about difficult questions."
Despite opposition from some Republicans, the proposal to provide an appeal of right has overwhelming support from lawyers and business groups. The Virginia Chamber of Commerce and the Virginia Manufacturers Association support the effort, pointing out that the current system "undermines the quality of justice delivered in Virginia."
The Virginia Association of Criminal Defense Lawyers supports the effort, adding that its members want to make sure every criminal appeal has an opportunity to present oral arguments. The Virginia Trial Lawyers Association also supports the proposal, although its members raised concerns about systemic advantage of well-funded interests and a potential for less efficient administration of justice.
"An appeal of right would give litigants from all walks of life the comfort of knowing that they received meaningful process and review of their causes," wrote Valerie O'Brien, executive director of the Virginia Trial Lawyers Association. "Receiving reasoned decisions and explanations in all cases would promote confidence in the judicial system in that it would provide both the litigants and the public with a better explanation for why a given case produced a given result."