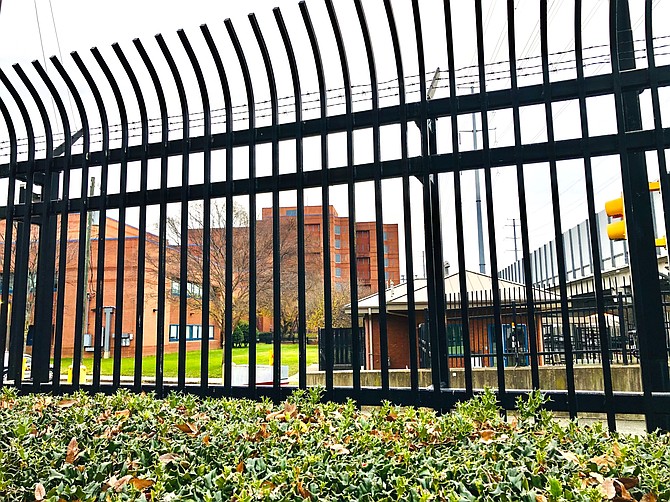 "Prosecutors know this is absurd. Despite that they have such leverage that they offer a way out of felony and a way out of significant jail time for you to just cop a plea."
— James Abrenio
For one inmate of a Northern Virginia jail who was in a mood, the presentation of a meal created a buffet of problems. When a law-enforcement officer inserted the tray through the slat in the metal door, the inmate pushed the tray back. The tray fell to the floor, and some of the water bounced off the floor and landed on the officer's shoes.
"And so they charged him with assault on a law enforcement officer because the water hit his shoes," said James Abrenio, a lawyer who represented the inmate.
The inmate was being held on a minor probation violation when the incident happened. But that incident with the water on the shoes created a new problem for him. He was now charged with felony assault against the officer, a charge that comes with a mandatory minimum of six months behind bars. Suddenly that cup of water created a flood of problems that left him drowning in trouble. Abrenio says he would have loved to have brought that case to trial because of the absurdity of the charge, but the indigent inmate was more interested in cutting a deal with prosecutors than challenging the system.
"Prosecutors know this is absurd," said Abrenio. "Despite that they have such leverage that they offer a way out of felony and a way out of significant jail time for you to just cop a plea. And that's the issue."
It's an issue that is dividing Democrats in the General Assembly. During the special session this year, Sen. Scott Surovell (D-36) introduced a bill that would have done away with the mandatory minimum sentence for assaulting a law-enforcement officer. It would have required independent investigations into incidents, rather than allowing officers to react in the heat of the moment. And it would have allowed courts to consider mental illness as a contributing factor to how people interact with police.
"Folks who are mentally ill and have interactions with law enforcement are hurt the most by this," said Surovell. "Because minorities are overrepresented given the way policing currently occurs, it tends to overly affect minority populations who tend to get charged with this a lot."
The bill passed the Senate on a party line vote in August. But a month later, Democrats in the House Courts of Justice Committee killed the bill after raising several concerns. One was that the statute could exclude children, setting aside felony prosecution of juveniles experiencing a mental health crisis. Another concern was that the bill might create harsher penalties for people with autism, although the bill had support from the Virginia Autism Project. The debate happened shortly after the Senate killed a House bill that would have ended qualified immunity for police officers.
"I have learned over the last several weeks that words, definitions and standards matter when we're talking about these very weighty issues," said Del. Jeff Bourne (D-71), who introduced the bill on qualified immunity. "I've heard lots of times that we vote on bills, not ideas and so I'd like to get us to a place where we can vote on a great bill that eliminates the mandatory minimums and really captures the essence of what we all know is happening in these instances."
"Folks who are mentally ill and have interactions with law enforcement are hurt the most by this."
— Sen. Scott Surovell (D-36)
MANDATORY MINIMUM sentences have become a flashpoint in the conversation about criminal-justice reform, although the effort to rip this one out of the code did not end up working during a special session aimed at improving equity in policing and prosecutions. The six-month mandatory minimum sentence for assaulting a law-enforcement officer dates back to 1997, a time when lawmakers were trying to use the criminal code to crack down on crime. State Sen. Louise Lucas (D-18) introduced a bill that would have made assaulting a police officer a felony. At the time, it was a misdemeanor.
"Can you believe that?" she is quoted in the Virginian-Pilot at the time. "You would think it would be a felony already, wouldn't you?"
Her bill passed the Senate but failed in the House. Meanwhile, Del. Donald McEachin (D-74) was working with Lt. Gov. Don Beyer on a similar bill that would have imposed a mandatory minimum sentence for hate crimes. The chambers struck a compromise creating a mandatory six-month sentence for assaulting a law-enforcement officer or committing a hate crime. Republican Gov. George Allen signed the bill, although now Democrats are rethinking the consequences of the tough-on-crime politics of the 1990s. Earlier this year, Del. Ken Plum (D-36) and Sen. Barbara Favola (D-31) worked together on a bill that added gender identity and sexual orientation to the hate crime bill while also removing the mandatory minimum sentence.
"The governor came out with a policy statement on not supporting minimums," said Favola in a committee hearing on the bill.
Although lawmakers removed the mandatory minimum for hate crimes, the mandatory minimum for assaulting law-enforcement officers is still on the books. Surovell says he plans to introduce the bill again next month, when lawmakers will begin the 2021 General Assembly session.
"It's my hope that with a more balanced discussion more legislators will be comfortable voting for it," said Surovell. "The bill got caught up in a lot of discussion about law enforcement, but in reality it's more about how law enforcement interacts with people with mental illness and people in crisis and mandatory minimums, which are well documented to have zero effect deterring crime."
Testifying in support of the bill during the special session, Virginia Autism Project president Teresa Champion said nobody is advocating in favor of attacks on law enforcement. She described arguments that the bill would be threatening to law-enforcement officers as "damaging hyperbole," adding that she hoped lawmakers would hear the voices of the disabled as part of the deliberations over the bill.
"Many individuals with disabilities do not have what is called purposeful control over their bodies," said Champion. "My own son has a tick disorder where he spits constantly. That's assault under this law."
The Virginia State Police say they're concerned the bill would create a loophole for people who attack law-enforcement officials but do not inflict bodily injury, opening the door to the potential that officers who successfully block a punch won't be able to prosecute offenders. The Virginia Sheriff's Association said deputies across Virginia view the bill as diminished support for law enforcement. Republicans are united in their opposition to the bill, which received zero Republican votes in the House or Senate during the special session.
"I'm concerned that this bill will basically declare open season on police officers," said Del. Ronnie Campbell (R-24). "I just think it's bad for law enforcement, and it sends the wrong message to the public."