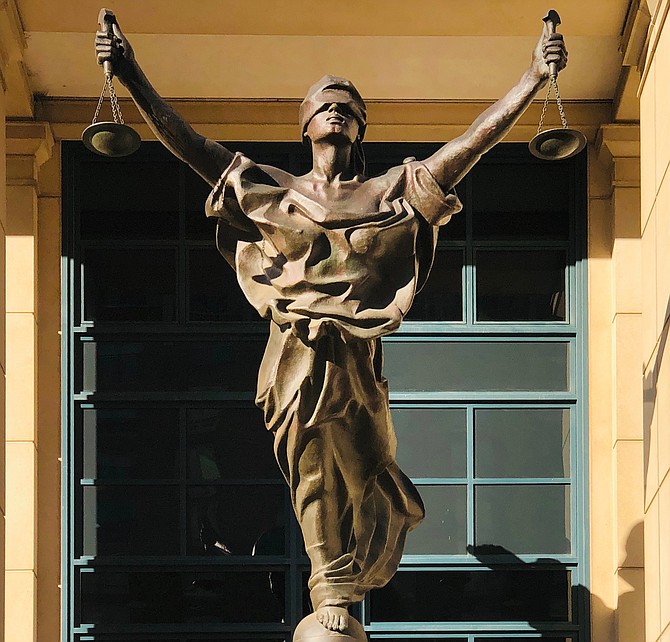 Judges across Northern Virginia are about to be presented with a difficult question: Does the crisis created by the coronavirus pandemic trump a defendant's right to a speedy trial?
One judge in Madison County has already determined that it does, waiving the constitutional rights of a defendant charged with stealing a car. Advocates for civil liberties are worried that Gov. Ralph Northam's declaration of a state of emergency might be used as an excuse to overlook the right to a speedy trial and keep defendants awaiting trial behind bars indefinitely.
"Any time you use an excuse to void a constitutional right, that's a problem," said Claire Gastanaga, executive director of the American Civil Liberties Union of Virginia. "At a minimum, those folks should not be languishing in jail awaiting trial, since they are not yet people who have been determined to be guilty of anything."
Under Virginia law, defendants charged with felonies must be tried within five months if they are behind bars. Prosecutors have nine months to try defendants who are not incarcerated. That clock starts ticking after a preliminary hearing or an indictment, which means commonwealth's attorneys across Northern Virginia are looking at their calendars and trying to figure out what to do about cases from December and January. And if the Virginia Supreme Court extends the judicial emergency beyond April 26, a huge number of defendants charged with felonies in Northern Virginia may be in danger of losing their right to a speedy trial.
"The Constitution is pretty clear about a speedy trial right," said Patrick Anderson, a prominent criminal defense attorney in Northern Virginia. "The so-called conservative jurists like to talk about the letter of the law of the Constitution, but they're the ones of course who are the most activist judges."
THE CASE IN MADISON COUNTY may be a sign of things to come in Northern Virginia, as judges across Virginia start to hear from prosecutors who want to use the pandemic as a reason to waive the right to a speedy trial. The Madison County felony charge of theft of a motor vehicle happened back in July, and a one-day trial had been scheduled for March 25. Commonwealth's Attorney Clarissa Berry asked Circuit Court Judge Dale Durrer to waive the right to speedy trial for defendant Brian Mills over the objections of his attorney.
"The coronavirus rises to the level of a natural disaster as a communicable disease of a public health threat," the judge wrote in a March 19 opinion. "In this case, the reasons for any delay in the trial are based on unforeseen circumstances of the virus that are worsening daily and almost exponentially. Further, the court has an obligation to protect the health and safety of jurors summonsed for jury service."
In his opinion, Judge Durrer noted that the jury pool for the trial had 12 jurors over the age of 60 and seven jurors over the age of 55. In addition, he said, jurors were flooding the phone lines asking to be excused because of the pandemic and concerns about social distancing in the tight confines of the jury room and courthouse. Ultimately, he concluded that the section of Virginia code that defines a "natural disaster," in part, as a "communicable disease of public health threat" was sufficient to waive the constitutional right to a speedy trial.
"This is one trial court's opinion. It's not precedent for any other Virginia trial court," said Rich Kelsey, former assistant dean at the George Mason University School of Law. " Some other trial court could come out differently, finding that the law doesn't go as far as this judge says."
THE SPEEDY TRIAL statute presents prosecutors with a stark timeline. Under normal circumstances, they need to either conduct a trial within the deadline or cut a plea deal. Prosecutors across Northern Virginia say the governor's declaration of a state of emergency is all that's needed to cite the part of Virginia code that creates an exemption for speedy trials based on "a natural disaster, civil disorder or an act of God."
"Not only do I think it's a viable safety valve in an emergency, I think that's exactly why that code section exists," said Alexandria Commonwealth's Attorney Bryan Porter. "But I also don't think that a judge would grant one for a very lengthy period of time. I mean it might be a week or two, maybe three weeks."
Social distancing is difficult if not impossible behind bars, so many advocates for criminal-justice reform are calling for prosecutors and judges to reconsider who is behind bars and whether they need to be there. The ACLU of Virginia, for example, is calling for all defendants accused of misdemeanors to be released. Others who have pushed for reforming the system say the pandemic should spark a new conversation about the need for mass incarceration.
"Perhaps in the longer term, the larger question this pandemic should force us to carefully reconsider is whether we overuse incarceration as the primary form of punishment," said Arlington Commonwealth's Attorney Parisa Dehghani-Tafti in a written response to questions.
POLICE DEPARTMENTS across Virginia say crime is down significantly since the governor issued a stay-at-home order on March 30, and that law enforcement has focused on serious crimes rather than nuisance enforcement or traffic violations. Advocates for criminal-justice reform have long argued that too many people accused of crimes are being held behind bars because they could not afford to pay bail, overcrowding jails that are now petri dishes for community spread. Several prosecutors say they have already worked with the defense bar and local public defender's offices as well as sheriffs to decrease the jail population in response to the crisis.
"The courts do not seem to be very concerned about what's going on with the virus," said Anderson, the defense attorney. "We filed for reconsideration of bond motions for all of our incarcerated clients given the current crisis, and every single one of them was denied."