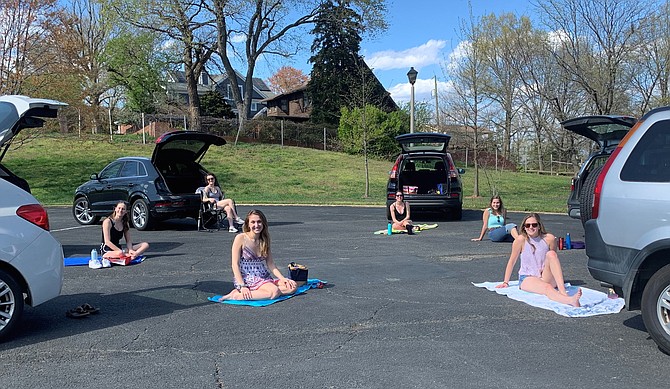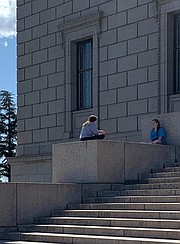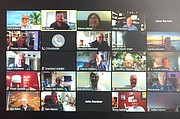 Social distancing has become the new normal as friends, neighbors and businesses look for ways to stay connected while staying safe amid the COVID-19 pandemic.
Businesses have taken to web conferencing while teens are finding ways to stay in touch in the absence of classes.
"It's a frustrating situation, but I think our teachers and staff at T.C. are handling it really well with getting out content," said T.C. Williams High School junior Maeve Waller as she was hanging out in a parking lot with a few of her friends. "It's nice that we can still do things like this – staying 6 feet apart but still be with our friends."
Governor Ralph Northam made the decision March 23 to cancel all classes for the remainder of the academic year.
A group of high school seniors from Saint Stephen's & St. Agnes got together March 30 in a parking lot to enjoy the outdoors but also practice social distancing.
"Our hope is to have graduation," said SSSA senior Liliana Dowling. "We don't have classes, but are trying to stay connected as much as we can as a senior class."
The Alexandria Rotary Club has been conducting its weekly meetings via the web conferencing app Zoom.
"I think the consensus is that our virtual Rotary meetings have gone very well," said club president Sharon Meisel. "This is going to be a great way to stay connected and to keep our work on-going for however long we need to."
Northam's Executive Order of March 30 included a stay-at-home provision that is in effect through June 10 that prohibits any public gatherings of more than 10 people.
Virtual Mount Vernon Town Hall
This Saturday morning, join Supervisor Dan Storck, School Board Member and Chair Karen Corbett Sanders, School Superintendent Scott Brabrand and County Health Director Dr. Gloria Addo-Ayensu, on April 4 at 10 a.m. for a virtual Town Meeting on Coronavirus (COVID-19). The meeting will include the latest updates from the Mount Vernon District, FCPS and the Health Department, and viewers will have the opportunity to get their questions answered. The program will air live on Facebook, Channel 16, Cox Channel 1016, Verizon/Comcast Channel 16 and FCPS Channel 21.
Ask questions in a variety of ways. In advance of Saturday, send email questions to MtVernon@fairfaxcounty.gov. During the program, you can email, post questions to our Facebook Live Feed, Tweet us @DanStorck or call the call-in line at 703-324-1114.
Virtual Town Hall Business Focus
Lee District Supervisor Rodney Lusk is holding an online town hall meeting on Friday, April 3, 11:30 am to 1:30 pm. Many local elected officials will be participating in the event including Congressman Don Beyer to give updates on the coronavirus relief efforts.
A portion of the program is for local businesses that are still operating to get the word out about their current state of operations, and any other information that they'd like the public to have. There will be digital buttons that will be on screen during the town hall that will link directly to those businesses.
If you would like to be featured on this town hall, email Holly Dougherty and we will work with Supervisor Lusk's office to include as many businesses as possible. hollydougherty@mtvernon-leechamber.org
Register for the town hall here: https://www.crowdcast.io/e/lee-district-digital/register
Supervisor Dan Storck 2nd Saturday Hours for April 11, 2020
Mount Vernon District office, 2511 Parkers Lane, Mount Vernon, VA 9 a.m.-3 p.m. Due to the library closures, all meetings will be at the Supervisor's office. Storck is willing to meet in-person with anyone who would like to do so, with proper social distancing. He is also available for virtual and phone meetings during this time.