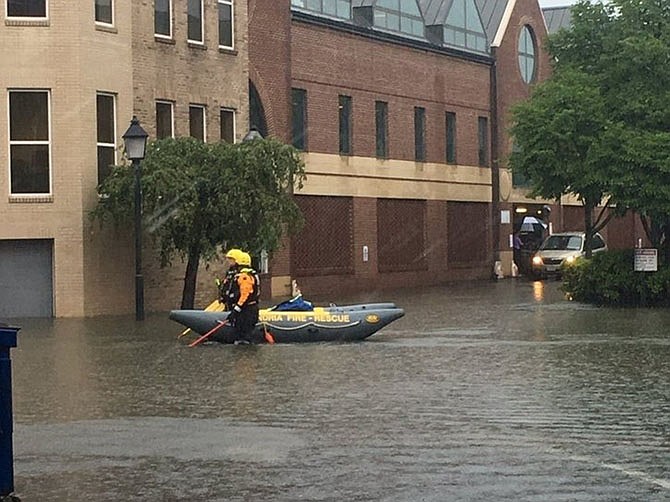 Dangerous flash flooding swept through the City of Alexandria July 8 after heavy rains deluged the area during the morning commute.
According to the National Weather Service, three to four inches of rain pounded the region causing significant flooding that left drivers stranded and vehicles submerged under water.
Alexandria was among several areas under a flash flood warning, including the District of Columbia, City of Fairfax, Arlington County, Fairfax County and the City of Falls Church. Additionally, the city was under a flash flood emergency, with the NWS warning of "extraordinarily dangerous" travel and washouts over roads.
No area of the city was spared. Water levels at Cameron Run rose more than 7 feet over 30 minutes while Four Mile Run saw a similar increase. Streets near the King Street Metro were flooded and North Old Town saw downed trees and power outages along with flash flooding that closed the George Washington Parkway and stranded hundreds of vehicles.
Alexandria firefighters responded to numerous water rescues, including locations at East Glebe Road near Wilson Avenue, the 400 Block of Taylor Run Parkway, the 100 Block of Dangerfield Road near the King Street Metro and Commonwealth Avenue and Sunset Drive.
Once the skies had cleared, residents began to assess the damage. Numerous cars were flooded both on the streets and in parking garages. City crews cleared debris from curb inlets, roads, trails and sidewalks.
Residents are urged to be aware of flood-related issues in their homes, such as standing water and sewer backups. Residents removing debris from their property or homes should place it curbside for pickup during their next refuse collection. City trash and recycling collection was suspended midday on July 8. Collections have been scheduled to take place one day later than usual for the rest of the week.
For more information on storm clean up guidelines, visit www.alexandriava.gov.