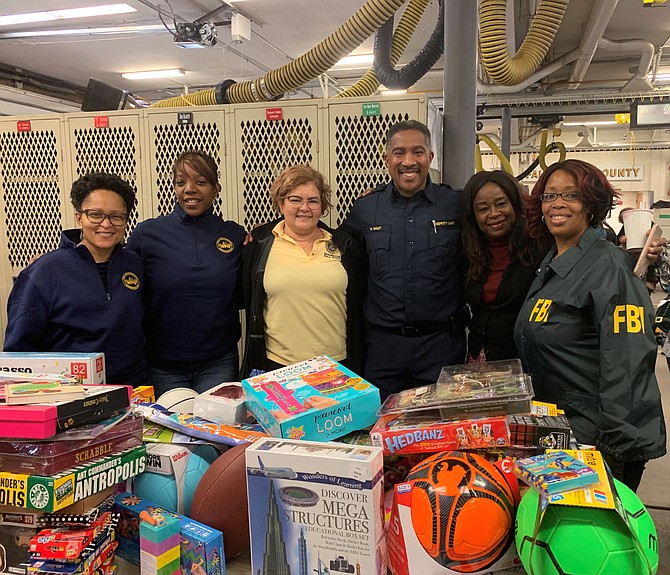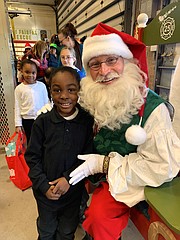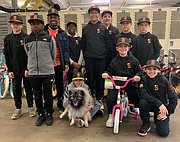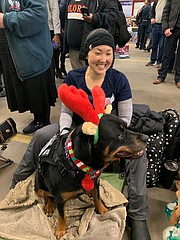 Christmas arrived early for more than 300 children from local Head Start programs as they picked out toys and visited with Santa during the annual Fairfax County Fire and Rescue annual toy drive distribution day Dec. 12 at Penn Daw Fire Station 11.
"This was our best year," said Deputy Chief Willie Bailey, who founded the Firefighters and Friends toy drive 20 years ago. "We gave away over 4,000 toys and had nearly 300 preschool kids stop by on buses to select their toys in person."
Close to 80 volunteers were on hand to help with the distribution, including firefighter Dave Saunders as Santa and 18 Caring Angels Therapy Dogs and their handlers. Volunteers escorted each child throughout the station as they selected two toys and two books.
"Prior to getting back on the bus, the children also visited with Santa and the Caring Angels Therapy Dogs," Bailey added. "After the preschoolers left, representatives of schools, shelters and nonprofits from around the region picked up toys for their particular organization."
Sponsors and supporters included: Apple Federal Credit Union; Savittiere Foundation; Progressive Firefighters of Fairfax; Local 2068; Fire & Rescue Retirement Association; Jack Taylor Toyota; Promax Realters; Union Street Public House Restaurant; Medocracy, Inc.; Nationwide Credit Corporation; Caring Angels Therapy Dogs; FBI, DC Field Office; Rotary Club of Tysons Corner; Walmart (Store #2258); InspireLit; Caring Angels Therapy Dogs; Democratic Women of Clifton & Northern Va.; Kelly's Irish Times; Fairfax County Police Department; and Fairfax County Sheriff's Office.
"So many organizations came together today to make this a wonderful event not only for the kids but also for the volunteers," Bailey said. "We had staff from the local schools telling us that some families were deciding whether to pay a bill, purchase food for the household, or buy gifts for the kids. Hopefully today we were able to take some of the pressure off of those families and make that decision a little easier."
Bailey added that this year's event had its largest turnout of volunteers as the need to serve families throughout the region continues to grow.
"I have been asked for so many years why I do this," Bailey said. "All I can say is that I learned to give, not because I had much, but because I know exactly how it feels to have nothing. The best gift I have received for the past 20 Christmases is watching the smiles on these kids' faces."