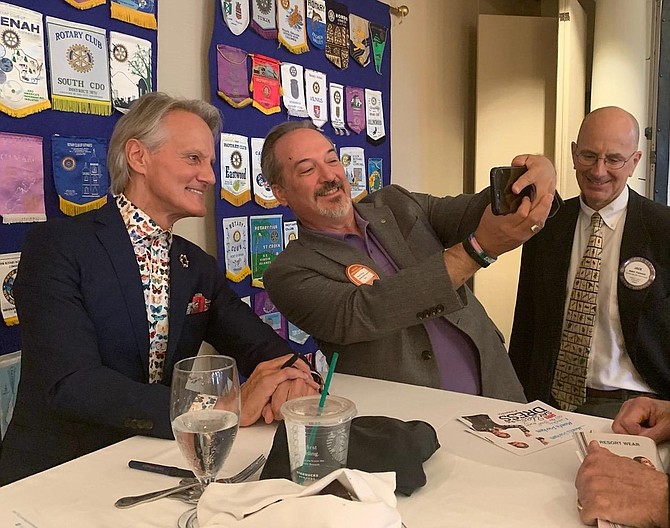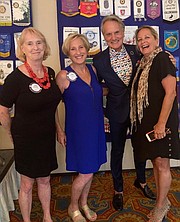 "I am grateful for the opportunities I have been given. I have to give back whatever I can." — TLC host and Alexandria resident Monte Durham
Monte Durham, fashion director and host of the popular TLC reality show "Say Yes to the Dress: Atlanta," was the featured speaker at the August 6 Alexandria Rotary Club meeting at Belle Haven Country Club.
The longtime Alexandria resident and trained hair stylist didn't waste any time hinting that he is close to finalizing plans to open his own salon in Old Town.
"It's not a very big space," Durham said of the potential location near the Hotel Indigo on South Union Street. "But I love the location and it will have an intimate feel."
Durham said that he did not expect much to happen before next March, but that he is looking forward to showcasing his own line of hair products and being a business owner in Alexandria.
"I love this community," said Durham, who was a longtime resident of Old Town before a recent move to the Mount Vernon area. "My friends are here, my church is here … this is truly my home."
Durham talked about his path from being bullied as a child in rural West Virginia to his success on the national media stage.
"I give all the credit to my mother," Durham said. "We had so little, but she always told me to stay focused, to work hard and get an education and I could achieve my dreams. I am a product of community college and here I am."
In an animated and entertaining presentation, Durham talked about style trends for both women and men and gave some behind-the-scenes insight into how the reality show is produced.
"Brides go through a screening and interview process that I am not involved in," Durham said. "My TLC partner and I do not meet the bride and her family until the day of filming. We are only given some basic information, such as an illness or family death, so that we are sensitive to each individual's circumstances."
When asked if the brides arrive with a set budget in mind, Durham, joked: "They do, but that pretty much gets tossed aside by the end of the episode."
Durham is involved in many local and national nonprofits. Honors include the West Virginia Most Distinguished Citizen Award and the Ronald McDonald House Spirit Award for his work with underprivileged students.
"I am deeply grateful and honored for the opportunities I have been given," Durham said. "I have to give back whatever I can."