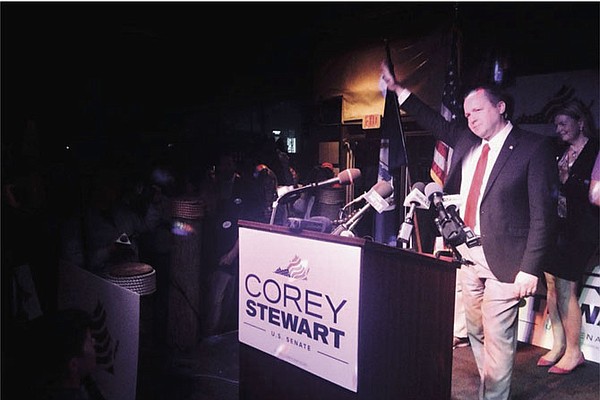 Thursday, June 14, 2018
Conservative firebrand Corey Stewart was denied an opportunity to be the Republican nominee for lieutenant governor in 2013. And then he came within striking distance of being the party's standard-bearer in the gubernatorial campaign last year. Now, finally, the chairman of the Prince William County Board of Supervisors has secured a spot at the top of the ticket, bringing his brand of anti-immigrant, pro-Confederate Trumpism to the race against incumbent U.S. Sen. Tim Kaine.
"We will unite the coalition that President Trump brought together in 2016," said Stewart at a victory party in Woodbridge. "We will win working men and woman across this state. We will restore our values. We will restore our economy. We will restore our border. And we will restore America."
The Republican establishment campaigned against Stewart, worrying that his brand of conservatism would tarnish the GOP and harm down-ticket Republicans in competitive congressional races. They tried to rally behind Del. Nick Freitas (R-30), who grabbed national headlines earlier this year with a barnburner of a speech on the floor of the House of Delegates that took on Democrats for their support for gun control by blaming them for slavery and massive resistance to civil rights. In the end, voters chose the candidate who is outspoken in his support for Confederate flags and statues.
"Basically the Republican Party of Virginia is setting themselves up for a loss in November against Tim Kaine, and that could have all kinds of ramifications down ballot," said Geoff Skelley at the University of Virginia Center for Politics. "If Kaine ends up winning by more than 10 points, that could create conditions for Democrats to win some tough congressional races."
STEWART WAS TYPICALLY DEFIANT in his victory speech, taking on Democrats and media and even other Republicans. He thanked Freitas, adding that he has a future in the party. But he also brought out a familiar list of themes from the 2016 campaign, including attacking immigrants and Hillary Clinton. That prompted the audience to chant "build the wall" and "lock her up" just as they had two years ago. Even though that approach put Trump in the White House, it failed to win the day in Virginia.
"We're going to hear a lot about Hillary Clinton in this race in part because Tim Kaine was Hillary Clinton's running mate, so we're going to get a reprisal in some ways of the presidential race here in Virginia," said Quentin Kidd, a professor at Christopher Newport University. "Hillary Clinton won Virginia by five points in 2016, so it's going to be an uphill climb for Corey Stewart."
In Fairfax County, Stewart won with 49 percent of the vote, with the strongest showing in Bull Run, Difficult Run and Woodyard. Freitas was able to win some parts of the wealthy northern suburbs, posting his strongest numbers in Greenbrier West, Bush Hill and Grovesnor. But it was no match for Stewart, who has a long history in the region and a familiarity with voters from years of experience leading a neighboring county.
"Senator Tim Kaine has spent his career fighting for civil rights, good jobs, and education for all Virginians," said Susan Swecker, chairwoman of the Democratic Party of Virginia. "Corey Stewart has spent his spreading hate and engaging in destructive carnival barking."
Republicans, though, are prepared to take on Kaine. During the primary, Stewart promised to run a campaign against Kaine that would be "vicious." Within hours of Stewart securing the nomination, Trump endorsed him and called Kaine "a total stiff." In the endorsement, Trump mentioned immigration and tax cuts — setting out a template for the campaign they plan on waging against the freshman Democratic senator.
"Senator Kaine spends more time whining about Crooked Hillary's big loss than actually representing Virginia in the U.S. Senate," said John Whitbeck, chairman of the Republican Party of Virginia. "It's about time that Virginia had a senator that looked out for the interests of the Commonwealth over the interests of his California or Massachusetts donors."