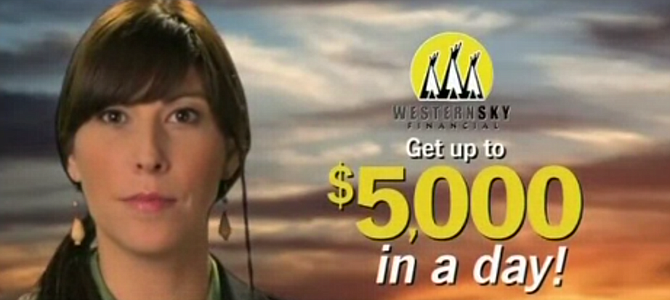 The television commercials made it look so easy. Put $5,000 in your checking account now. The message was delivered by a Native American woman as a tribal drumbeat blared in the background.
"Western Sky can put up to five thousand dollars in your checking account by tomorrow," the woman announced. "So get off the payday treadmill."
The company billed itself as having ties to the Cheyenne River Sioux Tribe in South Dakota. But Virginia Attorney General Mark Herring says that was nothing more than a fraud, a scheme he calls "rent-a-tribe." This week, Herring worked with 15,000 Virginia victims of that scheme to seal a $15 million settlement in federal court against a California-based business called CashCall, which used a fake tribal affiliation with Western Sky to make loans that they said were immune from Virginia's laws to protect consumers.
"There was a thinly veiled attempt to try to create the appearance to a connection to a tribal entity when in fact they really didn't have one, and then made people think that state laws like our usury laws didn't apply," said Herring. "With that kind of a scheme involved it was really important to send a real strong message that as attorney general, I'm going to stand up against that kind of predatory tactic in what we believe was misleading for consumers."
The federal judge who approved the settlement did not mince words about the significance of the case.
"When you look at this case," said Judge John Gibney, "your jaw drops at what a predatory scheme this was."
THE AVERAGE LOAN in the case was more than $2,000. Some of the victims have paid thousands and thousands of dollars in interest — interest that has now been deemed illegal. Jay Speer at the Virginia Poverty Law Center says CashCall is not the only business engaged in this kind of fraud.
"Well I'm really happy that we're getting seem relief for these people because some of these folks have paid many thousands of dollars," said Speer."I'd say a majority of the contracts I see now try to claim they're connected to some sort of Indian tribe."
Virginia is not the only state where the state attorney general has taken action. Recent years have seen a number of attorneys general take action against this kind of rent-a-tribe scheme, from Georgia to California. Even the District of Columbia. Diane Standaert at the Center for Responsible Lending says it's a growing trend.
"In some cases, depending on the state law, illegal loans are void and uncollectible," said Standaert. "In others, the other states are receiving millions of dollars in restitution to harmed consumers."
Here in Virginia, both of those things are happening. CashCall will be absolving $6 million worth of debt for 17,000 loans made to 15,000 people. And every penny of those all those illegally inflated interest rates will be returned in the form of cash payments — more than $9 million in restitution to victims. That's a $15 million settlement in a case that many people consider a sad reminder of how Native Americans have been exploited in this country.
"In many ways, it's just another form of abuse piled upon what we have done to Native Americans," says Virginia legal expert Rich Kelsey. "You're talking about sophisticated fraudsters using a new version of fraud preying upon the poorest of the poor, and when you look at the interests rates charged to these people for this money it is beyond the pale."